---
SwimWays Kelsyus Original Canopy Chair with Ottoman is a patented design with an integrated fold-out footrest, canopy, and armrests.
---
Key features
Armrests.
Footrest.
Canopy.
Folding chair.
Cup holder.
Great price.
Patented design.
---
Where to buy
The chair is available on Amazon, and they usually have the best shipping conditions because of the stores on 5 continents.
---
What type of a camping chair is this
This Kelsyus Original Canopy Chair with Ottoman is a folding chair with some really useful and unique features.
The Footrest – Ottoman
The chair is based on the Original Canopy Chair from this brand where they have now added a particular footrest system (ottoman). Usually, the chairs with a footrest are difficult to get in and out because of the extra platform they have in front of the seat where you put feet. You can realize this if you see this Kamp-Rite Chair with detachable footrest where the footrest is zipped to the chair, or perhaps the ALPS Mountaineering Escape Chair where you have two straps.
But this is not so in this chair because the ottoman's connection with the rest of the frame is close to the ground so you have an unobstructed access to the seat, see the zoomed details: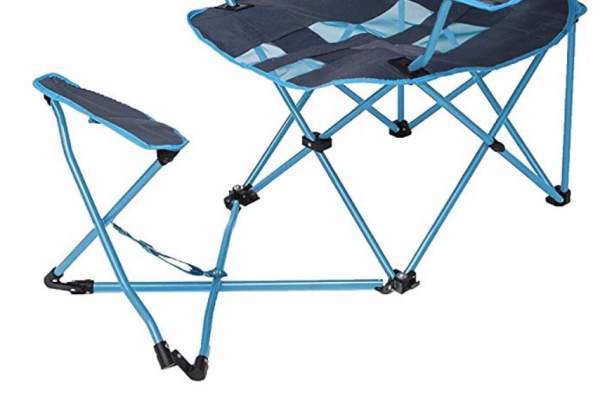 Yet another great feature of this design is that you can fold the footrest and store it under the chair. In such a setup it can be used as an ordinary camping chair, so you can use it at a camping table.
The Canopy
The canopy is yet another clever detail here. It provides 50+ UPF sun protection and when you are ready to go it transforms into a carry bag. You have a strap to carry the chair attached to the shoulder, see the picture.

Other details
The seat is with a lot of mesh, very breathable and ergonomic and on the sides you have two soft armrests with an integrated holder for a cup, bottle, or can. The frame is a sturdy steel.
---
Who is it for
Capacity-wise, the chair supports the weight of up to 250 lb (113 kg). This is a modest capacity and if you need more check in my list of folding camping chairs.
Weight-wise, with its 14.85 lb (6.7 kg) of weight this is not a chair to carry long distances. But this is possible because of the mentioned nicely designed carry system.
Size-wise, the chair needs quite some space when fully set up. The dimensions are 41.3 x 36.6 x 51.6 inches (105 x 93 x 131 cm). So it is very high but this is because of the canopy, you do not have a headrest here. If this is what you need please check in my separate text with chairs with headrest. But the seat is indeed wide, you have 22 inches (56 cm).
The packed size is roughly 36 x 6 x 6 inches (91 x 15 x 15 cm), not bad but it is a bit long. All in all, you need a car for transportation and you can use this chair for tailgating, sideline sports, camping, fishing, etc.
Here is a short promotional video, you will realize how the chair works, please have a look:
---
Good and less good features
Here is my short summary:

Very useful features.
Easy to use.
Very good price.
Smart canopy/carry system.

A bit long when packed.
Heavy.
The price & rating
This chair is currently available on Amazon with a price tag of around $50. I find this more than a fair price for an item with so many useful features.
The rating by Amazon customers is very high, currently the average rate is 4.4/5 based on 59 reports. Please see how I rate it:
My rating of the Kelsyus Original Canopy Chair with Ottoman:
Weight -

4/10

Dimensions -

9/10

Packed size -

6.5/10

Capacity -

7/10

Comfort -

9.8/10

Craftsmanship -

9.3/10

Price -

9.7/10
---
Specifications
Weight: 14.85 lb (6.7 kg).
Capacity: 250 lb (113 kg).
Dimensions: 41.3 x 36.6 x 51.6 in (105 x 93 x 131 cm).
Seat width: 22 in (56 cm).
Packed size: 36 x 6 x 6 in (91 x 15 x 15 cm).
---
SwimWays Kelsyus Original Canopy Chair with Ottoman vs Competitors
In the table below I give this chair side by side with two other chairs that also offer a feet support. They are without canopy of course and this is what makes them lighter. As you see, the Kelsyus chair packs better. Please follow the links for more.
Kelsyus Original Canopy Chair with Ottoman
36.6 x 41.3 x 51.6
(93 x 105 x 131)

Alps Mountaineering Escape Chair
32 x 26 x 41
(81 x 66 x 104)

41 x 8 x 8
(104 x 20 x 20)

Kamp Rite Chair with Footrest
38 x 28 x 38
(96 x 71 x 96)

---
Final thoughts
SwimWays Kelsyus Original Canopy Chair with Ottoman is a very smart design with several useful features that make it suitable for a variety of outdoor situations. The chair is definitely worth the money. I have added it to my list of Best Folding Camping Chairs With Footrest.

I have already given a couple of alternatives in the table above, but if you need more just search under the category Camping Chairs here in the site.
Please note that I am not paid by the brand and this is not a sponsored text. There is a comment box below so do use it in the case of questions or comments. Have a nice day. 

---