---
The EVER ADVANCED Zero Gravity Lounge Chair is a folding reclining chair with a unique design, a footrest, solid armrests, an adjustable pillow, and a carry bag included.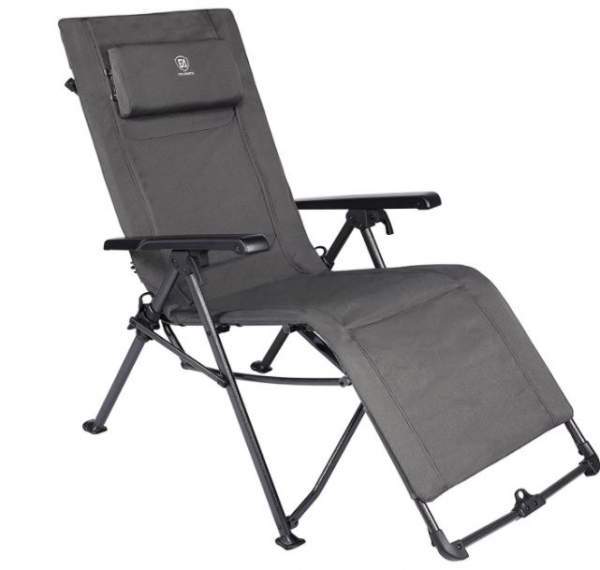 ---
Key features & benefits
Unique folding design.
Easy to use.
Carry bag.
Reclining features.
Footrest.
Adjustable pillow.
Reasonable price.
---
What this is about
So here you have one of the so-called zero-gravity chairs. As you probably know, such chairs are usually folding but they remain large in two dimensions. However, here you have a unique design (this is so at least as of the moment of writing this text).
Namely, this zero-gravity chair folds like an umbrella, so it remains relatively long when folded, but it is a thin tube when you pack it in its included carry bag. The key feature is the footrest bar shown below, as you realize, it folds in the middle and this is why the chair becomes so compact: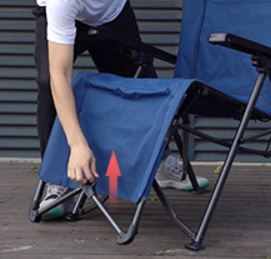 The dimensions when folded are shown below. Because of these features, I have included it in my list of best zero-gravity chairs.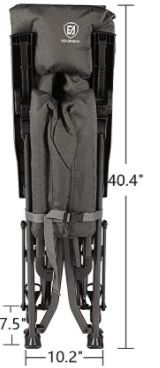 The chair is also very easy to use, the pictures below show some basic steps needed when you unfold and fold the chair. So there is no assembly, it comes ready to use.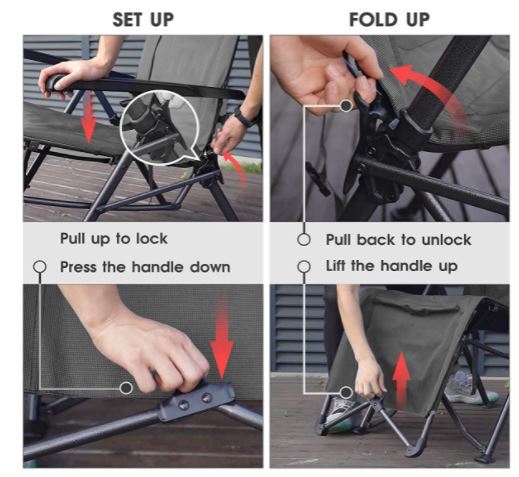 The chair has a locking mechanism on both sides under its solid armrests, you can see how simple this is:

Being a zero-gravity chair, this implies also that you have:
An adjustable footrest.
An adjustable backrest.
They work together, so when you recline the backrest to a larger angle, the footrest also raises from the ground. The picture below shows the maximum opening angle: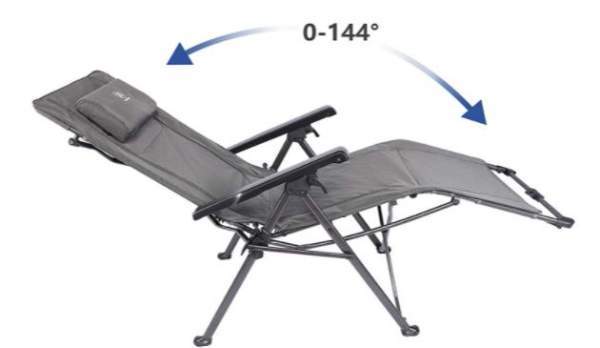 In such a position you can have excellent relaxation and support to your body, and this is why they call it the zero-gravity design. This is why I have included it in my list of best reclining chairs, and also in the list of chairs with a footrest.
The list of features does not end there, you also have an adjustable head pillow. It is removable and you have sliders on the sides for adjustment, so you can move it very low and use it as lumbar support.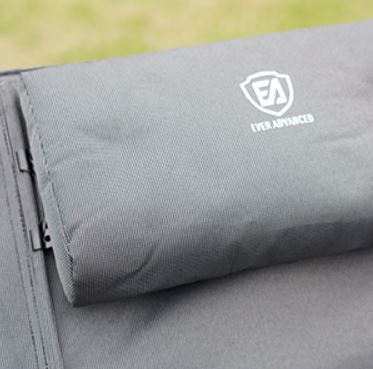 Materials
The frame is steel and the chair has several X-crossed support bars for lateral stability. Note that the feet are with wide plastic caps, see the picture. So this is a floor-friendly design, and the chair will not easily sink in the ground.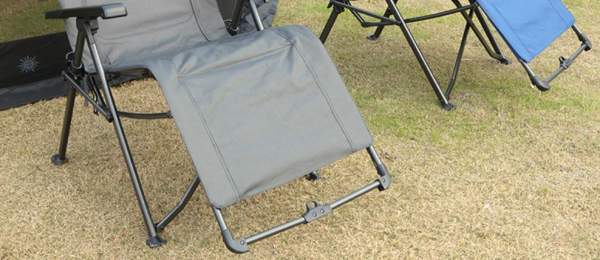 The fabric is polyester with PU coating. The mentioned pillow is probably with some foam inside, they do not provide details.
---
Who is it for
Regarding the size, the most important dimensions are shown below, so you realize the chair is large, and it offers a good headrest.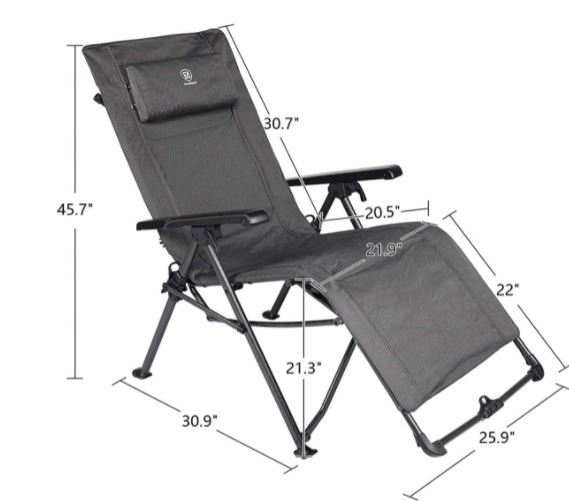 When fully reclined as in the picture shown previously at the angle of 144º, the length of the chair is 68 inches (173 cm).
Note that the seat is quite high, but this is typical for such zero-gravity chairs. The solid armrests help to get in and out of the seat which is wide and deep. But if you still need a wider seat, please check in my list of chairs with extra wide seats.
Regarding the capacity, it is quite typical 300 lb (136 kg). This should be good enough for most potential users.
Regarding the weight, this is not the best feature of the chair, it weighs no less than 23.6 lb (10.7 kg). Note also that I had good words about its packed size, but this is only with respect to some other zero-gravity chairs. The reality is that it is quite long when packed in its carry bag.
Regarding the price, I would describe it as typical for such a type. Good value for the money.
---
Specifications
Weight: 23.6 lb (10.7 kg).
Capacity: 300 lb (136 kg).
Dimensions: 30.9 x 25.9 x 45.7 in (78 x 66 x 116 cm).
Seat height: 15.7 – 21.3 in (40 – 54 cm).
Seat width: 21.9 in (56 cm).
Backrest length: 30.7 in (78 cm).
Packed size: 40.4 x 10.2 x 7.5 in (103 x 26 x 19 cm).
Warranty: 1-year manufacturer's warranty against defects.
---
Rating, pros & cons
I use the same rating criteria and I apply them consistently, so this should make it easier to compare various chairs. As you realize, it does not score great in some of the criteria.
Compact & unique zero-gravity chair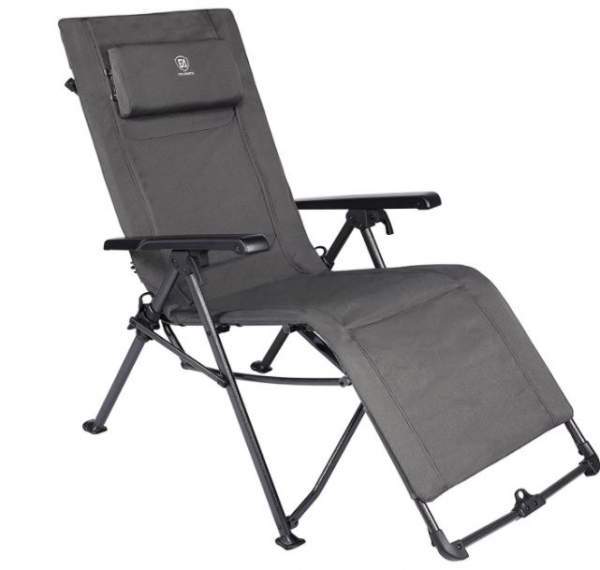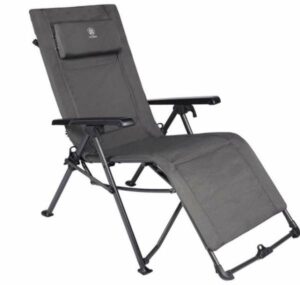 Product Name: EVER ADVANCED Zero Gravity Lounge Chair
Product Description: The EVER ADVANCED Zero Gravity Lounge Chair Is a Folding Recliner with a Unique Design, a Footrest, Solid Armrests, an Adjustable Pillow, and a Carry Bag.
Brand: EVER ADVANCED
SKU: B08H222J4L
Weight -

1.5/10

Dimensions -

9.2/10

Packed size -

3.5/10

Capacity -

7.5/10

Comfort -

9.6/10

Craftsmanship -

9.5/10
Summary
The weight and packed size negatively affect the overall rating which is still Good.
Pros
Easy to use.
Adjustable headrest.
Solid armrests.
Recliner.
Footrest.
---
Final thoughts
So this EVER ADVANCED Zero Gravity Lounge Chair is unique among the zero-gravity chairs, its packed size is very different from its competitors. This makes it a convenient outdoor option, at least in comparison with other chairs of this type.
It is easy to fold and to set up, but bear in mind its weight. You can use it also on your patio, in the yard, at the beach, on your balcony, or anywhere really.
Note that this chair should not be mixed with yet another zero-gravity chair from this brand presented here in the site, the EVER ADVANCED Oversize XL Zero Gravity Recliner.

For more options please check under the category Camping Chairs, you will find them here in all possible sizes and shapes.
Let me know if you have questions or comments, there is a comment box below. Thank you for reading and have a nice day.