---
KingCamp Folding Camping Bed Cot with Storage Bag is a folding lightweight tool with a head incline, a great design, and an equally great price tag. It is suitable for home and outdoor use at places with a car access.
Key features & benefits
Integrated head incline.
Nicely packable cot.
Carry bag included.
Great price.
Great design.
Lightweight.
What is in the name
If you check this cot on Amazon, you will see it under the name KingCamp Strong Stable Folding Camping Bed Cot with Storage Bag. So to start from what is obvious, its carry bag. The bag is nicely built, with a drawstring and with a carry strap, so you can carry it short distances on your shoulder. 
The meaning of the term folding they use in the name should be clear from the pictures: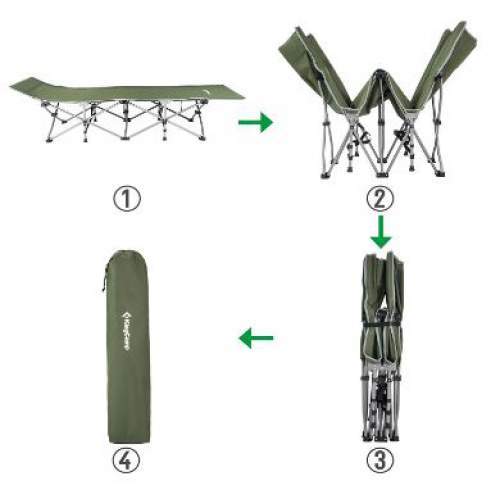 It collapses to the middle from all 4 directions, so what you have in the end is a packed structure with only one relatively large dimension 41.3 x 9.1 x 6.7 in (105 x 23 x 17 cm).
As for the 'strong stable' in the name, this cot is with 10 points on the ground, with numerous support bars and straps. So it is stable but its weight capacity is "only" 220 lb (100 kg). So yes, it is strong, but there are far stronger cots available on the market.
Who is it for
Being so nicely packable, this cot is a great tool at home as a spare bed for sudden guests. It comes with the bag, so it will not collect dust when you store it somewhere. They claim it is widely used also in beauty salons and reflexology offices all across the world. The head incline surely makes it suitable for such a use.
But this is also a nice outdoor tool that can be used at any place with a car access, by campers, at trailhead hotels, at open-air music festivals, and any other type of gathering.
The weight is distributed to 10 legs on the ground so it will not sink much regardless of the surface.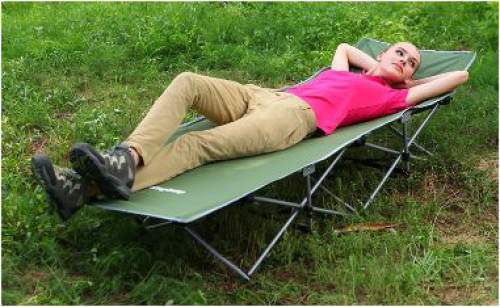 Description
In the video below you will see how nice this cot is and how easily you can deploy it, literally in seconds. It opens like an umbrella, no tools are required or brute force. There is no assembly for this cot, it is ready as soon as you take it out of its carry bag.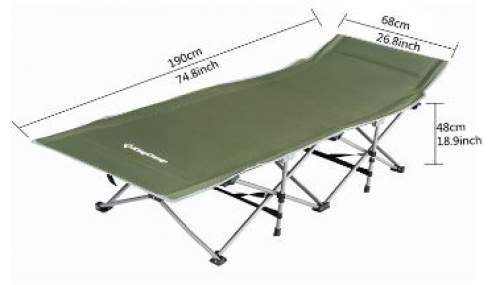 The head part is elevated (see the picture above) so you can manage without a pillow. The deck fabric is very durable but in nice colors (there are three presently available) and pleasant to touch.
When unfolded, you do not have any metal bar to touch, all is protected by the canvas. Note also that this design is without end bars and there is no any bar below close to the deck at any point, so no pressure points, and comfort is guaranteed.
Please see more in this nice video:
Using it in a tent
The KingCamp Folding Camping Bed Cot is a bit high, 18.9 in (48 cm), but it can fit in any solo or two-person tent of a normal peak height, which is typically around one meter. The same is with the bed size, it is fine for such tents, take as an example this 2-person tent Kelty Gunnison 2 tent or Mountainsmith Morrison Evo 2 Tent.
The good side of its height is that you have a lot of space to store your gear under the cot (in spite of its numerous support bars).
The cot is with 10 feet on the ground, see the images, and all are protected by plastic caps. This looks very good to me, the floor will not be damaged and the weight is distributed to so many points.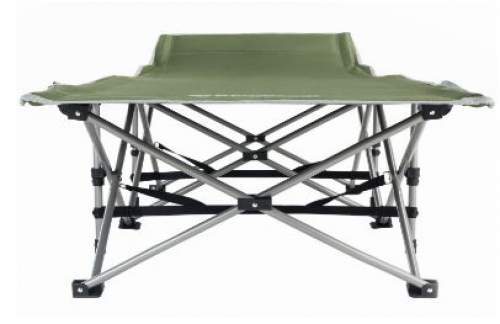 Can you use it in all seasons
Most definitely so. In normal 3-season use, you may sleep without any pad under you. The bed's deck is comfortable enough.
For a winter use, you will need an insulated pad. But you have air under you, so you need far less insulation than when you are on the ground. Note that you lose 50 times body warmth to the ground than to the air. So you need far less insulation when you sleep off the ground, on a cot.
The price & my rating
As you see from the images, it has an incline in the head area, so this is quite unique and useful, you will like this most of the time. But it cannot be made flat, and I find this a bit annoying.
Its dimensions are what you can call 'regular'. This is fine for my size, but the cot is not for very tall people. The same is about its weight capacity, great for me, but not for many others. So it is not big but there are even smaller very similar cots on the market. If you need a cot for very heavy and tall people, please check this list.
The cot is available on Amazon with the price shown below, so obviously it is very affordable.
It has received an incredibly high rating by Amazon customers. See below how I rate this cot.
My rating breakdown of the KingCamp Folding Camping Bed Cot
Weight -

7.6/10

Size -

8.3/10

Capacity -

7/10

Packed size -

8/10

Ease of use & features -

9.8/10
Summary
My overall rating of this cot is Very Good:
Pros
• Great price.
• Good packed size.
• Great design.
• Carry bag.
• Versatile.
• Easy to use.
Cons
• Not so large.
• A bit small capacity.
• It does not get flat.
---
Specifications
Weight: 15.9 lb (7.2 kg).
Capacity: 220 lb (100 kg).
Dimensions (L x W x H): 74.8 x 26.8 x 18.9 in (190 x 68 x 48 cm).
Folded dimensions: 41.3 x 9.1 x 6.7 in (105 x 23 x 17 cm).
Fits people up to: 6'2″ (188 cm).
Deck fabric: breathable 600D double oxford fabric.
Frame: steel tubes bracket and triangle structure.
Storage bag included.
Summary
So to summarize this overview of the KingCamp Folding Camping Bed Cot with Storage Bag, obviously, this is a nicely built camping cot, easy to use, easy to transport in its carry bag, lightweight, and with a great price. Note that the same brand has a military-style cot, you can see it here.
If you are particularly heavy and tall, I would suggest checking some other model, otherwise, I can fully recommend this cot.
Check on Amazon
Check at Walmart
This is a camping tool to use at places with a car access, but if you need something to carry around, you might want to check this cot from the same brand. See also this Ancheer Camping Cot which is with the same design and a great price, and also this ARAER Camping Cot built in the same style.
Thank you for reading, please let me know what you think, there is a comment box below. I wish you a nice day.