---
KingCamp Camping Cot Military Style is a very big cot suitable for tall people, very reliable and with a great price tag.
Key features
Very large cot.
Good price.
Carry bag included.
Storage pocket included.
Very strong and stable.
What type is this
As its name suggests, the KingCamp Military Camping Cot is a very typical military style construction with three pairs of X-shaped legs, two side bars and two end bars. The bars give tension to the bed deck. All elements except the two end bars are permanently attached to each other.
So as usual with this type, it requires a simple assembly and this only implies adding the two end bars to the structure.
This also means that the cot is the collapsible type, and you can read more about this category in my separate text, there are several sub-types here.
Who is it for
Being collapsible, the cot packs to a relatively small size 102 x 22 x 14 cm (40.2 x 8.7 x 5.5 in), and it can be carried in its included bag. Its weight is 9.7 kg (21.4 lb).
This all tells you about possible use and users. So you can transport it in a car to your camping spot, and this can be anything, just to mention a few like regular camping places with a car access, summer camps, open-air music festivals, trailhead hotels.
Although its name contains 'camping' in it, the KingCamp Cot is also a great tool for occasional home use, for sudden guests or for any emergency situation.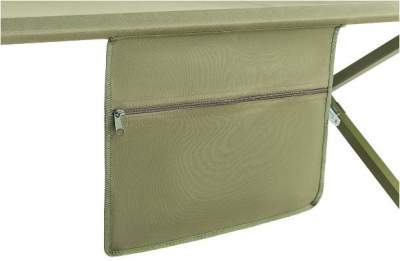 Setup
The setup is standard for this type. You unfold it and put on its legs. The only remaining thing to do is to add the end bars, but this is done easily and without any tools. The pictures below show how you add the end bars:
Once the end bars are added and fixed in the place, tension is created in the bed fabric and it is ready to use. Note that there are no bars under the bed deck, so you are safe from any pressure points as long as you fit between the end bars, see the picture: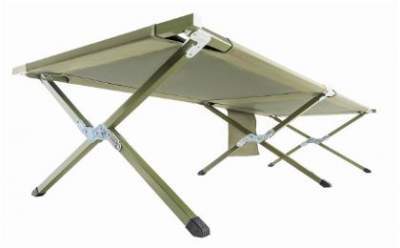 Using it in a tent
The KingCamp Camping Cot is quite large but it can easily fit into any two-person tent for a solo use. In such a case you will have plenty of space for your gear under the cot. Even a dog will have enough place in such a tent.
What I usually suggest for cots of this type is to use them in tents with a front entrance. In such a case you can set it up outside and bring in the tent easily. It may be tricky if the tent is with a side door.
The legs are with plastic caps for the floor protection, but I would be careful with it and add something extra under the feet in the case of a very soft ground.
How about insulation
You do not need any pad in the summertime unless you want more comfort. But in a cold environment, you should plan to have some insulated pad. However, sleeping off the ground implies that air is under you, so you need far less insulation and no need to invest a lot in pads with high R-values.
My rating, pros & cons
The cot is a bit heavy but this is hardly an objection. It is strong and stable and this is what matters. It is big as well, and this is also behind its weight.
This is a very affordable cot, and the rating by Amazon customers has been very high. See how I rate it:
My rating of the KingCamp Camping Cot
Weight -

6.6/10

Size -

8.9/10

Capacity -

7.5/10

Packed size -

8.2/10

Ease of use & features -

9.1/10
Summary
My overall rating of this cot is Very Good:
Pros
• Very large cot.
• Carry bag included.
• Stable construction.
• Versatile tool.
• Portable tool.
Specifications
Weight: 9.7 kg (21.4 lb).
Capacity: 120 kg (264.6 lb).
Dimensions (L x W x H): 206 x 76 x 46 cm (81 x 30 x 18 in).
Folded size: 102 x 22 x 14 cm (40.2 x 8.7 x 5.5 in).
Frame: steel.
Fabric: 600D oxford PVC.
Color: army green.
Carry bag included.
Summary
To conclude this KingCamp Military Style Camping Cot review, as you realize this is a very large cot, sturdy and reliable. It is hard to find any serious objection, the price is great, and I can fully recommend it.
Note that there are a few other cots from the same brand presented in this site, completely different in style. One is this ultralight portable cot that can be carried in the backpack, and the other is this collapsible cot with an express setup, so have a look.
Check on Amazon
Check at Walmart
If you need something with a much bigger capacity, for particularly heavy people, please check my text with the strongest tools on the market.
Thank you for reading and please let me know if you have any question or comment, there is a comment box below. Have a nice day.

---