---
With only 2 pounds (940 g) of weight and packed size of 13 x 5.5 x 5.5 in (33 x 14 x 14 cm), this LEKI Sub 1 Chair is a versatile item that is good enough even for backpackers and hikers.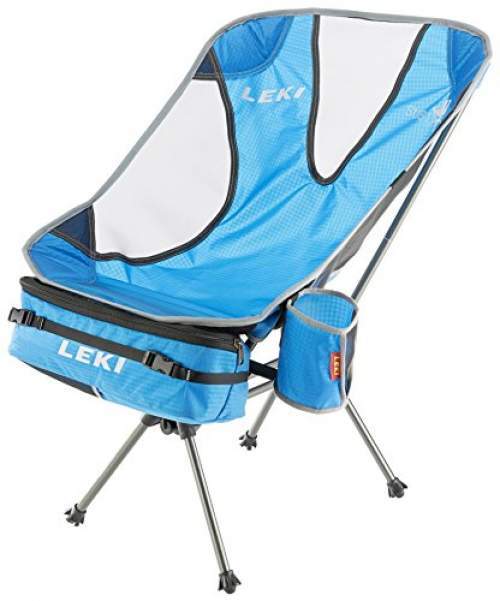 ---
Key features & benefits
Very easy setup.
Very robust.
Huge capacity.
Bonus cup holder.
Carry bag doubles as a storage pouch.
---
What type of camping chair is this
The LEKI Sub 1 Chair is a completely collapsible chair with the frame that contains several tubes but they all are shock-corded and permanently attached to each other so setting it up is incredibly easy and self-evident, there is nothing to guess. This is a press-fit system just like in tent poles.
The chair is quite high, the lowest point is 11.8 inches (30 cm) above the ground. You can compare this with the Helinox Chair Zero which is 9 inches (23 cm) above the ground, and Helinox Chair One with the seat 13.5 inches (34.3 cm) high.
The construction looks sturdy and strong, and in fact, it is with double tubes in the middle, see the picture below. The basket (the fabric) is also very durable and abrasion-resistant and water-resistant but very breathable and lightweight. This breathability is enhanced with several mesh sections which you see in the pictures.
The carry bag
This chair comes in a really nicely designed packsack with straps on two sides, plus a daisy chain on the third side, so you can carry it and attach it to the pack in various ways.
It also has two Velcro tabs on the sides and you can attach to the basket on the front so it doubles as a storage pouch to keep your small items close to you. This is a very smart design, and it is shown in the picture below.
Cup holder bonus
This is a small but useful addition to this chair. It comes with a plastic loop plus a Velcro so you can attach it to the pole and to the side of the basket as shown in the picture above, and then keep your can or a water bottle close at hand.
---
Best use
Weight-wise, I already mentioned its weight and packed size that makes it lightweight and compact enough to be carried in the backpack. But this chair is also comfortable enough for campers and for recreational use in general.
Capacity-wise, this is a strong chair as I said above, and the declared capacity only confirms this, it can support users of up to 320 lb (145 kg), and this is quite impressive.
---
My rating, pros & cons
The link below shows the daily updated Amazon's price, so this is a bit steep for a chair but this is a high-quality and very reliable product.
The reports from users are very positive in general. See how I rate it:
My rating breakdown of the LEKI Sub 1 Chair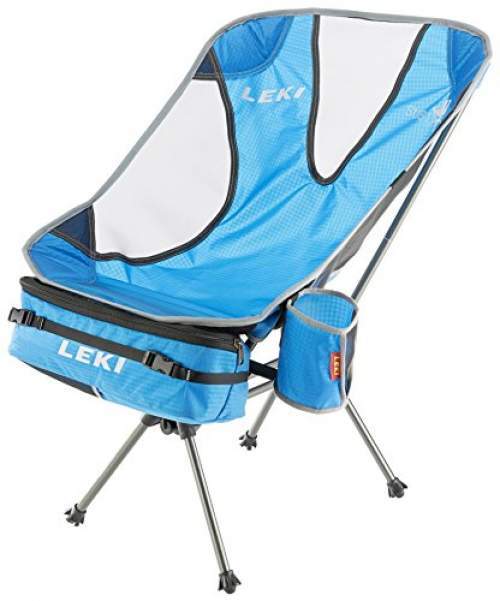 Product Name: LEKI Sub 1 Chai
Product Description: With only 2 pounds (940 g) of weight and packed size of 13 x 5.5 x 5.5 in (33 x 14 x 14 cm), this LEKI Sub 1 Chair is a versatile item that is good enough even for backpackers and hikers.
Brand: Leki
Weight -

9.2/10

Dimensions -

7/10

Packed size -

8.8/10

Capacity -

8/10

Comfort & bonuses -

9.4/10

Craftsmanship -

9.7/10
Summary
My final overall rating for this chair is Excellent:
Pros
Lightweight.
Great packed size.
Easy to use.
Great quality.
Great comfort.
Versatile.
Cons
A bit snug for big guys.
Expensive.
---
Specifications
Weight: 2.07 lb (940 g). This is without bag and cup holder.
Capacity: 320 lb (145 kg).
Dimensions: 27.2 x 17.3 x 19.3 in (69 x 44 x 49 cm).
Seat height above the ground: 11.8 in (30 cm).
Packed size: 13 x 5.5 x 5.5 in (33 x 14 x 14 cm).
Frame: aluminum.
Fabric: 100% PE.
Colors: 3.
---
LEKI Sub 1 vs Competitors
In the table below I give this Sub 1 chair side by side with two other top-notch chairs from other brands, it may help you in making a better choice.
Dimensions
(W x D x H), in (cm)

19.3 x 17.3 x 27.2 (49 x 44 x 69)

13 x 5.5 x 5.5
(33 x 14 x 14)

19.7 x 18.9 x 25.2 (50 x 48 x 64)

13.8 x 3.9 x 3.9
(35 x 10 x 10)

20.5 x 19.7 x 25.6 (52 x 50 x 65)

13.8 x 3.9 x 4.7
(35 x 10 x 12)

---
Final thoughts
Thank you for reading. Please use the comment box below in the case of questions and comments. Have a nice day.