---
If you are one of those who like the idea of sleeping off the ground in the camp, check this list with best single cot-tents that are available on the market for the coming season.

---
Our list with best one-person camping cots-tents
If you are not familiar with this construction and terminology, what you have here is a tent and cot in a structure that is described as a cot-tent or tent-cot. So you sleep of the ground and you are fully protected from insects and from the elements.
Almost all the tent-cots here are suitable for all seasons. These are versatile structures that you can set and sleep literally anywhere.
So here is the list with the tent-cots ordered alphabetically, therefore the numbers are just for navigation and this is not ranking:
---
1. Kamp Rite Compact Collapsible Tent Cot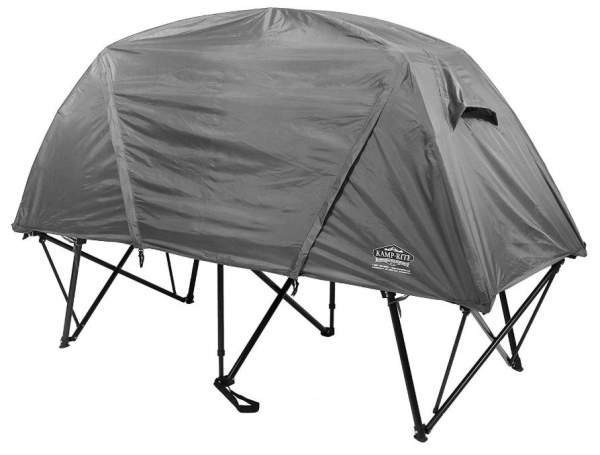 This is a tent-cot that has been on the market for many years already. Recently, they have added a new version with the color shown in the picture above, but the main features are the same.
This is a collapsible and folding tent cot and the word compact in the name suggests that it packs nicely so it remains relatively large in one dimension only.
This is one of those tent-cots that can be described as interchange or 3-in-1 type, so you can use both of its components (the tent and the cot) separately or together. You have a complete protection under its full-coverage fly.

---
2. Kamp-Rite Compact Tent Cot XL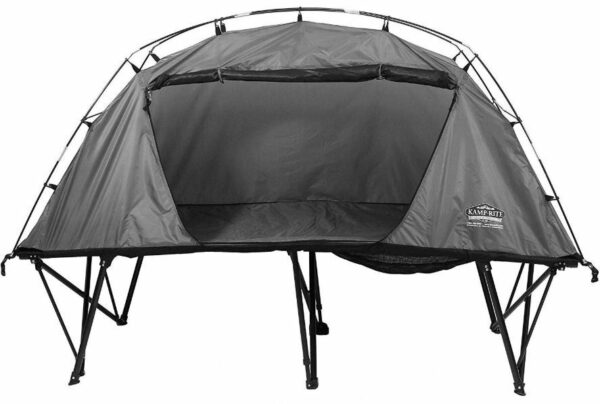 Here you have an extra-large version of the Compact Cots series from Kamp Rite. So to realize what this means, you have the bed that is with 84 x 33 inches (213 x 84 cm) dimensions. As you see it is both wide and long, so if you are a tall person this is the item to bear in mind.
This is again a 3-in-1 system so the tent and the cot can be used together and separately. The word Compact in the name indicates its nice packed size. Please follow the link for more.

---
3. Kamp Rite Original Tent Cot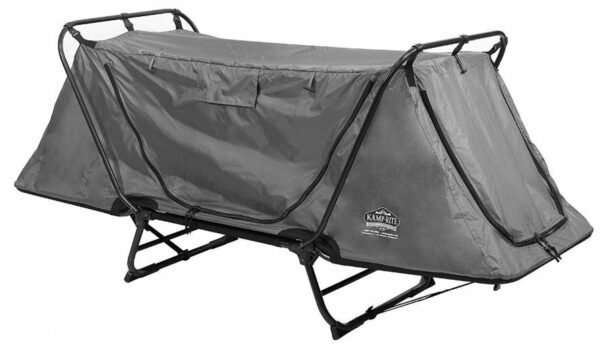 This tent-cot is the best known of all the tent-cots from this brand, and it has been on the market for a long time already. They have launched the version in the color shown above, instead of the green one. But both versions are currently on the market.
This is a folding design, so the setup is instant, you simply unfold the cot and it is ready. But this is why its packed size is not so great, the dimensions are 35 x 31 x 6 inches (89 x 79 x 15 cm). Yet, as you realize, it remains thin when packed so it fits in narrow spaces.

---
4. Kamp Rite Oversize Tent Cot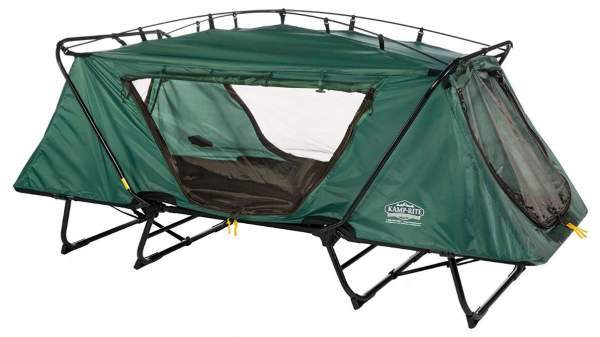 This beautifully designed tent-cot is again a folding type so the setup is incredibly easy. The packed size is 36 x 34 x 7 inches (91.5 x 86.4 x 17.8 cm) and it needs some space in the car trunk.
As the name suggests, this is a large item with the bed size 90 x 32 inches (229 x 81 cm). So if you are a tall person or just want to have lots of space in the bed, this is the item to consider.
As you see from the picture, they have added roof poles so the height is good enough to sit inside.

---
5. Naturehike Cot Tent for Camping for 1 Person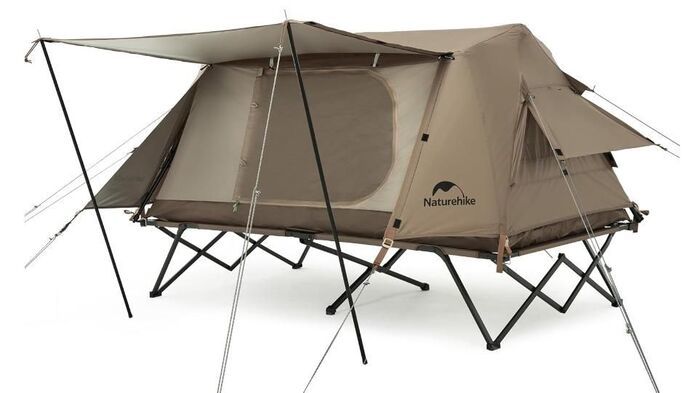 This is incredibly versatile outdoor sleeping set, with great features and easy to use, and it offers full protection for year round use.
You have an instant setup tent and a folding military style cot, and they are packed and sold separately. So you can use them separately and also combined. This makes it a 4-in-1 product.
The tent is nicely ventilated and with a great waterproof rating. You also have a pair of poles included for an awning. This is a shelter suitable for all seasons.

---
6. Night Cat Camping Off Ground Tent One Person Cot Tent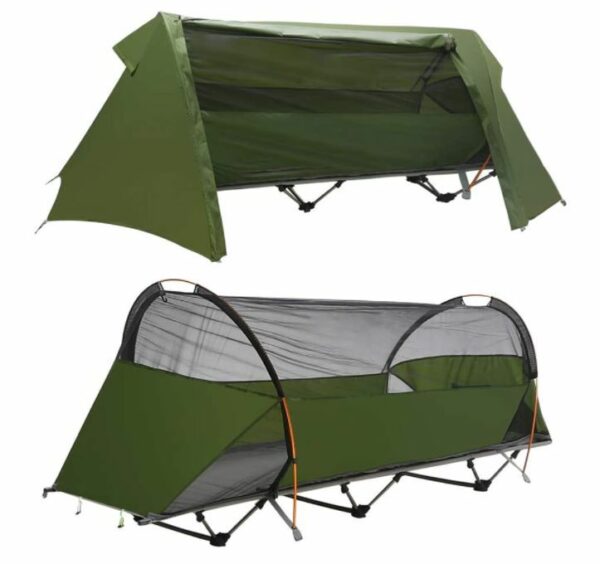 This Night Cat Camping Off Ground Tent One Person Cot Tent is a backpack-portable complete outdoor sleeping system, it weighs 10.47 lb (4.75 kg).
This is a 2-in-1 collapsible set that includes a tent and a cot. It comes with quality aluminum poles, a fly with a high waterproof rating, a great packed size, fly vents, and a great price.

---
7. Ozark Trail Instant Tent Cot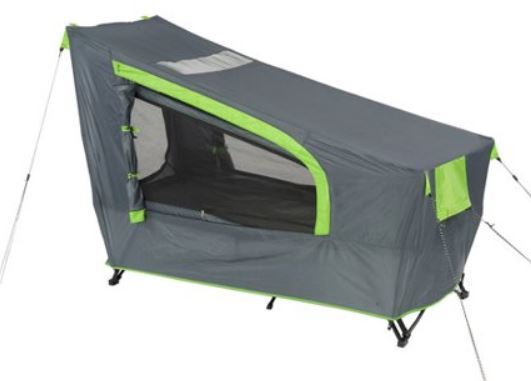 As you realize from the name, this is an instant setup cot of a particular type. Namely, when packed it remains large in one dimension only, so the packed size is 40 x 8 x 8 inches (101.6 x 20.3 x 20.3 cm).
But there is the fly shown in the picture above, it covers the cot completely and you have to add it separately. This all is easy and it is done in seconds, so the name Instant is well-deserved.
The fly is with vents and you also have mesh and panels on all the openings. So this is a nicely-ventilated tent-cot suitable for all seasons.

---
8. Ozark Trail One-Person Cot Tent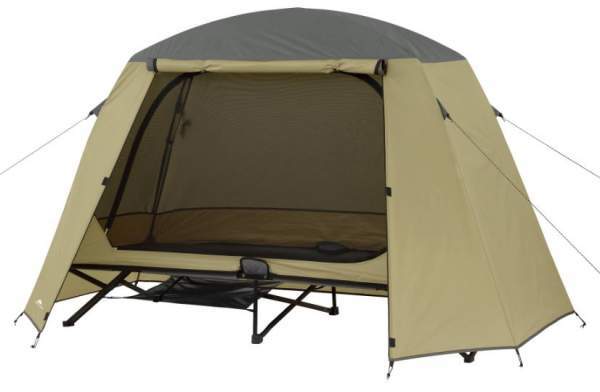 This Ozark Trail One-Person Cot Tent is an incredibly affordable collapsible and folding sleeping system. It comes with a huge bed and a two-layer tent attached to it. The dimensions of the bed are 85 x 36 inches (216 x 91 cm) so you realize it offers lots of space to sprawl.
Note that the bed is with some integrated padding, and you also have some storage mesh underneath the cot. All that you see in the picture above packs to its carry bag which is only 40 x 10 x 10 inches (102 x 25 x 25 cm).

---
9. OZTENT Bunker Pro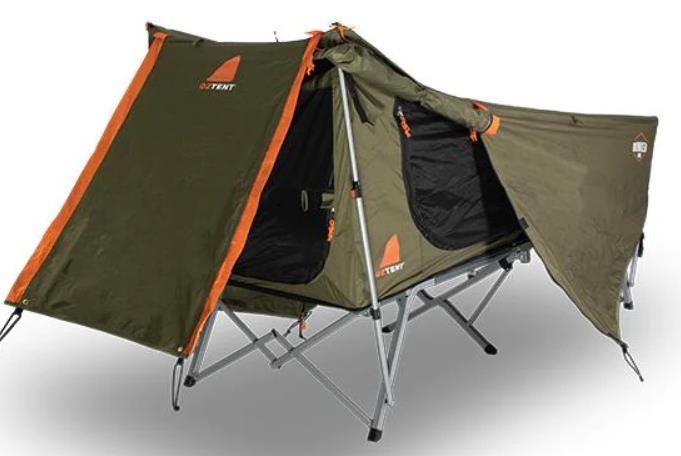 This is a versatile cot-tent of a very high quality and with unique features. It offers full protection for year round use.
You have a folding design with storage pouches and a fully removable mesh canopy. There are 2 doors, so you have access from two sides.
The bed is padded and the fly is a polycotton canvas. This all is supported with a steel frame.
There are 3 vestibules for storage, and you also have an awning setup. The bed is huge, and the weight capacity is great.

---
10. Tangkula 1-Person Tent Cot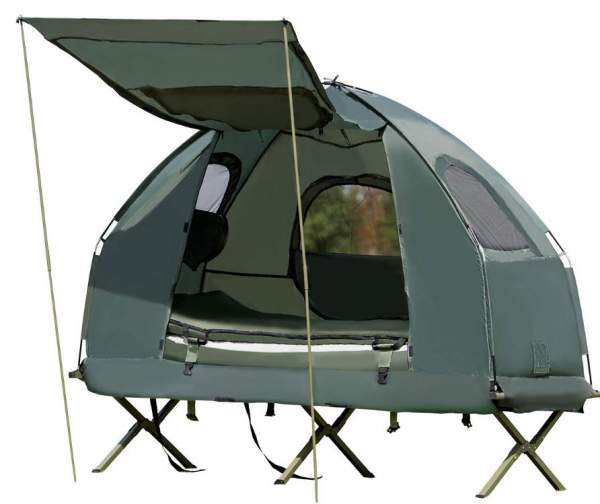 Here you have far more than just a one-person tent with a cot. This is a collapsible complete outdoor sleeping system with a folding bed, a collapsible camping tent, an air mattress, a sleeping bag, a pillow, and the covers for the bag and pillow.
All these elements you can use together or separately, so this is an incredibly versatile modular set. It allows for awning configuration shown in the picture, the steel poles for this purpose are included.
The tent is on the bed but you can use it on the ground as well, just like any other standard solo tent. Its height is 47.5 inches (121 cm).

---
11. Tangkula Tent Cot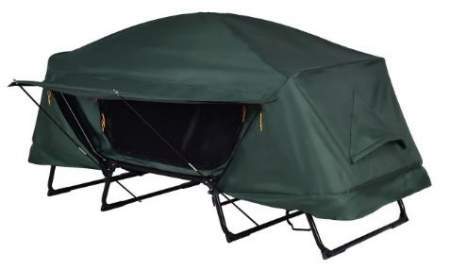 This is again the cot-tent from Tangkula brand, but here you have a folding structure with a larger packed size, it reduces to 33 x 33 x 7 inches (84 x 84 x 18 cm) when packed in its included carry bag.
This is a freestanding structure, very easy to use, and you can put it anywhere and have a shelter ready in seconds. You have a rain fly that attaches to the structure, and it allows for the awning configuration shown above.

---
12. Therm-a-Rest Cot Tent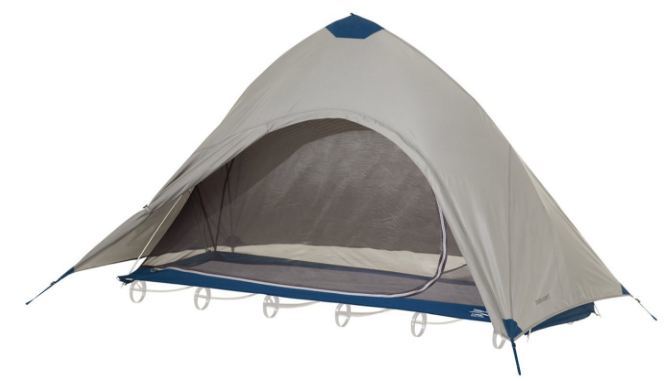 The weight is the main feature that makes this system different from its competitors. This is an ultra-lightweight outdoor sleeping set that weighs only 2.66 kg both tent and cot. Clearly, it is completely portable in a backpack.
Both tent and cot are collapsible to very small packed sizes, and this is again a 3-in-1 system because both tent and cot can be used separately. Note that the tent is a very high dome with a peak at 140 cm.

---
13. Yescom 1-Person Folding Tent Cot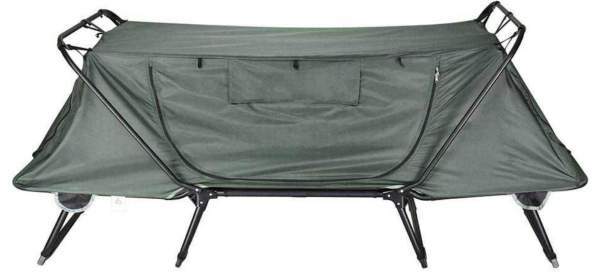 This is again a folding construction that sets up in seconds. The packed size is 34.2 x 32.7 x 6.5 inches (87 x 83 x 16 cm), so it is very thin when packed in its included carry bag.
The picture above shows it with the closed door, note that it has openings with mesh and panels on all sides. The structure weighs 28.6 lb (13 kg) and the bed size is very good, it measures 83.5 x 30.7 inches (212 x 78 cm). But it is low, you cannot sit in the tent on the bed.

---
How to choose your single person cot tent
Obviously there are big differences here regarding the packed size, setup, weight, bed size, tent height, etc. So here are a few tips that might help.
The packed size
Two basic types are i) those that fold and remain large in two dimensions, and ii) those that pack so that they are long in one dimension only. No matter which type you chose, almost all of them need a car for transportation.
The setup
This is related to the packed size. The folding models allow for a very quick setup but they are bulkier when packed.
Tent height
There are a few models in the list with a very low tent. In fact, it is so low that you cannot sit inside. So bear this in mind when you decide.
Bed size
Some of the cots are quite small, and if you are a tall person you should keep an eye on their lengths. The differences are big.
Versatility
You have some of the tent-cots here that are described as 3-in-1 or even 4-in-1 tools. So when necessary, you can detach the tent and carry it on some shorter tours and sleep on the ground just like in any other standard tent.
If you plan to go with your partner, you might want to check our separate list with best double tent-cots.
Thank you for reading. Note that we add texts here regularly, so bookmark this site and stay informed. We also have a weekly newsletter so subscribe, the subscription box is below.
Let us know what you think about these camping cots-tents, there is a comment box below. Have a nice day.