---
Yescom 1-Person Folding Tent Cot is a new item on the market, easy to use and very comfortable for off-ground sleeping regardless of where you use it. With mesh windows and doors on all sides, it provides lots of ventilation.
---
Key features
Instant setup.
Folding design.
Great size.
Great price.
Carry bag included.
---
Where to buy
This tent cot is available on Amazon, so follow the link and check if it is available in your local Amazon store, you might save on shipping.
You can find it also at Walmart.
---
What type of cot-tent is this
This tent cot is with some features similar to the Kamp-Rite Original tent cot and Kamp-Rite Oversized tent cot. So it has 4 bar-legs like the KR Oversized tent cot, but at the same time, its roof structure is similar to the KR Original cot.
So this is a folding tent-cot, one single piece which you simply unfold and it is ready in seconds. But such an instant setup also implies that it is large when packed, see the picture below. The packed size is 34.2 x 32.7 x 6.5 inches (87 x 16.5 x 83 cm). This is normal for folding tent-cots.
If this packed size is an issue for you, perhaps it is better to check some of the compact tent cots, see for example Kamp-Rite Compact tent cot which is large in one dimension only when packed.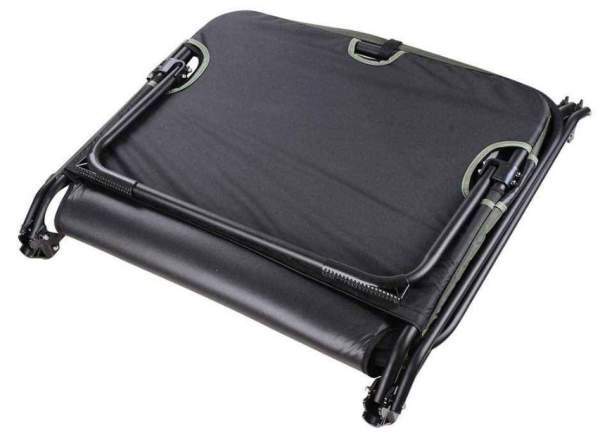 ---
Who is it for
Capacity-wise, this tent cot supports the weight of up to 330 lb (150 kg), so this should be good enough for most of the users and this is more than in some of its competitors.
Size-wise, the dimensions are excellent. The bed size is 83.5 x 30.7 inches (212 x 78 cm). You will see how these numbers compare with some of its competitors, there is a comparison table below.
Weight-wise, this tent cot weighs 28.6 lb (13 kg). This may look heavy but this is reasonable for such a type and it is similar to its competitors.
All in all, from these data and features you realize that this Yescom 1-Person Folding Tent Cot is for camping places with a car access.
---
Construction & Materials
The bed is around 14 inches or so above the ground and the tent is fixed to it. So you can keep some stuff like boots underneath the tent cot and they will be protected from rain. The tent is with openings on all four sides, see the numbers in the specifications below. So you can enter from any side.
All the openings are a double-layer type with mesh and panels. So you can combine as you wish, for privacy and dependent on the weather conditions.
The structure is very strong and also very stable and it will not sink regardless of where you use this tent cot. This is because of the four bars that you have on the ground so the weight is nicely distributed.
The tent fabric is a 210D oxford and the floor is 300D oxford, you have 2000 mm PU coating. This should be enough in any weather conditions. The mesh on the doors and windows is polyester so insects cannot get in as long as you keep the mesh zippered, you can see this in the picture below.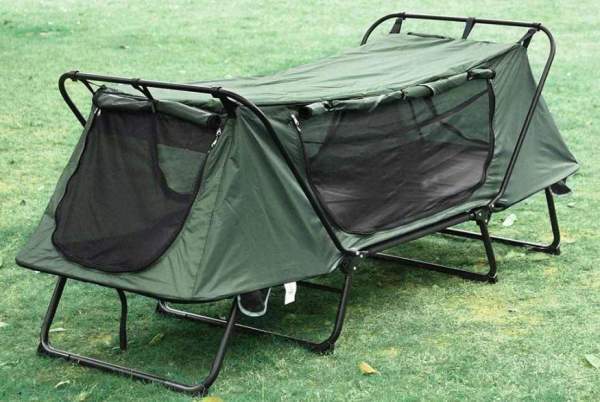 Note that you also have a small vent on the door for ventilation, it is visible in the picture below. The bars are with non-slip plastic feet. You also have a few interior storage pockets for small items, and straps to hang towels and clothes. The carry bag is included and it is built from a 600D oxford fabric.
There are things that are not so great here, the height of the tent is one of them. You have 20.5 inches (52 cm) from the bed to the roof so you cannot sit on the bed.
Yet another thing is the roof which is flat, see the picture, and it can collect water. Some roof poles are missing here which would make the roof angled like in the Kamp-Rite Oversise tent-cot which is a better construction.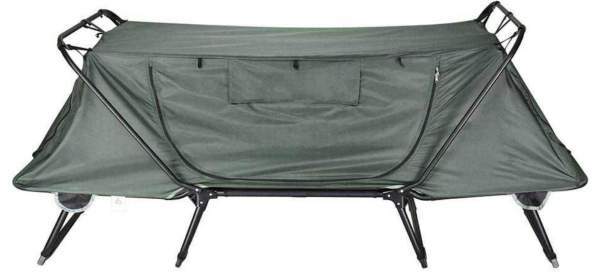 ---
What is included
This is a simple and effective construction with just a few elements, you have the following in the package:
One Single Tent Cot.
Carry Bag.
Manual.
---
My rating, pros & cons
Please see below how I rate it for several criteria used consistently for all tent-cots here in the site:
My rating of the Yescom 1-Person Folding Tent Cot:
Weight -

5.6/10

Size -

9.1/10

Capacity -

8/10

Packed size -

4.4/10

Ease of use & features -

8.8/10
Summary
My overall rating of this tent-cot is Very Good:
Pros
Very comfortable.
Great bed size.
Great price.
Easy to use.
Cons
Low and flat tent's roof.
Large when packed.
---
Specifications
Weight: 28.6 lb (13 kg).
Capacity: 

330 lb (150 kg).

Bed size 

(L x W): 83.5 x 30.7 in (212 x 78 cm).

Tent height from the ground: 35.6 in (90.5 cm).
Tent height from the bed: 20.5 in (52 cm).
Packed size:

 34.2 x 32.7 x 6.5 in (87 x 83 x 16 cm).

Entry size (top length & bottom length): 41.3 & 25.6 in (105 & 65 cm).
Entry height: 18.1 in (46 cm).
Side window: 19.7 x 19.7 in (50 x 50 cm).
---
Yescom 1-Person Folding Tent Cot vs Competitors
In the table below I show this tent-cot side by side with two other built in the same or similar style. As you see the Kamp-Rite Original is lighter but this is because it has only two bars on the ground, and it is thus less stable.
Yescom Tent Cot has the same legs design as the Tangkula Tent Cot but the latter has a better roof structure. Please follow the links for more details and for updated prices.
34.2 x 32.7 x 6.5
(87 x 83 x 16)

35 x 31 x 6
(89 x 79 x 15)

33 x 33 x 7
(84 x 84 x 18)

---
Final thoughts
So to summarize this Yescom 1-Person Folding Tent Cot review, this is a nicely built item and very easy to use. You can unfold it in seconds and have a shelter to sleep literally anywhere. But I do have some objections, so if you find them important check the other options mentioned in the text.
Check on Amazon
Check at Walmart
To see more options, please check under the category Tent Cots for One Person here in the site. You will find some of them that are backpack-portable tent cots.
Note that this is not a sponsored text and I am not paid by the manufacturer. Please use the comment box below in the case of comments and questions. I wish you a nice day. 

---