---
This Kamp Rite Original tent cot review is about the first in the series of tent cots built by this company. This is the product which made Kamp Rite world famous and established the company as the most important builder of these tools.
---
Description
Kamp Rite appeared on the market in 1999 with this Original Tent Cot, which was a hit as soon as it appeared. It is easy to understand, this was something new and innovative. The tool was truly multi-functional and versatile, and it offered off-the-ground sleeping comfort. The true benefits and importance of sleeping off the ground I have explained in my another text.
The structure of this tool includes:
the cot,
the frame,
the tent.
It is cleverly designed and the frame is with a few details which allow it to transform the cot into chair, see the picture and the video below.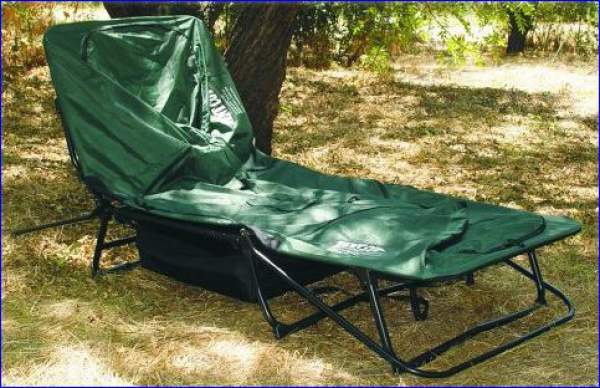 The cot
In the specifications below you will see all numbers, here to stress that this is a proper size cot, comfortable and sturdy. It gives you 11 inches (28 cm) distance from the ground. This is good for various reasons, like dampness and cold from the ground.
The tent
The tent of this tool offers full protection, it is completely waterproof, with openings on all four sides, and with mesh protection against insects on all openings. It is low but you will notice that the accompanied frame makes the wall practically completely vertical, so you have a lot of volume inside the tent.
---
Setup of the tent cot
See here how easy the whole process is:
---
Included in the package
Heavy duty 600D carry bag [CB201].
Fitted waterproof rain fly [RF202].
---
Optional stuff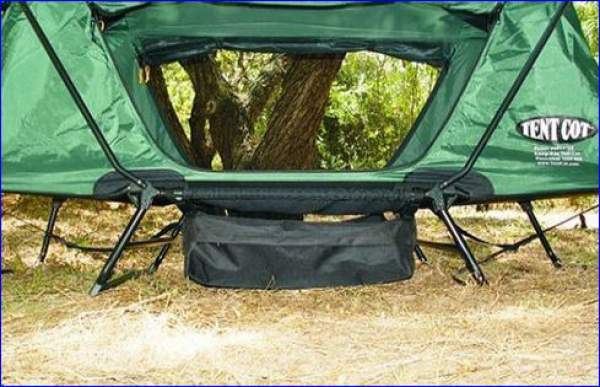 ---
Comparison between different models
See these models from the same category, one-person type:
| | | | | |
| --- | --- | --- | --- | --- |
| | Bed size, inches (cm) | Tent Height, inches (cm) | Packed size inches (cm) | Weight, lb kg |
| KR Original | 28 x 84 (71 x 213) | 24 (61) | 35 x 31 x 6 (89 x 79 x 15) | 24 (10.9) |
| KR Oversize | 32 x 90 (81 x 229) | 36 (91) | 36 x 34 x 7 (92 x 86 x 18) | 34 (15.4) |
| KR Compact Collapsible | 29 x 79 (74 x 201) | 39 (99) | 43 x 10 x 9 (109 x 25 x 23) | 25 (11.3) |
---
Pros and cons
From the table above you realize what the main issues are with the Original Tent Cot. These are the height of its tent, and the overall stability. It is low so you cannot sit freely inside, it is not designed for this.
Also, the cot has two bar-legs only. This works, but the stability is not perfect. You will notice that all other models developed after the Original are with 3 sets of legs or with four (Oversized, Double, etc).
All other features are quite similar, the difference in weight is of no importance because the models are designed to be used in a camp and not to carry around (but see the Collapsible model, it has 3-in-1 feature, so its tent can be used separately).
Here is my short summary:

Very easy setup.
Sturdy.
Comfortable.
Versatile.
Complete protection.

At the moment of writing this text the prices of the three models are respectively: $134, 168, 110. So the Collapsible model looks like a better option if the price is an issue, and this also because of the possibility to use the tent separately.
---
Specifications
Weight: 24 lbs (10.9 kg).
Ship weight: 28 lbs (12.7 kg).
Bed size (W x L): 28 x 84 in (71 x 213 cm).
Tent size (W x L X H): 28 x 84 x 24 in (71 x 213 x 61 cm).
Folded size (W x L x H): 35 x 31 x 6 in (89 x 79 x 15 cm).
Weight recommendation: up to 300 lbs (137 kg).
Heavy duty 190T nylon.
No-See-Um mesh on windows and doors.
Converts easily to a lounge chair or cot.
Interior storage pouches.
Very easy setup.
Elevated cot base.
Heavy duty frame.
Corrosion-resistant zippers.
---
Conclusion
To conclude this Kamp Rite Original tent cot review, as the name suggests this was the first model the company built. It is as reliable as it always has been, and this tool has indeed stood the test of time. But latest models from the same brand have a few additional features which you might like, so please follow the links given above in the text and have a look in the site.
You might want to check also this Yescom 1-Person Folding Tent Cot built in a similar style.
It will be great to hear from you, there is a comment box below. If this text has been useful, please share it with others. Thank you and have a nice day.


---