---
The Tangkula Tent Cot is a nicely built outdoor sleeping system with a really affordable price, and it offers a full protection from elements.
Key features & benefits
An awning feature with the rain fly.
Comfortable off-ground sleeping.
Complete protection both from bugs and from elements.
Very good price.
Portable tool with a carry bag.
Very easy setup, easier than setting up an ordinary tent.
Freestanding on any surface.

What is in the name & who is it for
On Amazon, they give the full title for this item as "Tangkula Tent Cot Folding Waterproof 1 Person Hiking Camping Tent with Carry Bag".
I have a problem with the word "hiking" here, this is surely not a hiking tool. This tent cot is portable and it comes with a useful carry bag, but with 29 lb (13.2 kg), this is not something to carry long distances.
Its packed size is 33 x 33 x 7 inches (84 x 84 x 18 cm), so clearly this is a tool which needs a car for transportation. Such dimensions describe also the term folding in the name; it really folds like a book, so it remains large in two dimensions, which is typical for all folding tools of this type, both cots and tent-cots.
So this is a camping tool, suitable for a variety of activities. You can do hiking tours from such a base camp providing that you have a car access to the place. The tent-cot will fit in most of the cars' trunks, or you can put it on the back seats.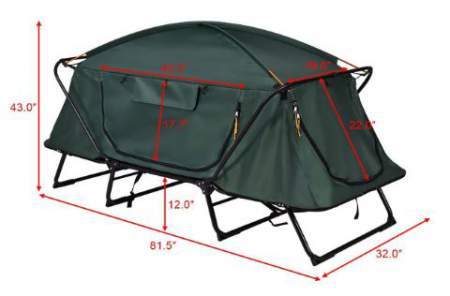 As you see from the picture above, it is high enough so that you can put it in the snow and you will still be safely above it.
Overview
This tent cot is very similar to the Kamp-Rite oversize cot. In fact, it is so similar that I first thought it was the same tool under a different name.
But this is not so, there are differences in dimensions and in some details in the design. You can see one in one of the pictures below; the pleasant awning created by the rain fly and the two poles. This is similar to what you have in some other bigger models for two people, like the Winterial Double Tent Cot.
There are several elements in this system:
The cot.
The inner tent attached to the cot.
The rain fly.
Roof poles.
Awning poles.
The carry bag.
The cot
This is a big cot, very suitable for tall people. They have made a mess with the descriptions. The bed size in their description contradicts the numbers shown in one of the pictures, see more below.
But in any case, this is a very long cot suitable for tall people, the cot's setup is simple, just unfold it, put the legs in position and it is ready. This is a very stable free-standing structure with 4 bars which serve as legs. Note that the ground bars are with plastic elements.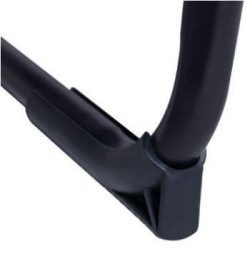 The inner tent
This element is permanently attached to the cot. You have 4 openings on 4 sides, with zippered mesh and extra zippered flaps. So all these openings can be used either as entrance doors or as windows. In view of the mesh on all of them, ventilation should be very good and you should not have issues with condensation.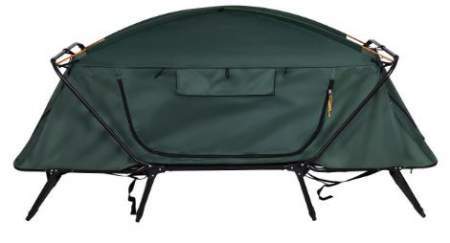 Observe also a small window on one of the side doors, it can be used for extra ventilation if the main door flap is closed.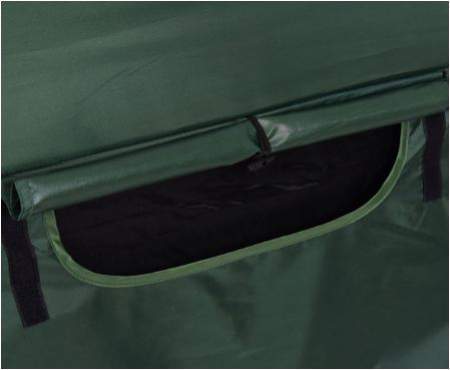 The fly
The fly covers the whole structure, and it goes below the bars of the cot so the system is completely protected, see the picture below. When you put it on, you have only one entrance shown below, but this is a solo tool and this is good enough.
The fly is with vents, but for extra ventilation you can also create the awning shown below, and enjoy watching the rain.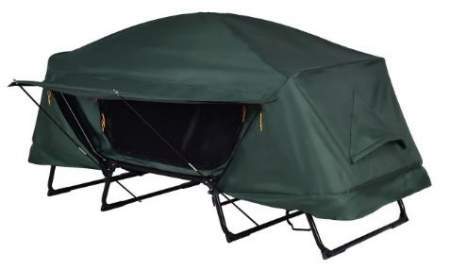 In the case of rain, you can put a lot of stuff under the structure; it will be protected from the rain, but perhaps not from the surface water.
The roof poles
You have two of them, they create an X-shaped structure and their purpose is to give some extra peak height. So indeed this makes a lot of difference and adds volume in the tent, and you have 31 inches (79 cm) from the cot deck to the roof, just enough to allow for sitting on the bed.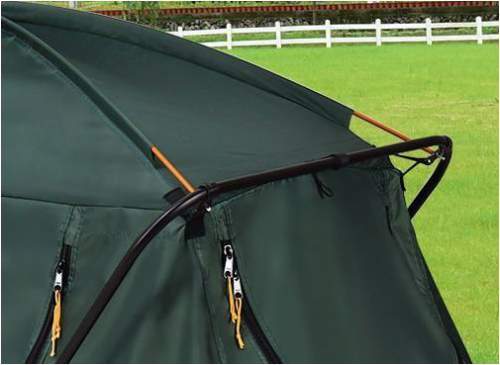 Awning poles
I really love this feature. The two poles can be used when the fly is on. So you create an awning which you see in the picture. This is truly useful and it creates a pleasant atmosphere when it is raining outside.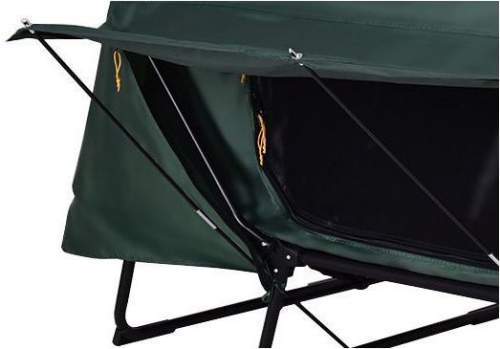 The carry bag
This is a bonus, suitable for storing the system at home and keeping it clean from dust, and for carrying it in the camp.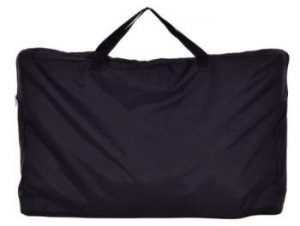 My rating, pros & cons
It is really disappointing to see the contradictory numbers in the description. They write that the bed width is 34.5 inches while the picture with dimensions indicates 32 inches, and at the same time the folded size is 33 inches. This is a total mess. The bed is with a fixed frame so one folded dimension must be the same as the bed width.
And yes, in their description the frame is steel at one place and aluminum in the description in the other place; as I said, a total mess. So disappointing.
The daily updated price on Amazon-US is given in the link, so you realize how affordable this sleeping system is.
See below how I rate this tent-cot:
My rating breakdown of the Tangkula Tent Cot
Weight -

5.4/10

Size -

9.1/10

Capacity -

7.5/10

Packed size -

4.4/10

Ease of use & features -

9.4/10
Summary
My overall rating of this tent-cot is Very Good:
Pros
• Great price.
• Very easy to use.
• Very comfortable.
• Complete protection.
• Very large cot.
• Carry bag included.
Cons
• Very bad description.
Specifications
Weight: 29 lb (13.15 kg).
Capacity: 275 lb (125 kg).
Bed size (L X W X H): 84.5 x 34.5 x 12 in (215 x 88 x 30 cm); note these are their declared numbers which cannot be correct.
Folded size (L X W X H): 33 x 33 x 7 in (84 x 84 x 18 cm).
Tent height: 31 in (79 cm).
Color: green.
Tent fabric: 420D waterproof PU coated Oxford.
Bed fabric: 600D waterproof oxford.
Frame: steel.
Poles: aluminum alloy.
Summary
To conclude this Tangkula Tent Cot review, I love the whole idea of this tool, its design, features, and price which is truly affordable. It is hard to find any true objection to it, and I can fully recommend it.
Nevertheless, if you need something different, please look around. This site is all about tent-cots and cots. There are cleverly designed tent-cots that are lightweight enough to be used as backpacking tools, see some of them here. You might want to know that this same brand has a double version of this same model.
You might want to check also this Yescom 1-Person Folding Tent Cot built in a similar style. If you want a fully collapsible cot-tent, please check this Jet Tent Bunker Cot.

Thank you for reading. If you have any comment or question, please use the comment box below. Have a nice day.

---