---
Ozark Trail One-Person Cot Tent is an incredibly affordable collapsible sleeping system with a huge bed and a two-layer tent attached to it.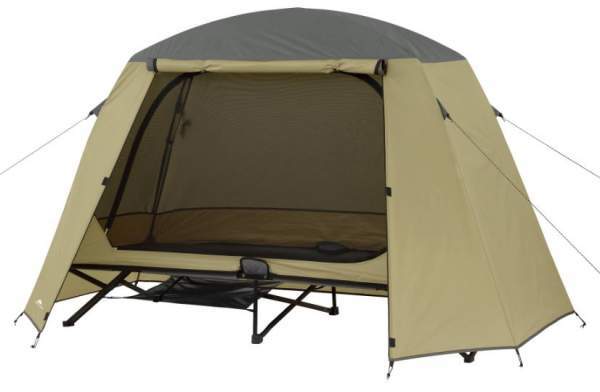 ---
Key features
Fully collapsible sleeping system.
Huge bed size.
Easy to use.
Padded cot.
Gear loft included.
Incredibly affordable.
---
Where to buy
Check on Amazon, for such an item it is good to have a good shipping service, and Amazon is without a match with its stores on 5 continents.
You will find it also at Walmart.
---
What type of tent-cot is this
This Ozark Trail One-Person Cot Tent is a fully collapsible structure. It all packs to a relatively small size (numbers are given below). This is an elevated platform that you can put anywhere and sleep, safe above any mud and moisture, and also fully protected from bugs.
This is a single door structure with a No-See-Um mesh everywhere around and above you, see the picture. So in view of its full-coverage fly, this is also a double-layer tent structure.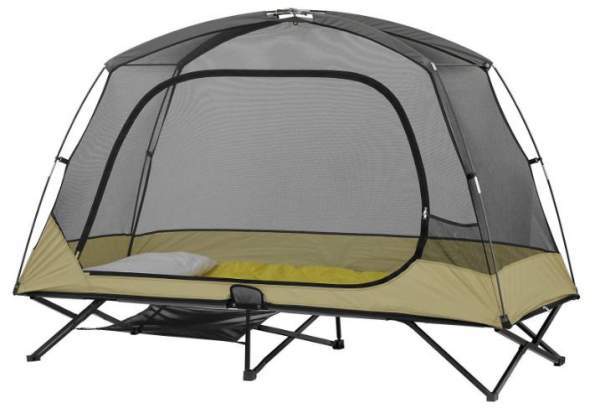 One interesting detail you can see in the picture above is the gear loft that you attach under the bed. So this is useful to keep the stuff off the ground, and it is removable.
---
Who is it for
Capacity-wise, with the declared capacity of 225 lb (102 kg) this is quite a modest cot and not suitable for very heavy people. So if you are a heavy person perhaps you might check this Jet Tent Bunker Cot or Kamp Rite Oversize Tent Cot.
Weight-wise, with its 33 lb (15 kg) this sleeping system is a bit heavy but this is a camping tool and the weight should not be a big deal. You will see below in the comparison table how it compares with its competitors.
The packed size is 40 x 10 x 10 inches (102 x 25 x 25 cm), so I would say this is quite typical for this type.
Size-wise, this is where this tent-cot shines. Observe that the bed is enormous 85 x 36 inches (216 x 91 cm). There are no end bars here, and the whole length is a useful length. So even if you are a very tall person, this tent-cot should be a great option for you.
Seasons-wise, first about waterproofness. The manufacturer does not provide any info except that the system is not fully waterproof. Therefore it is best to avoid camping in an area with lots of rain.
Yet another reason is that in the rain you have to put the fly and to keep it closed, and there are no vents here, see the picture below. You have lots of air circulation from below, but condensation can become a serious issue if you stay under such a structure for an extended period. It is best to roll the fly vestibule up and have a view around and let the air in.
On the other hand, you sleep well above the ground and you can put this cot anywhere. But observe that the tent's poles are not designed to withstand a lot of pressure, so avoid snow accumulated on it.
Note also that the structure is rather tall, you have 60 inches (152 cm) peak height. The fly can be staked properly on all sides but I would avoid windy situations with this cot-tent.
---
Materials & construction
The cot is built from a powder-coated steel. When you pack it, it folds to the center, so only the middle legs are fixed and the cot packs around them.
The tent's poles are fiberglass. Note that you have 2 long poles that create the X-shape structure and the dome, plus 2 short poles that you add horizontally between the main poles at the ceiling area on the narrow sides. This provides some extra lateral stability to the structure.
The dome created by the two main poles is self-supporting as soon as you pass them through the sleeves and attach them to the corners. There are tiny pockets where you put their ends. So this is similar to ordinary tent poles when you attach them in the corner grommets; the only difference is that here everything is raised above the ground.
There are a few clips on each of the poles to attach the mesh tent to them. Note also that the mesh tent is preattached to the cot and it is not removable.
They do not provide information about the fly and floor fabric, this seems to be polyester. When you add the fly, you have Velcro tabs underneath, to attach it to the poles, plus the guylines to stake the fly to the ground.
What is in the package
You have the following separate elements:
The cot with canopy.
The fly.
The gear loft.
The poles in their stuff sack.
Guy-ropes.
Stakes.
---
My rating, price, pros & cons
This cot-tent system is on the market with the price shown in the link, and I find this incredible.  Please see how I rate it, I use the same criteria for all cot-tents here in the site:
My rating breakdown of the Ozark Trail One-Person Cot Tent:
Weight -

4.8/10

Bed size -

9.7/10

Capacity -

7/10

Packed size -

8/10

Ease of use & Features -

7.8/10
Summary
My overall rating of this nicely built tent-cot is Very Good, but I have some objections:
Pros
Very comfortable.
Great bed size.
Vestibules for gear.
Gear loft.
Great price.
Cons
No vents on the fly.
Not fully waterproof.
Very poor description.
---
Specifications
Weight: 33 lb (15 kg).
Capacity: 225 lb (102 kg).
External tent's dimensions: 99 x 74 in (250 x 190 cm).
Cot size: 85 x 36 in (216 x 91 cm).
Cot height: 11.8 in (30 cm).
Tent peak height above the ground: 60 in (152 cm).
Max head height: 47.2 in (120 cm).
Packed size: 40 x 10 x 10 in (102 x 25 x 25 cm).
---
Ozark Trail One-Person Cot Tent vs Competitors
I have decided to show you this Ozark Trail one person tent cot side by side with two other sleeping systems built in a similar style. So all of them are collapsible and you realize that the packed size is very similar, and the same holds for the weight. But see the bed size, the other two are no match for this cot.
Ozark Trail One Person Tent Cot
43 x 10 x 9
(109 x 25 x 23)

---
Final thoughts
In the summary of this Ozark Trail One-Person Cot Tent review, I like the style and its features, and the price is unbelievable. But I had a few objections so bear them in mind when you make a decision. Still, it is added to my list of best single cot-tents.
Check on Amazon
Check at Walmart
If you need more options to consider please check in the category Tent Cots for One Person. You will realize that there are backpack-portable options available on the market.
Note that I am not paid by the brand or related to them in any sense. Please use the comment box below in the case of questions or comments. Have a nice day.

---