---
This Night Cat Camping Off Ground Tent One Person Cot Tent is a complete outdoor sleeping system, waterproof and portable, with quality aluminum poles, and at a very reasonable price.
---
Key features & benefits
2-in-1 Tent and cot.
Collapsible design.
Backpack-portable.
High waterproof rating.
Great packed size.
Fly vents.
Great price.
---
What is in the name
A bit awkward name which they use is shown in the title above, but the fact is that here you have a structure that is usually described as a tent-cot or cot-tent. This means that you have a cot and a tent that sits on it.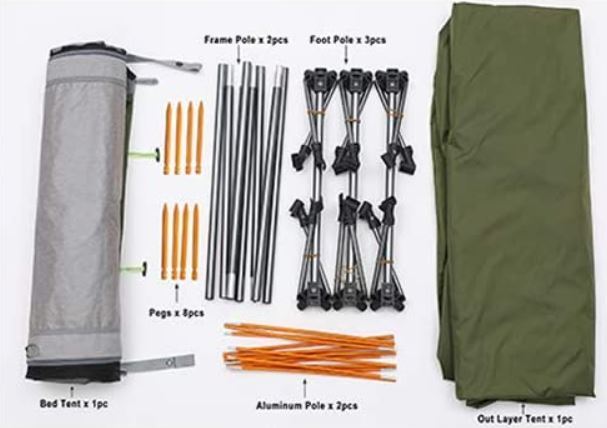 This is a collapsible structure, all the elements are shown in the picture above, so there is a good and a bad side in this. The good is that its packed size is excellent, it measures 23.62 x 7.87 x 5.12 inches (60 x 20 x 13 cm). The bad is that it needs assembly, but this is an easy job and all is done without extra tools and in several minutes.
The cot
The cot is very long, the dimensions are 82.68 x 27.5 inches (210 x 70 cm). You have two shock-corded side poles that you pass through the sleeves of the bed fabric, and then add the three shock-corded legs.
So this is all standard procedure and a design typical for the usual camping cots. This is a bed that keeps you off the ground, but it also doubles as a platform for the inner tent.
The tent
You have a double-layer tent here. The inner tent is supported by two loops poles, so this is a tunnel-type structure, and you also have a full coverage fly.
Now, the inner tent and the cot can be used alone whenever the sky is clear, and in this case the structure is completely freestanding. You have grommets to attach the poles, see the picture below. This means that you can set it anywhere and you will be off the ground, protected from the mud or sharp objects, and also protected from insects and snakes. The picture below shows how it looks with its poles in place and without the fly.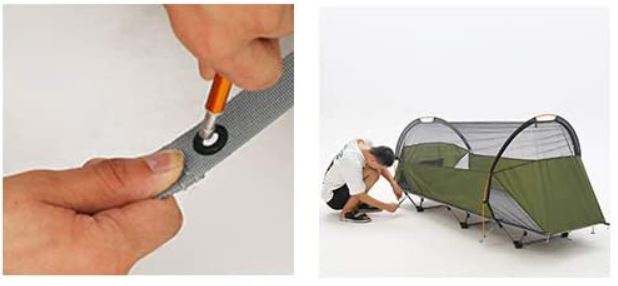 The materials
You have very good materials here. All the poles are 7075 high-strength stable aluminum alloy, and they include two side poles, two tent poles, and three legs with its multiple tubes. There are also 8 aluminum stakes in the package.
The bed fabric is a very durable 420D waterproof Oxford polyester. The fly is also a very durable 210D polyester with a 3000 mm waterproof rating. So these are quite impressive numbers and features.
Ventilation
Here you have a nicely-ventilated structure. The inner tent is all mesh and it is raised above the ground, so air can flow under the fly. Note that there are mesh sections in the corners, see the picture below, so this is for improved ventilation: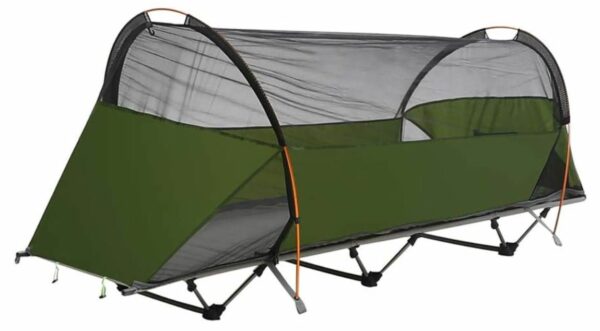 When it is not raining you can sleep under the stars with the inner tent only, and you will be fully protected from insects. Another option is to unzip the door on the fly and fix it on the roof as shown in the top picture, or you can create an awning with the help of your trekking poles as shown in the picture below.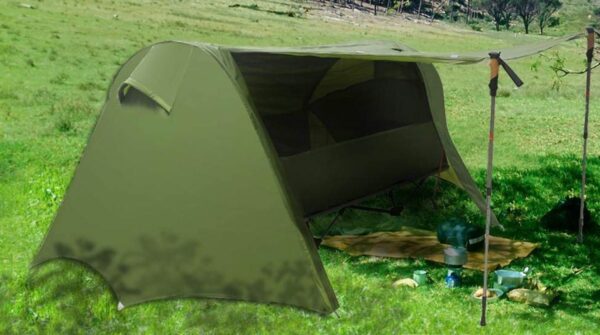 But when it is raining, you will keep the fly closed and you will rely on the two roof vents, one is visible in the picture above. So there is nothing one could object to this design.
---
Who is it for
Regarding the weight, with its 10.47 lb (4.75 kg) this is a lightweight structure but it is not to be carried long distances. If this is what you need, better check my list of backpacking tent-cots.
The packed size is 23.62 x 7.87 x 5.12 inches (60 x 20 x 13 cm), and this is excellent. So this is small enough to be attached to the pack, and you can transport it also on a bicycle or on a motorbike. So I have included it in my list of best single cot-tents for camping.
Regarding the dimensions, you have already seen the bed's size, so this is a really long cot. But note that the width is just typical.
The tent peak height is 100 cm, so this means you have around 80 cm from the bed to the roof. This is more or less good enough for sitting.
Regarding seasons & climate, you have a high waterproof rating and a full-coverage fly, so this is an outdoor sleeping system suitable for three seasons.
Regarding capacity, you have a weight capacity of 242 lb (110 kg), so this is quite modest and not for very heavy users.
There is 18 cm clearance underneath the bed and you still have a bit of storage space around under the full-coverage fly. So this is plenty of protected space for one person.
The legs are with wide feet, and you have bars in between, so even if the feet sink in a soft ground, the bars will stop any further sinking. So you can use this cot-tent literally anywhere. Note that the fly must be staked, so it is important that the ground keeps the stakes in place.
---
Specifications
Weight: 10.47 lb (4.75 kg).
Capacity: 242 lb (110 kg).
Cot dimension: 82.68 x 27.5 in (210 x 70 cm).
Tent dimensions (L x W x H): 98.4 x 59 x 39.4 in (250 x 150 x 100 cm).
Cot height: 7.1 in (18 cm).
Packed size: 23.62 x 7.87 x 5.12 in (60 x 20 x 13 cm).
---
Rating, pros & cons
I use a standard set of criteria and apply them to all the tent-cots here in the site, so here is my summary:
Nicely packable and portable outdoor sleeping system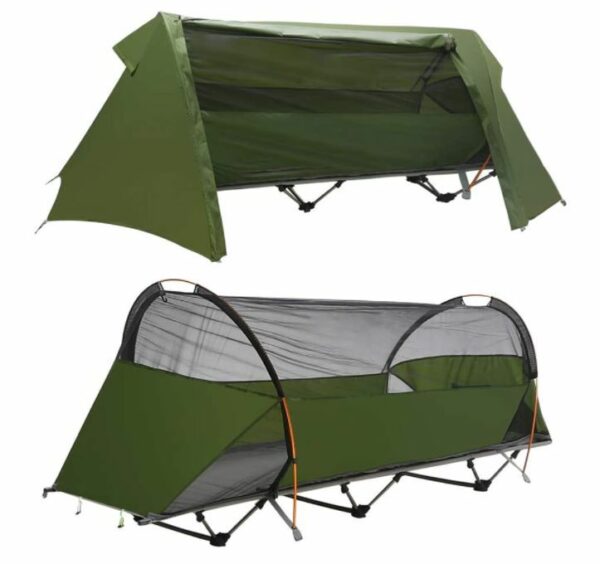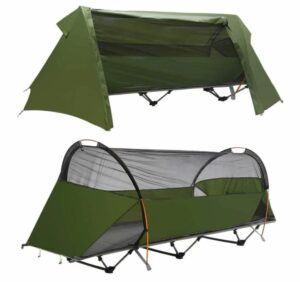 Product Name: Night Cat Camping Off Ground Tent One Person Cot Tent
Product Description: This Night Cat Camping Off Ground Tent One Person Cot Tent is a complete outdoor sleeping system, waterproof and portable, with quality aluminum poles, and a very reasonable price.
Brand: Huilingyang Night Cat
SKU: B08C4MP595
Weight -

8.6/10

Bed size -

8.7/10

Capacity -

7/10

Packed size -

9.2/10

Ease of use & Features -

8.5/10
Summary
Although the rating for the weight capacity is a bit low, the overall rating is still well-deserved Very Good.
Pros
Nicely packable.
Lightweight.
Ventilated.
Reasonable price.
---
Final thoughts
In the summary of this Night Cat Camping Off Ground Tent One Person Cot Tent review, I would stress that this is a nicely packable outdoor sleeping system with a bed and tent together. You have quality aluminum poles and the price is more than fair for what you have here.

If you need more options of this type, please check under the category Tent cots for one person. In my separate text you can read also about using cot-tents in all seasons.
Bookmark this site and visit again, this will keep you informed, we add texts here regularly. Thank you for reading and have a nice day.