---
This Kamp Rite Oversize Tent Cot Review is about a versatile product which you can set it up or dismantle in seconds. With its extended sleeping area of 32 x 90 inches (81 x 229 cm), and with a completely waterproof rain fly, it offers a lot of comfort and a complete protection from elements.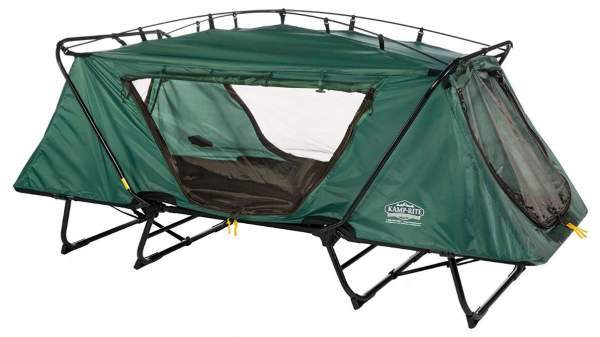 ---
Key features & benefits
Quick and easy setup and dismantling.
Comfort and protection from elements.
A lot of space.
Versatility: cot, chair, tent cot.
---
Description
If setup and dismantling is essential for your camping, then Kamp Rite Oversize Tent Cot is a great option. I see it as a particularly great tool if you are a hiker, climber, or mountaineer.
In such situations, you may be frequently changing the place where you sleep, for example, to be as close as possible to the beginning of your climbing or hiking route. I have been in such situations many times in the past, and have described some of them in my texts.
So you may arrive late at your destination and you want to go to bed as soon as possible, this either because you are tired from your previous climb, or/and you plan to start your new tour before dawn next morning. Obviously, you need a quick setup.
This is what you have with Oversize Tent Cot, and as its name says you also have quite some space inside.
---
The cot & frame
The frame you have here is sturdy and it is designed to keep you 11 inches off the ground, at the same height as the Double Tent Cot from the same brand. The size of the cot is: 32 x 90 inches (81 x 229 cm).
The construction is stable, you have straps under the cot to fix and tension its four bar-legs.
The versatility of this tool is seen partly from the fact that it can be used as a chair (see the picture farther below), or as a simple cot at home or inside some very big family tent when you are camping, or in emergency situations. This is how it looks like as a cot, you would have to put some pad on top of it because of all this fabric: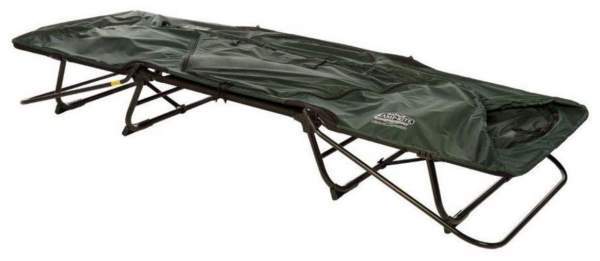 As you see, in this use the upper frame which normally supports the tent is simply reversed toward the ground, and the body of the tent is folded onto the cot. The same you will do when you use this tool as a chair, see the picture below.
The size of the complete set is such that it fits nicely in a car.
---
The tent
The tent is a very important element here. It is nicely designed, with two doors on longer sides, and with two huge zippered windows on both shorter sides. In fact, all these openings can serve as doors or windows, there is no difference.
In any case, each of them is equipped with a zippered mesh against insects. As you realize, such a construction offers a great ventilation.
The tent top is 210 D and the rain fly is with tape-sealed seams. You also have a 3/8 inch foam insulating pad. Of course, do not expect too much of it in the case of very low temperatures outside.
If you are in a sleeping bag, its own insulation beneath your body does not work because it becomes compressed. But this problem can easily be solved by adding a very good Exped MultiMat, which can be folded a few times and this will effectively increase its insulation R-value.
The size of the tent (H x W x L) is: 36 x 32 x 90 in (91.5 x 81 x 229 cm). So as you see, the size of the Kamp Rite Oversize Tent Cot is not bad, it is longer than many of the tents on the market, but perhaps more narrow than some of them. The height is not so great though.
The other thing worth noting is that its sidewalls are nearly vertical, and this gives much more volume inside the tent, as compared with a typical ground tent. So effectively you have more space inside than in standard tents even if those are a bit wider than this tool.
When the fly is on, the ventilation is reduced of course, but there are vents on both sides of the tent, you can see this in the picture above.
---
Who is it for
Weight-wise, with its 34 lbs (15.4 kg) of weight, this is not an item to carry around. The packed size is also such that you need a car for transportation.
Size-wise, the bed measures 90 x 32 inches (229 x 81 cm). So this is an enormous size suitable even for very tall people. Note that there is a frame around, so you have bars along the perimeter and they take a few centimeters, but there is still plenty of space.
From the numbers you realize, this is a large space but for one person only. I have seen people asking about this.
Capacity-wise, with its declared weight capacity of 350 lbs (159 kg) this should be good enough for most of the users.
Seasons-wise & climate-wise, I see it best suited for a cooler environment. There is indeed plenty of mesh on all the openings, but if you have to keep the fly on for extended periods of time, it would become hard inside.
On the other hand, all the openings on the inner tent are double-layer with mesh and zippered panels. So you can regulate the air circulation, and this is essential in particular for cold-weather camping.
Regarding ventilation, which is also related to the climate and seasons, I already mentioned mesh on the inner tent. But they have added vents on the fly, so I guess nothing more one can expect from such a construction. It is as good as it can be in a tent designed for a cooler climate.
---
Setup
It is best that you see this video:
---
Specifications
Bed size (W x L): 32 x 90 in (81 x 229 cm).
Tent size (W x L x H): 32 x 90 x 36 in (81 x 229 x 91.5 cm).
Folded size: 36 x 34  x 7 in (91.5 x  86.4 x 17.8 cm).
Weight: 34 lbs (15.4 kg).
Ship weight: 37 lbs (16.8).
Recommended weight: up to 350 lbs (159 kg).
No-See-Um mesh on all windows and doors.
Interior storage pouches.
Heavy-duty 190T nylon.
Heavy-duty, powder-coated fiberglass steel frame.
Quality clips and buckles.
11 inches elevated cot base.
Corrosion-resistant zippers.
Converts to a lounge chair or cot.
---
What is included in the package
The tent-cot.
Heavy Duty 600 D Carry Bag [CB401].
Fitted waterproof rain fly [RF402].
---
What is optional
---
My rating, price, pros & cons
The name of this tent cot suggests that it is oversized, but this applies only to the length. If you need much more comfort you might like to think about the Double Tent Cot. Its construction and the principle of setup are the same, but it requires more space in the car.
The daily updated Amazon-US price is given in the link below. No doubt this is very reasonable for what you get here.
This Oversize Tent Cot has been enormously popular in the past. It has been on the market for many years now, so it has collected a huge number of reviews. There are hundreds of reports by customers on Amazon and the average rating is incredibly high.
My rating and summary of the possible pros and cons is given below. I use my standard set of criteria and apply them consistently to all the tent-cots here in the site. This allows for easy comparison, please have a look:
My rating of the Kamp Rite Oversize Tent Cot:
Weight -

4.6/10

Size -

9.5/10

Capacity -

8/10

Packed size -

4.4/10

Ease of use & features -

9.5/10
Summary
My overall rating of this tent-cot is Very Good:
Pros
Easy setup.
Stable and sturdy.
Complete protection from elements.
Comfortable.
Cons
A bit low roof.
Large when packed.
---
Conclusion
To conclude this Kamp Rite Oversize Tent Cot review, this is a truly nice design and a reliable tool, very versatile and easy to use. It comes with a waterproof rain fly. It is added to my list of best single cot-tents.
But if you need a much wider option, I would warmly recommend this Kamp Rite Double Tent Cot. On the other hand, if you need a tool with 3-in-1 feature (to use the tent completely separately as a hiking tent), then please see this Collapsible Tent Cot from the same brand.
I hope the text has been useful to you. If this is so please share it with others. It will be great to hear from you, there is a comment box below. Thank you and have a nice day.