---
The TIMBER RIDGE Folding Sun Lounger is a portable Aluminium Outdoor Lounger Chair and Cot 2-in-1 combination with an adjustable backrest & sunshade.
---
Key features & benefits
6 Backrest positions.
Adjustable sunshade.
2-in-1 Lounger & cot.
Pillow included.
Aluminum frame.
---
What this is about – chair or cot?
The long name used in the title is what is provided by the manufacturer. So this is a folding structure that needs no assembly, very easy to use, and versatile.
It folds so that it becomes thin, the thickness is 7.9 inches (20 cm), but its other two dimensions are substantial, see the numbers: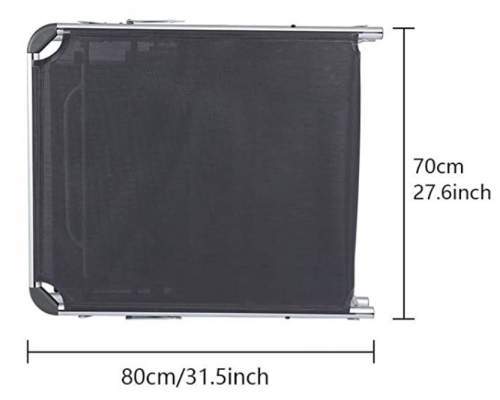 You have an adjustable backrest, and it offers no less than 6 different reclining positions. They are shown in the picture below, and you realize it can be completely flat.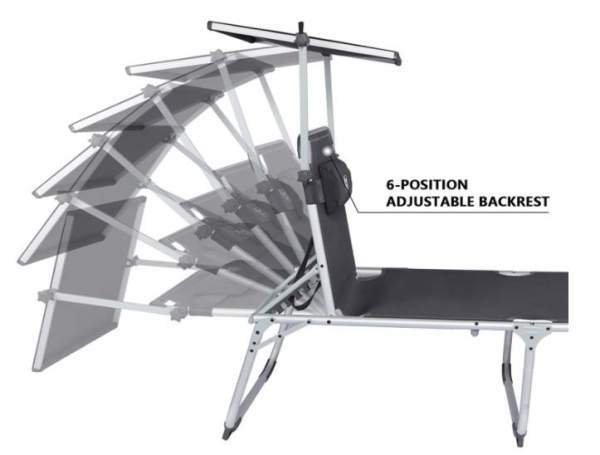 This is all based on the locking mechanisms shown in the pictures below. Observe that it has locking also for its outward-angled U-shaped legs. This adds to its overall stability.

So is this a chair or cot, or both? Obviously, the manufacturer calls it a lounge chair, but this is also a very useful cot. I have all the good reasons to include this product in my list of best reclining cots.
You have seen also that it comes with an adjustable sunshade. So when the backrest changes its angle, you can independently adjust the sunshade as well. It has large knobs on the sides to fix it in the desired position.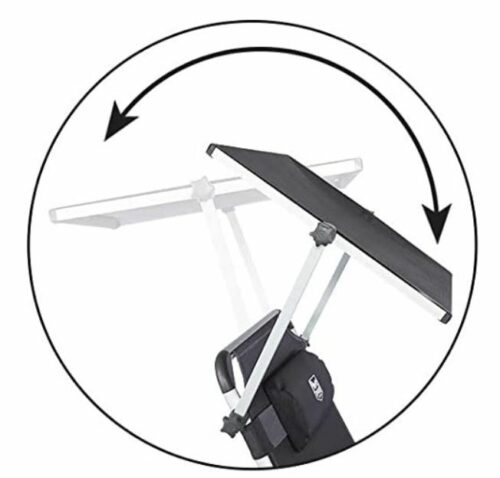 Materials
The frame is moderately heavy aluminum, and the U-shaped legs are such that the weight is distributed. With such a shape, they will rarely sink in the ground so you can use this cot everywhere.
Note that they have added plastic feet, shown below, so this is a floor-friendly design. It can be used without problems even in floored family camping tents.

I could not find any information about the fabric, most likely this is polyester as usual.
There is no stuff sack but the cot is equipped with two carry straps. There are nice details here, with large and pleasant knobs, and corners of the bed frame with those smooth plastic elements, see them below. Observe also the included pillow.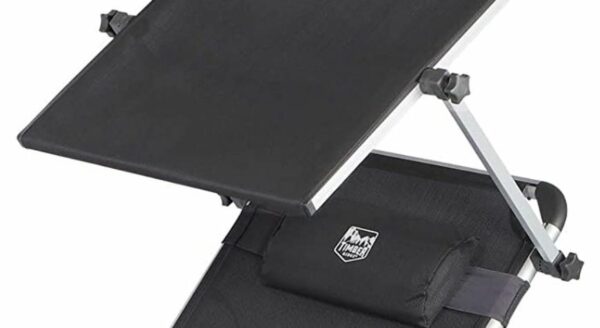 ---
Who is it for
Regarding the size, you have (L x W x H) 76 x 26.4 x 12.2 inches (193 x 67 x 31 cm). So this would make it a typical size cot. Though it has a frame around so this takes a few centimeters of the useful bed space. In other words, it is not best suited for very tall people.
Note that it is moderately low, but you still have plenty of volume underneath the cot to store your gear. This is a valuable space when you are in a family camping tent.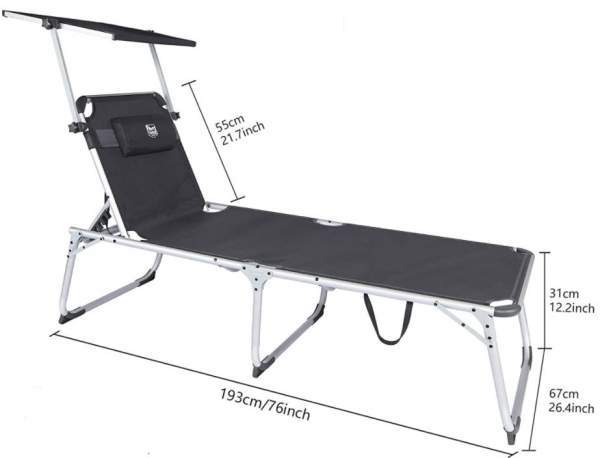 Regarding the capacity, it is again quite typical, officially it supports users of up to 300 lb (136 kg). Need more? Then check my list of cots for heavy people. See also this SUNNYFEEL Folding Camping Cot which is also a reclining construction but with twice bigger capacity.
Regarding the weight, they describe it as lightweight, and this makes no much sense to me. It weighs 20 lb (9.07 kg). You have already seen its packed size, so clearly, this is an item for places with a car access.
Regarding the price, it looks a bit steep, but this is a nicely built cot with some extra features shown above.

---
Specifications
Weight: 20 lb (9.07 kg).
Capacity: 300 lb (136 kg).
Dimensions (L x W x H): 76 x 26.4 x 12.2 in (193 x 67 x 31 cm).
Folded size: 31.5 x 27.6 x 7.9 in (80 x 70 x 20 cm).
Warranty: 1-year manufacturer's warranty for quality defects.
Frame: aluminum.
---
Rating, pros & cons
Here you can see how I rate this tent, and some of the pros and cons:
Aluminum frame & great features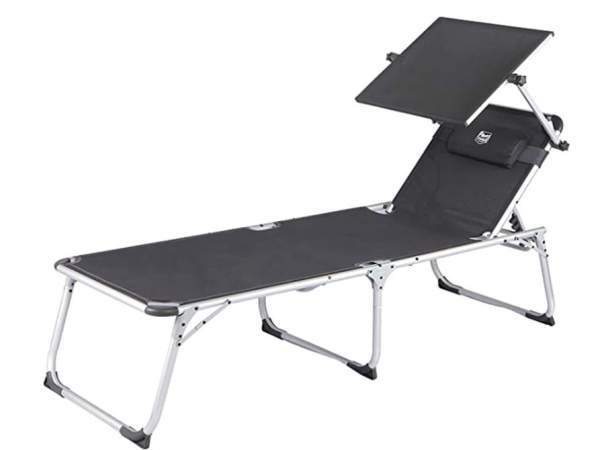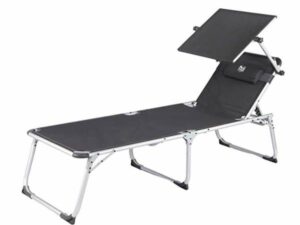 Product Name: TIMBER RIDGE Folding Sun Lounger Portable Aluminium Outdoor Lounger Chair
Product Description: The TIMBER RIDGE Folding Sun Lounger Is a Portable Aluminium Outdoor Lounger Chair and Cot with an Adjustable Backrest & Sunshade.
Brand: TIMBER RIDGE
SKU: B08PP8W9TM
Weight -

6.8/10

Size -

8.3/10

Capacity -

7.5/10

Packed size -

5.2/10

Ease of use & features -

9.8/10
Summary
The weight and packed size affects the total rating, but it is still Good.
Pros
Reclining construction.
Adjustable sunshade.
Pillow.
Aluminum frame.
---
Final thoughts
So this TIMBER RIDGE Folding Sun Lounger is really nicely built with plenty of great details and some really useful features. But it is heavy and bulky, be ready for this. Other than that, it is easy to use and without assembly. Fully recommended.

For more options please check under the category Folding Cots, you will find them in all shapes. Check this unique REI Co-op Levitate Sleeping Platform with its removable bed platform.
Let me know if you have questions or comments, there is a comment box below. Thank you for reading and have a nice day.