---
The Flamrose Oversized Camping Cot with Padded Cushion is all what its name says, incredibly comfortable with its reclining backrest, and functional with adjustable telescopic legs.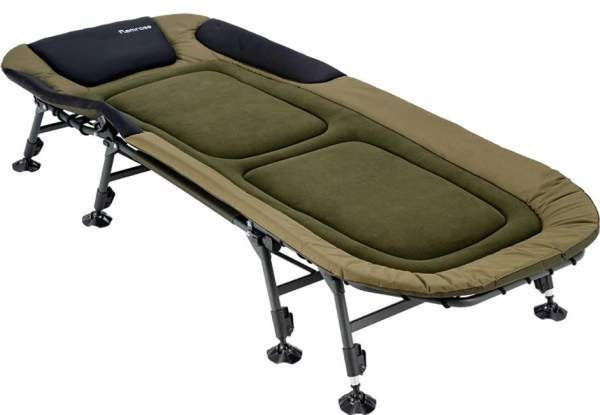 ---
Key features & benefits
No assembly.
Reclining design.
Adjustable legs.
Generously padded.
Easy to use.
Polar fleece fabric.
---
Overview
This is a folding type cot and this implies both good and less good features. The good is that it is very easy to use, and there is no assembly. You simply open it and close in seconds. The pictures below show the basic steps.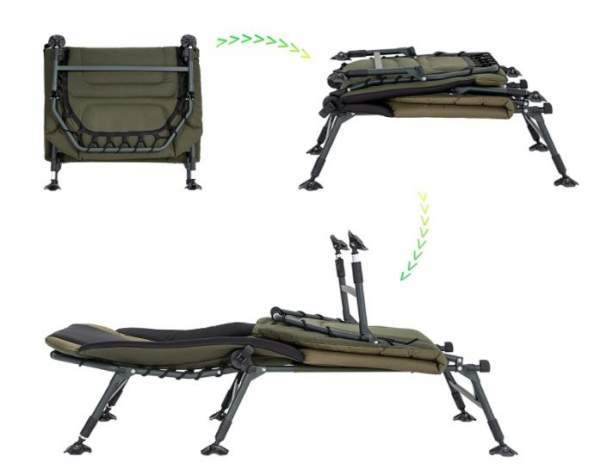 The less good feature is that, when folded, it remains quite large in two dimensions shown in the picture below. But indeed it becomes thin, only 10.2 inches (26 cm). So it easily fits in narrow places.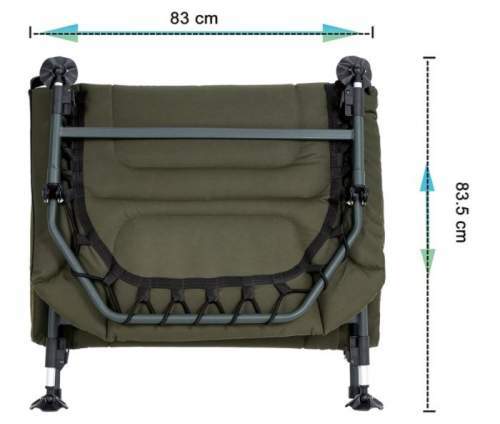 Reclining features
This cot has a backrest (or headrest) that can be set at 5 different positions shown in the picture below. So you can use it as a lounge chair and as a cot as well. This is a versatile design, and I have included it in my list of best reclining cots for camping.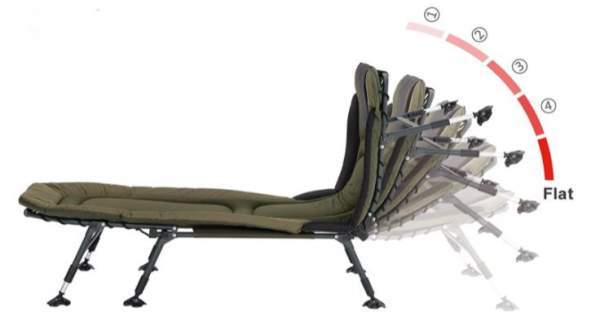 Adjustable telescopic legs
This is yet another great feature of this cot. There are 8 legs and all of them can be adjusted independently. You have 10 cm adjustability range.
This should be enough for any ground in the camp, and you can always perfectly level your camping bed. This holds even if you are forced to set the tent on a slope.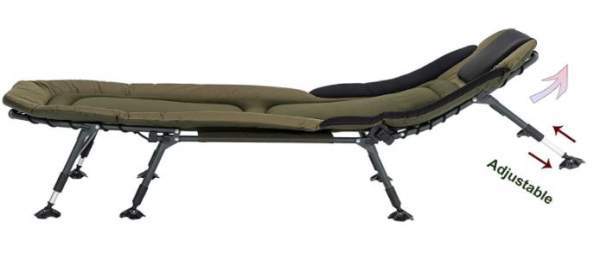 The adjustability is regulated with locking buttons shown in the picture below.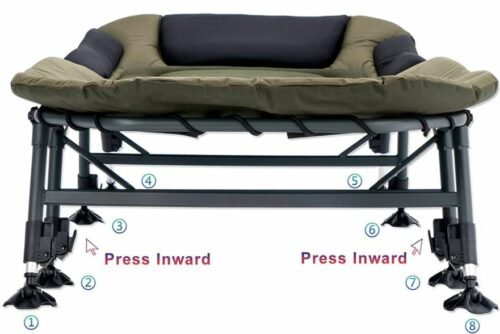 Observe also its very wide and pivoting feet, this is also great to have on an uneven ground. With so large feet the tent will not sink easily in the ground. The weight is distributed with such 8 feet so this should be safe to use in a floored camping tent.
Materials
The frame visible in the pictures above is steel, and even the massive feet are steel.
The fabric is a 600D waterproof oxford cloth and polar fleece. This is a padded cot with a 3.5 cm thick high-density open-cell foam. So I have good reasons to add it to my list of best padded camping cots. See how it looks: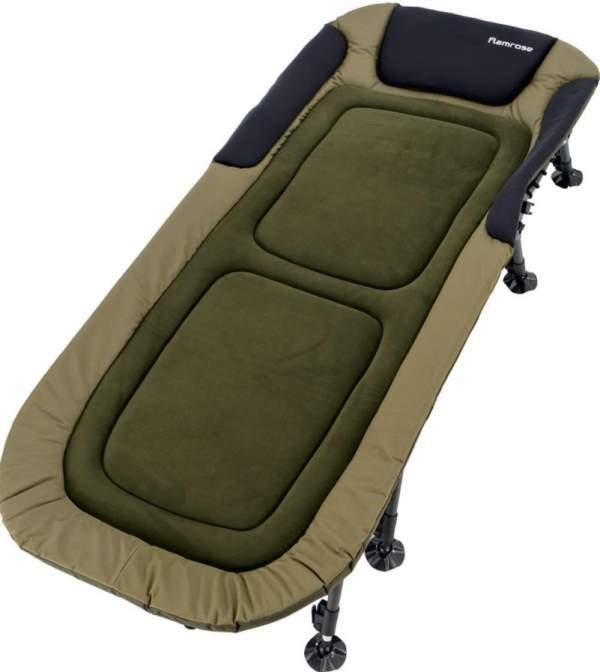 Note also that the bed deck is attached to the frame with a bungee cord, so this is a self-adjusting design that reacts to body movement. I would say this is one of the most comfortable ways of attaching the bed deck to the frame.
---
Who is this cot for
Regarding the capacity, officially the cot is for users of up to 330 lb (150 kg). This should be good enough for most of potential users, this is twice my own weight.
Regarding the dimensions, the cot is quite long and wide, the picture below shows what it offers. The padding covers the frame so you do not touch metal anywhere.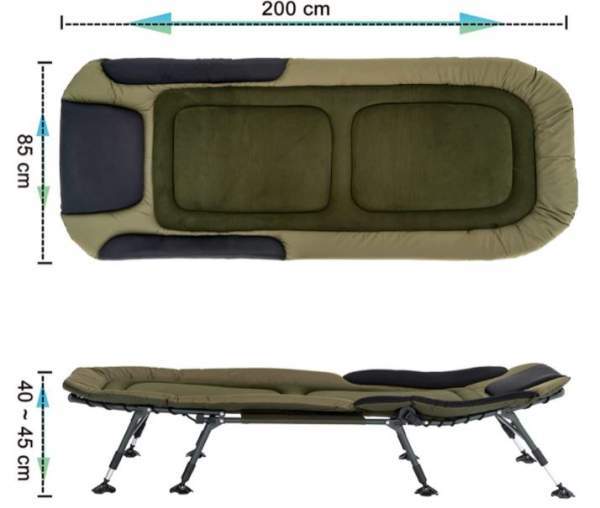 Regarding the weight, the cot is heavy, but you have seen its strong steel frame and its massive padding. I already mentioned its packed size, so clearly this is a cot for car camping.
Regarding best use, this cot is with such a padding that you will rarely need a sleeping pad. So if it is for outdoors, you can use this cot in any season.
The clearance is more than 40 cm, so you can store lots of your gear under this cot. This is high enough to be suitable even for elderly users.
---
Specifications
Weight: 28.5 lb (12.94 kg).
Capacity: 330 lb (150 kg).
Dimensions (L x W x H): 78.7 x 33.5 x 15.7 in (200 x 85 x 40 cm).
Folded dimensions: 32.9 x 32.7 x 10.2 in (83.5 x 83 x 26 cm).
Frame: steel.
---
Rating, pros & cons
Below you can see how this cot stands against my standard rating criteria. You can rate it from your side, there is a rating bar below.
Great padding and adjustable headrest & legs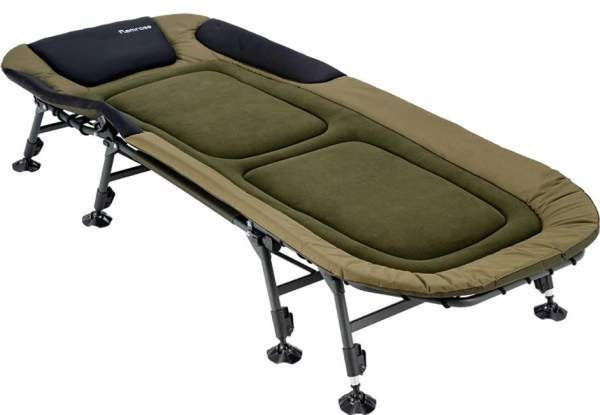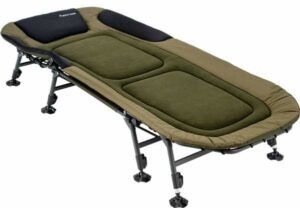 Product Name: Flamrose Oversized Camping Cot with Padded Cushion
Product Description: The Flamrose Oversized Camping Cot with Padded Cushion Is All What Its Name Says, and It Is Incredibly Comfortable with Its Reclining Backrest.
Brand: Flamrose
SKU: B091GSK7P4
MPN: NJYF2021040100JA
Weight -

5.8/10

Dimensions -

9.1/10

Capacity -

8/10

Packed size -

4.6/10

Ease of use & features -

9.5/10
Summary
The packed size and weight negatively affect the overall rating, but see its all features.
Pros
Great padding.
Recliner.
Versatile.
Adjustable legs.
Ease to use.
---
Final thoughts
So here is how I see this Flamrose Oversized Camping Cot with Padded Cushion, it is not unique on the market, it is heavy and bulky. However, it comes with an incredible combination of great features, so it is very comfortable and pleasant. With this cot, you do not need extra sleeping pad, and this compensates a bit for the mentioned packed size.
This cot is suitable for outdoor and indoor use, for camping, hunting, as an emergency bed at home and in hospitals. Fully recommended.
Best place to buy:
For more options, please check under the category Cots. You will find them many here in the site, and in all sizes and shapes.
Let me know if you have questions, there is a comment box below. Bookmark this site and come again when you find time, this will keep you informed because I add texts here on a regular basis. Thank you for reading and have a nice day.