---
This Kamp-Rite Economy Cot review is about a completely collapsible and portable cot that has been on the market for some time already. It comes with a price tag that is hard to match.

---
Key Benefits
Incredible price.
Very simple construction.
Very packable.
---
Economy Cot – Description
With the weight of 8 lb (3.63 kg) and its collapsible design, the Economy cot is a very sturdy tool with a steel frame. It packs nicely in only 14 x 6 inches (36 x 15 cm), so it can be stored anywhere at home and used as an emergency bed.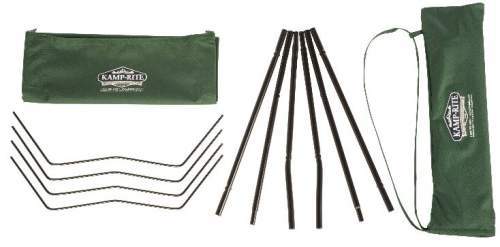 With such a size it does not take much space in the car trunk, and also attaching it to a motorbike is easy. This is a great piece of equipment for campers, for any outdoor activity with car access. You can use it at the beach and at sporting events.
This cot can be assembled in a few minutes, it is also easy to break down and store. But it is important to know how to do this correctly, so please see this short an useful video by Kamp-Rite:
---
Pros and cons
My summary looks as follows:
Pros

Cons

• Great price.


• Sturdy and stable construction.
• Very small packed size.
• Versatile tool.
• Portable tool.

• Not particularly large.

 
I have seen a number of comments on Amazon with customers complaining about the complicated setup of the Economy Cot. In fact, the procedure is very simple, although indeed one should follow the steps properly. The video given above should help.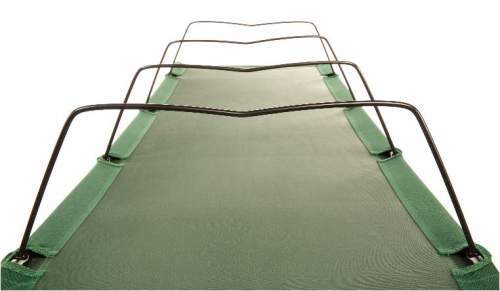 As you realize from the picture above, with such a leg design, the Economy cot will not sink even on a soft surface with a grass or sand. You definitely do not need any extra tool with it.
---
Specifications
Weight: 8 lb (3.63 kg).
Bed size (L x W): 72 x 24 in (183 x 61 cm).
Capacity: 250 lb (113 kg).
Folded size (L x D): 24 x 6 in (61 x 15 cm).
Included: Heavy Duty 600DCarry Bag.

Surface Material: Polyester.

Frame: Steel.

Carrying case included.
---
Comparison with other cots of this type
First to stress that there are cots available on the market with much less weight. I have described many in this site. Some of them are so lightweight that they can be used as backpacking cots, see my list with several of them described side by side. So if you need a cot of that type, please follow the link.
In the table below, I give only those that are in the same category as the Economy Cot. This means collapsible and portable cots suitable for camping and for home use, but not necessarily suitable for backpacking.
Bed size, inches (cm)

Packed size, inches (cm)

Weight

Helinox High Cot
27 x 75
(68 x 190)
21.3 x 5.5
(54 x 14)
6.5 lb
(2.95 kg)
Kamp-Rite Oversize Kwik Cot
33 x 84
(84 x 213)
42 x 9
(107 x 23)
23 lb
(10.4 kg)

Kamp-Rite Economy Cot

24 x 72
(61 x 183)
24 x 6
(61 x 15)
8 lb
(3.63 kg)
As you see, the Economy Cot packs better than the others, but it provides a bit less sleeping space. It is not the best option for tall people.
The prices for the three cots in the table at the moment of writing this text are, respectively, $400, 75, 30. So the differences are drastic, no need to comment more on this.
My rating of the Kamp-Rite Economy Cot
Weight -

9/10

Size -

7.6/10

Capacity -

7/10

Packed size -

9.6/10

Ease of use & features -

8.4/10

Price -

10/10
---
Summary
To conclude this Kamp-Rite Economy Cot review, this is a very simple tool and with an incredible price tag. So if you are on a budget and if you plan to use it only occasionally, this is a cot for you. It is very convenient as an outdoor tool as well as for home use for overnight guests and for emergency situations.
If you are undecided, please see my another text with a list of several great camping cots, some are foldable and some collapsible. As I mentioned above, if you need a backpacking cot, please see this text.
Thank you for reading, I shall be happy to hear from you, so please use the comment box below. I wish you a pleasant day.


---