---
Ozark Trail Rocking Chair is a folding chair with a carry bag included, with armrests, cup holders, and a great price.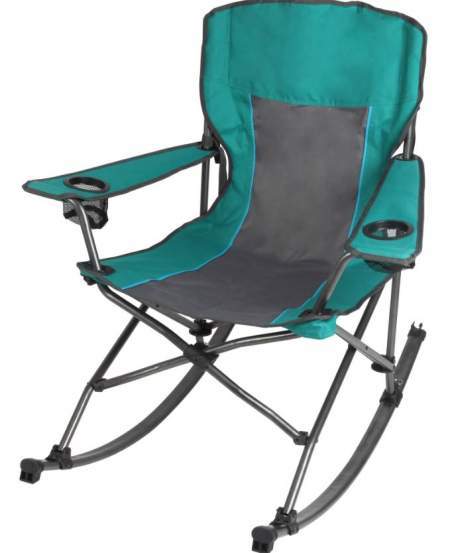 ---
Key features & benefits
Rocking design.
Fully collapsible chair.
Cup holders.
Armrests.
Stuff sack.
Great price.
---
Where to buy
---
What type of chair is this
This is a rather new chair on the market and it is becoming very popular. The reason is its nice design and a great price. This is a folding chair that collapses to a relatively small size for transportation and storage, see the pictures below.
You need to do a small assembly when you make it ready or take away, but this just implies pulling pins on back legs to release the legs from the rockers. And to assemble you pull legs back and snap them into sockets by pulling on the pins.
The chair comes with its carry bag shown in the picture above, you have a shoulder strap to carry it short distances.
But this is also a rocking chair as you realize from the name. The rocking rails simply fold when you pack the chair. If you use it on a soft ground it will not rock but the rails will prevent any sinking, so this is a good design in any case. I have included it in my list of best rocking camping chairs.
You also have armrests with two integrated cup holders. The armrests are soft and this makes the chair quite unique.
---
Who is it for
Capacity-wise, the chair supports the weight of up to 300 lb (136 kg), so this is quite typical. Most of the chairs of this type are with such a capacity, you will see some in the comparison table below.
Size-wise, the dimensions of this chair are great. It measures (W x D x H) 32.8 x 38.2 x 38.2 inches (83 x 97 x 97 cm) and the seat is (W x D) 21.8 x 17.8 inches (55 x 45 cm). The back is high but you do not have head support here, if this is what you need please check my text on chairs with headrest.
Note that the seat is not low, the height is 19.3 in (49 cm). You have the  armrests to help when you get in and out.
Weight-wise, the chair is on the heavy side, it weighs 16.23 lb (7.4 kg) so I would not carry it long distances. This is a chair to use at places with a car access.
---
Materials & construction
The chair is very stable with its X-shaped supports bars which pivot when you fold the chair, you see them in the picture below. This is a strong corrosion-resistant steel construction. The mentioned two pins which you pull out and release the rocking rails to fold the chair are visible in the picture.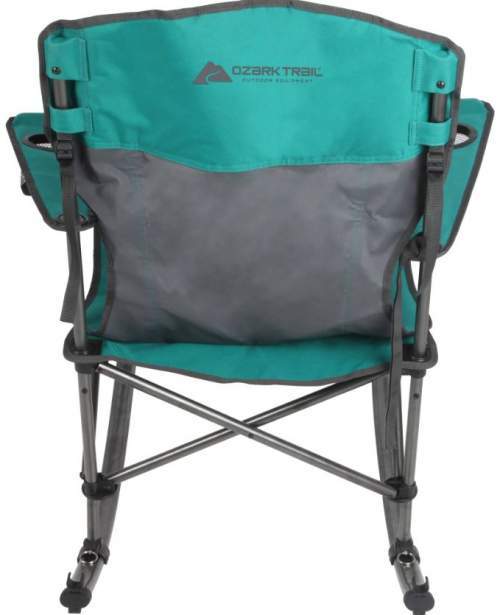 The fabric is a strong and durable polyester with PVC coating and the same material is used for the armrests. The two cup holders are mesh. The stitching looks properly done everywhere.
---
My rating, pros & cons
There are several reports by Amazon customers and the chair has received an incredibly high average rating of 4.8/5.
Now, my rating is quite different but this is because I use several different criteria and I apply them to all chairs presented in the site. The idea is that you compare the rating of different chairs, rather than focusing on the absolute values of the rates.
My rating breakdown of the Ozark Trail Rocking Chair: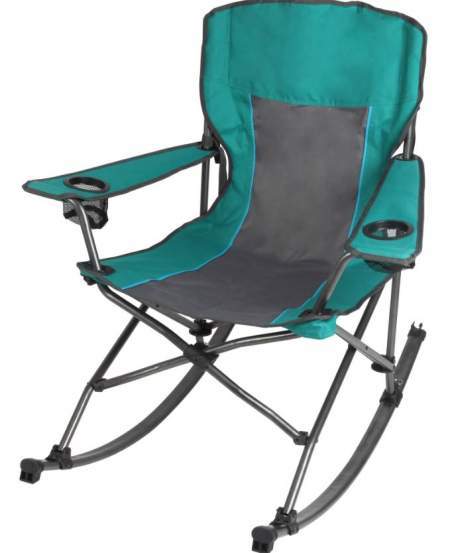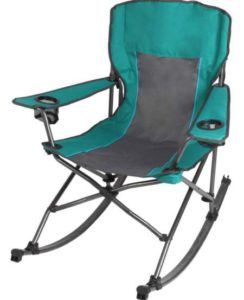 Product Name: Ozark Trail Rocking Chair
Product Description: Ozark Trail Rocking Chair is a folding chair with a carry bag included, with armrests, cup holders, and a great price.
Brand: Ozark Trail
Weight -

3.5/10

Dimensions -

9.8/10

Packed size -

3.5/10

Comfort -

9.3/10

Capacity -

7.5/10

Craftsmanship -

9.3/10
Final rating
My overall rating is – Very Good:
Pros
Great price.
Great design.
Very easy to use.
Carry bag.
---
Specifications
Weight with the carry bag: 16.23 lb (7.4 kg).
Capacity: 300 lb (136 kg).
Dimensions (W x D x H): 32.8 x 38.2 x 38.2 in (83 x 97 x 97 cm).
Seat size (W x D): 21.8 x 17.8 in (55 x 45 cm).
Seat height: 19.3 in (49 cm).
Packed size: 39.8 x 10.3 x 8 in (101 x 26 x 20 cm).
Frame: steel.
Model #: FC-128.
---
Ozark Trail Rocking Chair vs Competitors
It may be useful to see how this chair stands when compared with some of its competitors. So I chose two of them, one with headrest and one without it. Note that both have solid armrests and those are rocking chairs. As you see, the Ozark Trail chair is bigger but it is also heavier. Please follow the links to read more and to check for the updated prices.
Dimensions
(W x D x H), in (cm)

Ozark Trail Rocking Chair
32.8 x 38.2 x 38.2
(83 x 97 x 97)

39.8 x 10.3 x 8
(101 x 26 x 20)

Browning Camping Cabin Chair
22 x 17 x 31
(56 x 43 x 79)

34 x 10 x 10
(86 x 25 x 25)

Kamp-Rite Folding Rocking Chair
31 x 25 x 39
(79 x 64 x 99)

37 x 28 x 7
(94 x 71 x 18)

---
Final thoughts
In the summary of this Ozark Trail Rocking Chair review, I would stress that I am quite impressed with the design and features of this chair. This is a great value/price combination. It is a bit heavy but this is for car camping in any case.
Check on Amazon
Check at Walmart
If you need something different just search in the category Camping Chairs here in the site. There are many of them in all styles and shapes.
Note that this is not a sponsored text and I am not paid by the manufacturer or related to them in any way. 
Thank you for reading, please use the comment box below in the case of questions or comments. Have a nice day.

---