---
KingCamp Camping Cot XL is an oversized 82 inches long heavy duty folding bed with an aluminum frame, an integrated headrest, and an instant setup.
---
Key features & benefits
Very long bed.
Relatively lightweight.
Very easy to use, express setup in seconds.
Storage pouch on the side.
Integrated headrest.
Very strong and stable.
Great capacity.

---
What this is about – what is in the name
This is a folding cot, one of those that you open and spread like an umbrella, from the center in 4 directions, so it becomes ready in seconds.
The cot is with an inclined headrest, see the picture, so you can manage it even if you do not have a pillow.
They describe it as a heavy-duty tool, and this is a good description, this is a very strong construction, a combination of steel and aluminum. The cot is with 10 legs and with numerous support bars and even with straps that stabilize it laterally.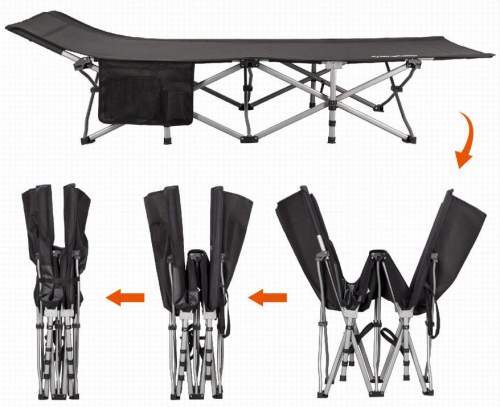 ---
Who is it for
Size-wise, I use the word Oversized in the title as this is used by the manufacturer as well, so let's put this in the context. The bed dimensions are 82 x 29.5 inches (208 x 75 cm). So the length is simply excellent and suitable for most people. However, this is still not long enough to be included in my list of extra long camping cots that are all longer than 210 cm.
The width of 75 cm is quite good, but if you need a really wide cot, please check my list of extra wide camping cots, all above 84 cm in the width.
Capacity-wise, with a capacity of 440 lb (200 kg), this cot qualifies to be included in my list of camping cots for heavy people.
Weight-wise, it is always the best way to compare it with other cots built in the same style. So in the table below, I show a couple of them with the same capacity and you will be able to realize that with its 14.8 lb (6.7 kg), this cot is reasonably lightweight.
The packed size is not among the best, you will realize this also in the comparison table below. It remains quite large in one dimension, so you have 45.2 x 9.1 x 7.1 in (115 x 23 x 18 cm), but this fits in most car trunks.
So if you use this cot for camping or for any other activity (summer festivals, fishing, etc), you will need a car for transportation. For storing it at home this is not a problem, it is not s bulky at all. The bed dimensions are such that it will serve you well as a spare bed at home for sudden guests. Also, if you need something for naps at the workplace, this should be a great option.
---
Materials & construction
The frame is a combination of aluminum and steel, you have many pipes and tubes so the structure is very stable and sturdy. The fabric is a very durable 1200D Jacquard Oxford. The same material is used for the bonus storage pouch.
Using the cot in a family camping tent
You have already seen the dimensions, so this is a cot for larger family camping tents.
The cot has no less than 10 legs and they are with huge feet and plastic caps, so the weight is distributed and the design is floor-friendly. So you should have no problems using this cot in a large family camping tent, or at home as well.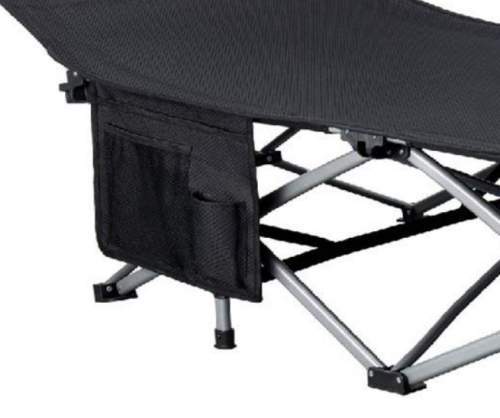 In the case of summer camping, you do not need any pad on the cot except for better comfort. In a cooler environment you will add something, but being off the ground you do not need much insulation in general.
---
My rating, pros & cons
The Amazon price of this cot is given in the link below, so this is more than you would pay for some other models on the market. But I am convinced it is worth the investment. Note also this is an Amazon Prime product.
There are many reports on Amazon by customers and the cot has received an exceptionally high score. Here is how I rate this cot using the same criteria and formulas as for all other cots presented in the site:
My rating breakdown of the KingCamp Camping Cot XL:
Weight -

7.8/10

Size -

8.9/10

Capacity -

9.5/10

Packed size -

7.8/10

Ease of use & features -

9.7/10
Summary
My overall rating of this cot is Excellent:
Pros
Great capacity.
Great size.
Extra easy setup.
Integrated headrest.
Carry bag included.
---
Specifications
Type: folding camping cot.
Weight: 14.8 lb (6.7 kg).
Dimensions (L x W x H): 82 x 29.5 x 15 in (208 x 75 x 38 cm).
Capacity: 440 lb (200 kg).
Packed size: 45.2 x 9.1 x 7.1 in (115 x 23 x 18 cm).
Frame: aluminum & steel.
---
KingCamp Camping Cot XL vs Competitors
The table below shows what I was talking about above. The weight of this cot is quite good for such a type, the packed size is not so impressive but it is still reasonable, but the size is really good. Please follow the links to check the updated prices and to make a proper comparison. This will help in making an informed decision.
45.2 x 9.1 x 7.1
(115 x 23 x 18)

38.6 x 7.9 x 7.9
(98 x 20 x 20)

40 x 8 x 5
(102 x 20 x 13)

---
Final thoughts
So to summarize this text by stressing that this KingCamp Camping Cot XL is not unique on the market, there are many of them built in the same style and most of them are described here in the site. But this is indeed a quality item, and a bit more expensive than some of its competitors of this type.
If this cot is too big for you, note that they have a smaller one built in the same style. But if you need something to carry on the trail, they have yet another ultralight camping cot.

Thank you for reading. If you need more options just search in the Categories above, there are cots of all possible types presented in detail here in the site. Check for example this Yolafe Cot which is also with an integrated headrest, and the same design is in this Alpcour Folding Camping Cot.
In the case of questions or comments, please use the comment box below. I wish you a nice day. 

---