---
Timber Ridge Camping Chair with Adjustable Reclining Padded Back includes also adjustable legs, headrest, padding, and solid armrests. So keep reading.
---
Key features
Reclining folding chair.
Adjustable legs length.
Headrest.
Solid armrests.
Padded chair.
---
Where to buy
This Timber Ridge chair is available on Amazon, so follow the link and benefit from their global shipping service.
---
What type of camping chair is this
This is an impressive chair in many ways, a folding type and easy to use. You simply open it in a second and it is ready. So there is no setup here, but this also implies that it remains a bit large when packed, the packed size is 37 x 24 x 5.5 inches (94 x 61 x 14 cm). As you see it becomes thin and you can store it in narrow spaces, see the picture.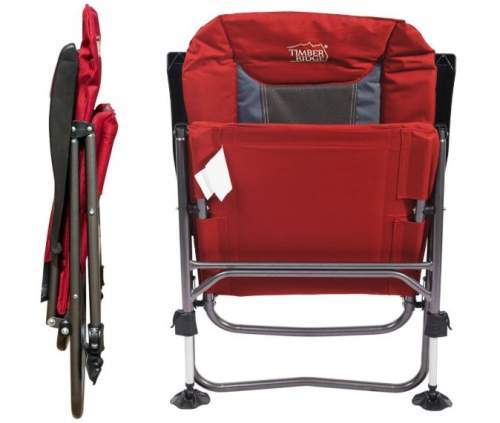 The backrest is high, you have 42 inches (107 cm) from the ground to the top. A pleasant padding is there for head, so I have included it in my list of chairs with headrest. Note however that the top section is only padding without the frame behind, this area is 4 inches (10 cm) high.
The chair is fully padded, all over the seat and the backrest. You have solid armrests and those are adjustable so you can change the backrest angle. In other words, this is a reclining design (see the picture) and I have included it in my list of best reclining camping chairs.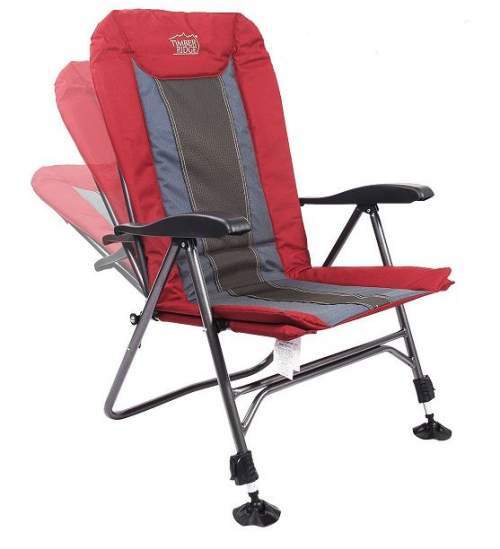 But this is not all, the front legs are adjustable. This is a telescopic design and this allows you to extend them up to 8.5 inches (22 cm), see the picture below. At the same time, on the back you have a bar on the ground instead if feet, so the weight is distributed and such a construction is good when you use the chair on a soft ground. Most of the body weight goes to the back area so you will be safe from sinking.
Note also that the front legs are with huge and pivoting feet. With such features, this chair can be used on uneven ground and you adjust the front legs independently, so it can always be leveled properly.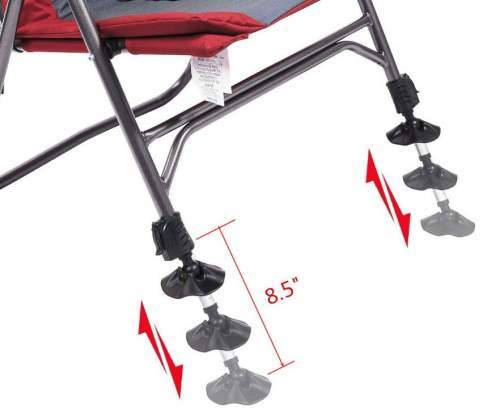 ---
Who is it for
Size-wise, this is a large chair although the seat is not particularly high, some 15 inches (38 cm) above the ground. But overall dimensions are such that it is suitable for tall people and also for elderly users because of the solid armrests.
Capacity-wise, the chair is quite typical with its declared capacity of 300 lb (136 kg). So if you need something much stronger please check my list with chairs for heavy people.
Weight-wise, the chair is heavy, it weighs 17.6 lb (8 kg). You have already seen it packed size so this is an item for car camping.
Note that they suggest to keep it safe and dry, this is a steel construction and it might rust.
I have seen people asking if it is suitable to be used as a beach chair, so the answer is definitely yes. Also, when you use it in the camp, you can raise the backrest completely up and use it as a sitting chair at your camping table.
---
Good and less good features
Here is my short summary:

Very comfortable.
Adjustability options.
Great headrest.
Great back support.
Very easy to deploy.

Heavy.
Very big packed size.
A bit expensive.
The price & rating
This chair is on on the market with the price tag around $100, so this is not the most affordable option, but this is a quality chair and so packed with useful features.
There is a huge number of reports around. On Amazon, the average rating is impressive 4.5/5. My rating is quite different. Please see how I rate it against my standard set of criteria which I use for all the chairs here in the site so you can make an easy comparison.
My rating of the Timber Ridge Camping Chair with Adjustable Reclining Padded Back:
Weight -

3/10

Dimensions -

7.7/10

Packed size -

2/10

Capacity -

7.5/10

Comfort -

9.8/10

Craftsmanship -

9.7/10

Price -

7.8/10
---
Specifications
Weight: 17.6 lb (8 kg).
Weight capacity: 300 lb (136 kg).
Dimensions (W x D x H): 22 x 19 x 42 in (56 x 48 x 107 cm).
Seat height: 15 in (38 cm).
Packed size: 37 x 24 x 5.5 in (94 x 61 x 14 cm).
Frame: steel.
Fabric: 600D polyester.
Warranty: 1-year manufacturer's warranty.
---
Timber Ridge Camping Chair vs Competitors
I have decided to show you this chair side by side with two chairs from some other top brands which share at least some of its features. This will help in making and informed decision.
All of them are very tall and with headrest and solid armrests. But there are features that are different. So for example the Alps Mountaineering chair is a rocking type and this feature you do not have in the other two chairs. The Earth Ultimate chair is very similar to this Timber Ridge chair. So follow the links to read more.
Dimensions
(W x D x H), in (cm)

Timber Ridge
Camping Chair
22 x 19 x 42
(56 x 48 x 107)

37 x 24 x 5.5
(94 x 61 x 14)

25 x 16 x 47
(64 x 41 x 119)

37 x 23 x 5
(94 x 58 x 13)

24 x 17.5 x 41
(61 x 44 x 104)

47 x 26 x 6
(119 x 66 x 15)

---
Final thoughts
So this Timber Ridge Camping Chair with Adjustable Reclining Padded Back is with such a long and descriptive name because of its many features. This is a very comfortable chair and highly rated by users, with all good reasons of course.

If you still need some more options to consider, please check under the category Camping Chairs, you will find them in hundreds here in the site.
Note this is not a sponsored text, and I have no business relationship with this brand. In the case of questions or comments, please use the comment box below.

---