---
In OzTent King Kokoda Camping Outdoor Chair with Lumbar Support, you have a patented and ergonomic design that also includes armrests and a headrest.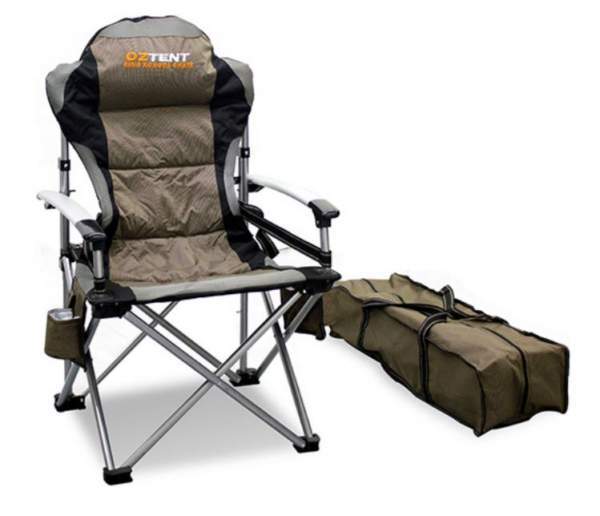 ---
Key features & benefits
Collapsible chair.
Solid armrests.
Patented lumbar support.
Headrest.
Carry bag stores into the headrest pocket.
Storage pouches.
Cup holders.
Padded chair.

---
What type of a camping chair is this
Here you have a really beautifully designed collapsible chair that packs down to 39 x 12 x 7 inches (96 x 32 cm x 20 cm). So as you realize, it remains a bit bulky when packed but only one dimension is really large.
The chair is also with solid armrests which fold when you pack the chair. The armrests are around 20 inches (51 cm) long and 2.2 inches (5.6 cm) wide so the support they give is optimal. There are clips on the rear side which should be released when you want to fold the chair, see one of them in the picture: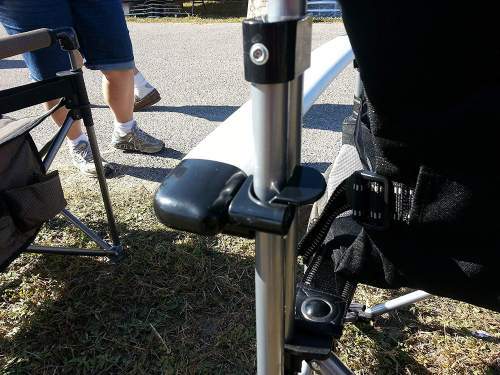 The back section from the seat is 28 inches (71 cm) high, so this is enough to have the headrest mentioned above.
One of the most important features here is its lumbar support. So here you have one of those with an adjustable design based on a strap with buckles on both sides, see the picture.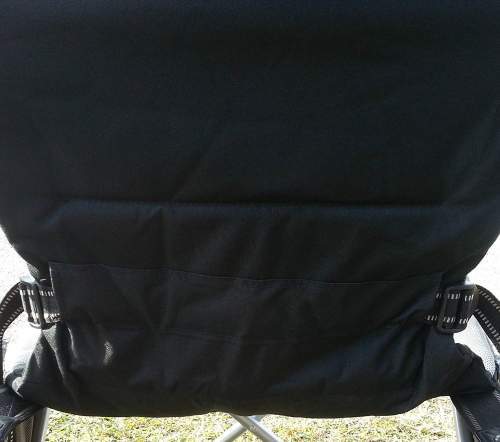 They write this is a patented feature. When you are sitting on the chair, you simply pull the strap on both sides and release or tighten the strap to create the best lumbar curvature for your body profile. This is convenient if several family members with different body sizes use this chair.
Perhaps you might want to know that there is yet another type of such chairs on the market with a frame-integrated lumbar design, see for example this Strongback Elite chair as the best possible example.
---
Who is it for
Weight-wise, with its 14.3 lb (6.5 kg) the chair is a bit heavy but this is still normal for its dimensions and features. You will see how it compares with some other chairs, there is a comparison table below.
Capacity-wise, with the 331 lb (150 kg) capacity, this is a moderately strong chair. There are much stronger items on the market and you can see some here.
Size-wise, with the dimensions of 25 x 19.5 x 41 inches (64 x 50 x 104 cm), this is not a particularly big chair but its dimensions are not bad. You will see it side by side with some of its competitors below. Note that the seat is at 19 inches (48 cm) above the ground at the front, so this is a medium value, not particularly high.
---
Materials & construction
The frame is a steel but the armrests are a combination of an aluminum alloy and plastic. Note that there is no padding on the armrests. The fabric looks a very durable and sturdy polyester and the same material is its carry bag.
The plastic feet are large and this chair will not sink easily in the ground. The chair has been on the market for many years, and I have seen some users complaining about rusted screws.
Can it be used in a large family camping tent? The answer is yes, definitely. This is a floor-friendly design and you can use it in a tent and also at home.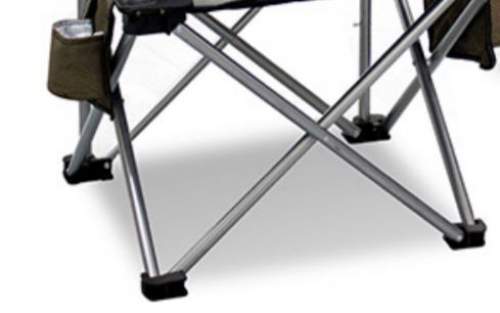 Storage elements
Note that you have storage elements on both sides, one cup holder and a small pouch for glasses, phone or anything of that size, both built from the same strong fabric as the rest of the chair, see one set in the picture: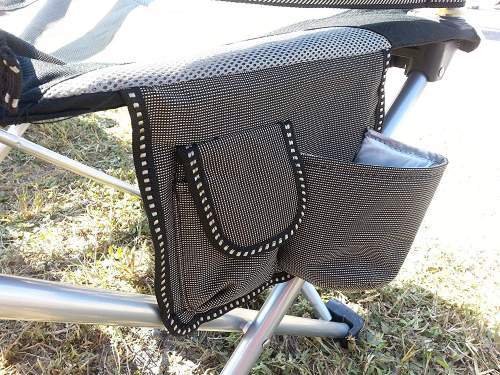 In addition, you also have a zippered pocket on the top where you fold and pack the carry bag when it is not in use, or you can put any piece of your clothing here. With this, you create a pleasant pillow as a headrest.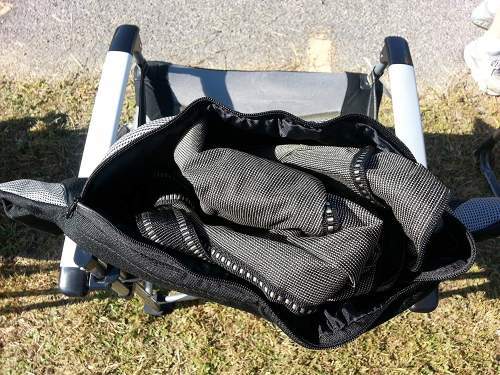 Please see more in this video:
---
My rating, pros & cons
As of the moment of writing this text, there is no description on Amazon at all. Very surprising indeed. One would assume that they want to sell their chair if they put it on Amazon. Some descriptions can only help this.
There are reports by customers and the average rating at the moment of writing this text is 4.3/5. See how I rate it for all the usual parameters used for other chairs here in the site:
My rating breakdown of the OzTent King Kokoda Camping Outdoor Chair with Lumbar Support: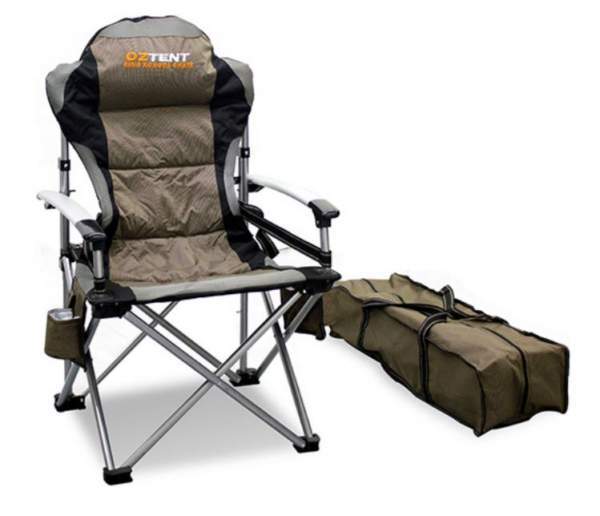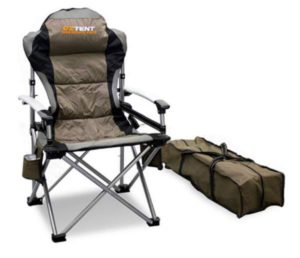 Product Name: OzTent King Kokoda Camping Outdoor Chair with Lumbar Support
Product Description: In OzTent King Kokoda Camping Outdoor Chair with Lumbar Support, you have a patented and ergonomic design that also includes armrests and a headrest.
Brand: OzTent
Weight -

4.5/10

Dimensions -

7.9/10

Packed size -

3/10

Capacity -

8/10

Comfort -

9.7/10

Craftsmanship -

9.5/10
Overall
This is a top-quality chair, but expensive and heavy. My final rating for this chair is Good:
Pros
Quality craftsmanship.
Multiple support elements.
Storage elements.
Nice carry bag.
Cons
Poor description.
Expensive.
Heavy.
---
Specifications
Type: folding camping chair with lumbar support.
Weight: 14.3 lb (6.5 kg).
Capacity: 331 lb (150 kg).
Dimensions: 25 x 19.5 x 41 in (64 x 50 x 104 cm).
Packed size: 39 x 12 x 7 in (96 x 32 x 20 cm).
Seat height: 19 in (48 cm).
Frame: steel & aluminum.
Carry bag included.
Warranty: on their site, they write about 5 years manufacturer's warranty. It is not clear if this holds also for the items ordered on Amazon.
---
OzTent King Kokoda Chair vs Competitors
It might be useful to see how this chair compares with two other top-notch chairs with the same adjustable lumbar support. Note that all have armrests as well, but those two have soft armrests. As you see it is a bit heavier and there are differences in the dimensions as well. But there are big differences in prices, so please follow the links for updates.
Dimensions
(W x D x H), in (cm)

OzTent King Kokoda with Lumbar
25 x 19.5 x 41
(64 x 50 x 104)

39 x 12 x 7
(96 x 32 x 20)

34 x 20 x 38
(86 x 51 x 97)

KingCamp Chair with Lumbar
38.2 x 23.5 x 41.3
(97 x 60 x 105)

---
Final thoughts

Note that there is also a cot from this brand presented here in the site, the OzTent Gecko Camping Cot just in case you need one for camping.
Note that this is NOT a sponsored post, I am not paid by the brand or related to them in any way.
Thank you for reading, please use the comment box below if you have questions or comments. Also, let us know if you have experience with this chair. Have a nice day.