---
Chinook Heavy Duty Padded Cot is an extra wide and very long camping cot with a welded aluminum frame, reclining backrest, and adjustable legs.
---
Key features
Extra-wide cot.
Padded.
Adjustable legs.
Adjustable backrest.
Folding cot.
Aluminum frame.
---
Where to buy
Check on Amazon, they have a great shipping service with stores on 5 continents.
---
What type of camping cot is this
This is a folding design, a cot that remains relatively large when packed, but it is still thin enough to be stored in narrow spaces. See how it looks when packed, the dimensions in this state are 34 x 30.5 x 10 inches (86 x 77 x 25 cm):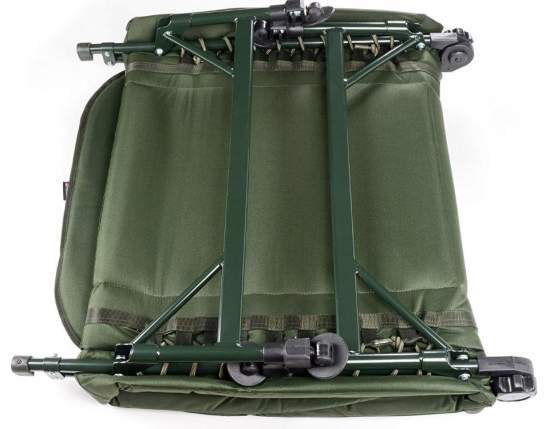 The cot is also with an adjustable backrest, so you can use it as a lounger or as a camping seat with a huge footrest. This is possible because of its telescopic adjustable legs. See one of the possible positions: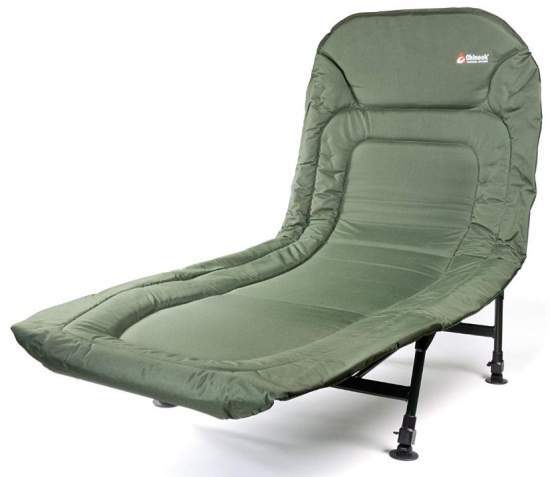 The picture shows you yet another great feature here – the cot is well padded and you have no contact with the frame at any place.
---
Who is it for
Capacity-wise, this cot is impressive, it supports the weight of up to 375 lb (170 kg). But if this is not enough, please check my list with cots for heavy people.
Size-wise, this is a very big bed with the dimensions 80 x 33 inches (203 x 84 cm). So it qualifies to be included in my exclusive list of extra wide cots.
Weight-wise, you will see in the comparison table below how it stands in comparison with yet another padded cot. With its 17.4 lb (7.9 kg) you can call it heavy but the weight is justified for such a design.
So in view of its weight and packed size, this is a camping item for places with a car access. It is big enough for most of the users and the capacity is very good as well.
For home use, this is a great extra bed for grandchildren or for sudden guests. Twin size sheet will be perfect for this cot.
---
Materials & construction
The frame is a heavy-duty welded aluminum and the top fabric is 600D nylon. There is some fiber fill inside the fabric. The bed surface is not saggy, it soft but firm. This is a very stable construction with horizontal and diagonal support bars between the legs and the side bars. But there are no bars close underneath the bed deck so do not worry about pressure spots.
The bed is with 6 legs that are equipped with large caps so this should not sink too much when you use it on a soft ground. This is a pivoting design so the feet accommodate to the surface. With such feet, you can use the cot in a floored tent.
Note that the bed deck is connected to the frame with a cord, this is visible in the picture below, so there are no springs here to make the noise.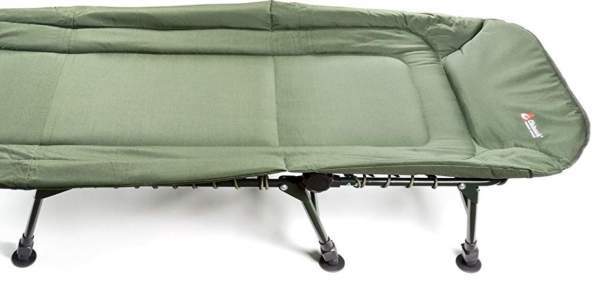 As mentioned above, the legs can be extended so you can always have a perfectly flat bed deck regardless of where you use it. They can be extended for at least 8 inches (20 cm), and this is independent for each of its 6 legs.
Though most complaints by users are actually related to the locking system of those telescopic legs, some have experienced that they do not keep the height at which they set them. So it is best to test the bed properly and get in touch with the seller, Chinook is a well-known brand.
The padding gives some protection from the cold as well, so you do not need a pad for 1-2 season camping. But you might need one if you camp in a cold environment.
One good thing with this design is the height of the bed, the sleeping surface is 20 inches (51 cm) above the ground. This is good for elderly people because it is easier to get in and out of the bed. On the other hand, you have a huge space for storage of your camp gear. In fact, the bed is twice higher than the Bushtec Adventure Camping Cot Sierra 440.
Note also that the legs are quite far from both ends, so this may be good if you set it up at home in narrow spaces, because it is so tall, it can be above some low pieces of furniture.
---
My rating, pros & cons
This is an expensive cot and you will see this in the links given below. But this is a padded and large cot that offers lots of comfort. Please see how I rate it, the same criteria are used for all cots here in the site:
My rating of the Chinook Heavy Duty Padded Cot:
Weight -

7.4/10

Size -

9.3/10

Capacity -

8.5/10

Packed size -

4.6/10

Ease of use & features -

9.5/10
Summary
My overall rating of this cot is Very Good, but see my objections as well:
Pros
Great size.
Great capacity.
Reclining design.
Very soft and pleasant.
Cons
Large when packed.
Expensive.
No stuff sack.
Complaints about collapsed legs.
---
Specifications
Weight: 17.4 lb (7.9 kg).
Capacity: 375 lb (170 kg).
Dimensions: 80 x 33 x 20 in (203 x 84 x 51 cm).
Packed size: 34 x 30.5 x 10 in (86 x 77 x 25 cm)
Frame: aluminum.
---
Chinook Padded Cot vs Competitors
I have decided to show you this Chinook Cot side by side with its closest competitor, the Bushtec Adventure Camping Cot Sierra 440. Both are padded and soft structures, but there are big differences in the weight, height, size, and capacity. Please follow the links for more details and for updated prices.
Chinook Heavy Duty Padded Cot
34 x 30.5 x 10
(86 x 77 x 25)

Bushtec Adventure Cot Sierra 440
33 x 32 x 10
(81 x 81 x 25)

---
Final thoughts
In the summary of this Chinook Heavy Duty Padded Cot review, I would stress its dimensions and the pleasant deck. This is a very comfortable camping bed, good enough even for side sleepers and with lost of space to sprawl.
Its reclining design and adjustable legs make it a versatile item which you can use in several different ways and on any terrain. I have included it in my list of best cots for car camping and also in best padded cots for camping.

If you need something different just search in various categories here in the site. You will find all possible types and shapes of camping cots. Check also this Timber Ridge Juniper Cot built in a similar style and very affordable.
Note that I am not paid by the brand and I am not related to them in any way. In the case of questions or comments, please use the comment box below.