---
The REI Co-op Trailgate Vehicle Sleeping Platform is a versatile outdoor sleeping system with adjustable legs and with a pad included, suitable for sleeping in a car and in a tent.
---
Key features & benefits
Car and tent sleeping system.
Extendable legs.
Two sizes.
A pad is included.
Carry bag.
---
What this REI Co-op Trailgate Vehicle Sleeping Platform is about
Here you have a collapsible sleeping system that they build in two sizes which can be called regular and wide, you will see the numbers below.
Each of them includes the following elements:
Frame bars.
3 + 1 Sets of legs.
Slats in their sleeves.
A sleeping pad.
The picture below shows the frame with legs. On the left you see the front pair of legs that are extendable in the range 10.7 – 30.5 inches (27 – 77 cm). With this you can level the bed if you use it in the car.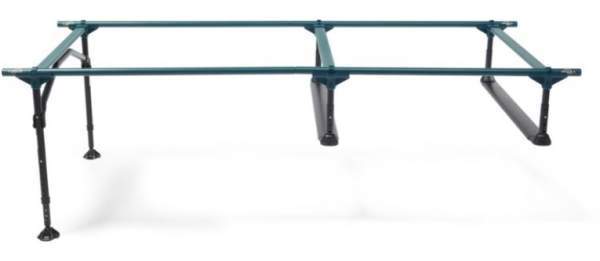 So, in this setup, the longer front legs fit into footwell behind front seats, and shorter middle and back legs rest on cargo area floor.
But they have included also an extra set of front legs so that you can switch to the setup shown in the picture below. This is now a regular cot with all the same legs which you can use on a completely flat surface.

Note that even in this setup, all the legs are adjustable, you can see the details in the picture below.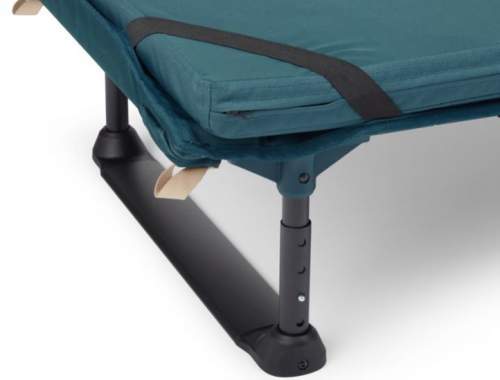 Because of these features, I have included this cot in my list of cots with adjustable legs.
Bed top slats
You have the bed top included, so this is a sort of accordion-type design with aluminum slats sewn into polyester sleeves. This is similar to what they have in their REI Co-op Levitate Sleeping Platform.

Sleeping pad
This system comes with a sleeping pad, so you have R and W versions shown below, they fit the two frame sizes. The length is the same but the width is considerably different.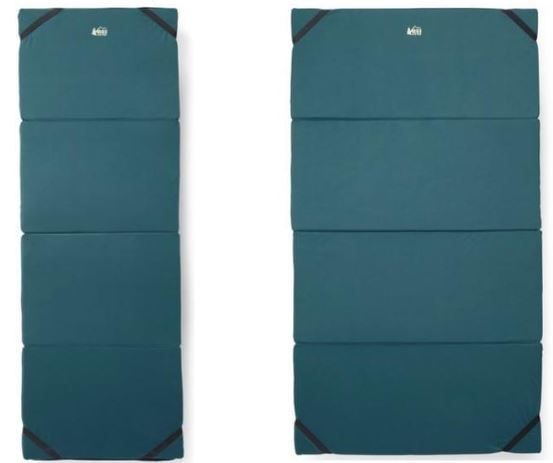 Each of the pads is 1.75 inches (4.5 cm) thick. The length is 72 inches (183 cm), and the widths are 25 and 40 inches (64 and 102 cm).
Materials
The frame shown above is a combination of steel and aluminum.
The front legs are with very wide and pivoting feet so they will adapt to the car interior.
When used as a tent cot, the bars on the ground are wide so this is a floor friendly design and you can use it in a floored camping tent.
The sleeping pad has a PU/EPU foam covered in recycled polyester with a polyester tricot top.
You have seen in the pictures that there are corner straps which center the pad on platform and keep it from shifting.
---
Who is it for
Regarding the capacity, the differences are significant regarding the two options. So the regular cot's official capacity is 250 lb (113 kg), and this is quite a typical value, suitable for most of potential users.
But the wide version's capacity is 400 lb (181 kg). This is suitable for very heavy users.
Regarding the dimensions, both versions are of the same length which is not so great frankly speaking, you have 72 inches (183 cm).
But the width is substantially different, the same as in the pads mentioned above. So if you have space in the car, go for the wider option.
The claim that the legs are designed to fit most of outdoor-style wagons and mid- to full-size SUVs.
Regarding the weight, both options are heavy, you will see the numbers below. But I do not think this is of importance, this is a car camping item.
More important is the packed size. The picture shows the regular version in the carry bag: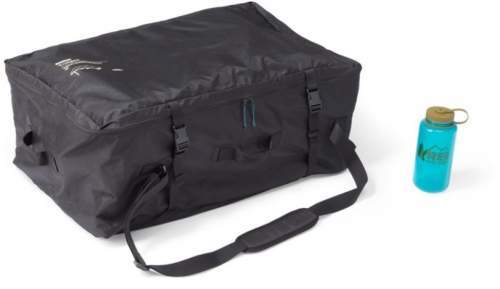 Both cots are quite bulky, just to know if you have a limited space in the car. But note that this is with the pad included.
---
Specifications
Type: collapsible cot.
Two sizes, regular (R) & wide (W).
Weight:
– R: 31 lb (14 kg).
– W: 45 lb (20.4 kg).
Capacity:
– R: 250 lb (113 kg).
– W: 400 lb (181 kg).
Dimensions (L x W):
– R: 72 x 25 in (183 x 64 cm).
– W: 72 x 40 in (183 x 102 cm).
Height: 10.7 – 30.5 in (27 – 77 cm).
Folded dimensions:
– R: 31.5 x 19 x 13 in (80 x 48 x 33 cm).
– W: 40 x 18.5 x 14 in (102 x 47 x 36 cm).
Frame: steel & aluminum.
---
Rating, pros & cons
Below you see how I rate this set, this is for the R size. It is a bit difficult to rate it properly using my standard rating criteria for cots because this is not really a typical cot. There is a rating bar below so you can rate it from your side.
Versatile sleeping set with a pad included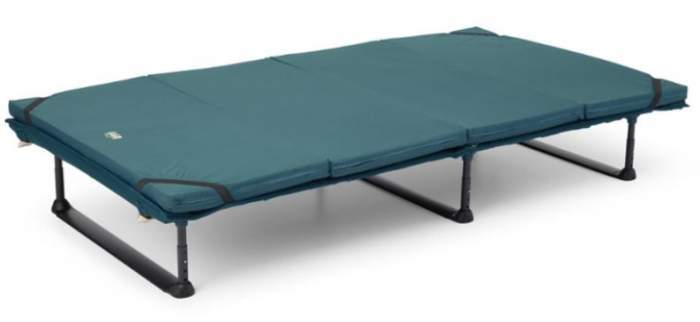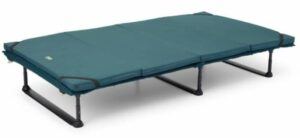 Product Name: REI Co-op Trailgate Vehicle Sleeping Platform
Product Description: The REI Co-op Trailgate Vehicle Sleeping Platform Is a Versatile Outdoor Sleeping Set with a Pad Included, Suitable for Sleeping in a Car and in a Tent.
Brand: REI
SKU: 202738
Weight -

5.5/10

Size -

8.1/10

Capacity -

7/10

Packed size -

7.5/10

Ease of use & features -

9.4/10
Summary
This set scores reasonably well in all rating criteria so the overall rating is Good.
Pros
Two widths to choose from.
Two sets of legs.
Front legs independently adjustable.
Pad included.
Carry bag included.
Cons
Expensive.
Heavy.
A bit short.
---
Final thoughts
So this REI Co-op Trailgate Vehicle Sleeping Platform is truly nicely built and versatile. It is designed for sleeping in a car and also for tents.
In any case, you are elevated from the floor so you have space for storage under the cot. The front legs are independently adjustable, and this allows for using it in various vehicles. I like the fact that they build it in two widths.
The price is steep but this is a complete sleeping set with a pad included. I have included it in my list of best car camping cots and also in the list of cots with mattresses.
Best places to buy:
For more options, please check under the category Cots, you will find them many here in the site, and in all sizes and shapes.
Bookmark this site and visit it when you find time, this will keep you informed, you have new texts added here on a regular basis. Let me know if you have questions, there is a comment box below. Thank you for reading and have a nice day.