---
Here you have my selection of the best bamboo camp tables, easy to use and pleasant products from the best known outdoor brands.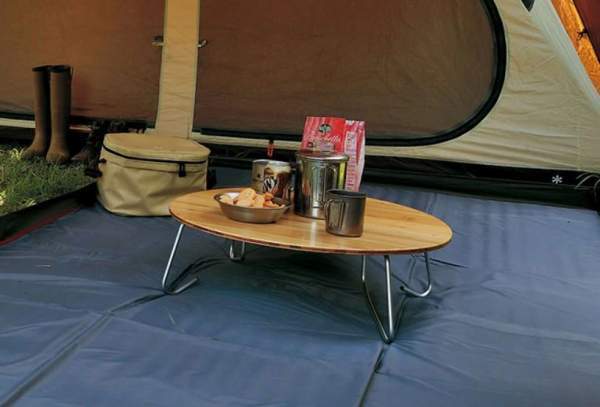 The tables presented here belong to two main groups, i) folding, which means single piece and no assembly of any kind, and ii) collapsible, and this means two pieces and some easy setup. 
So all of them are very easy to use and portable. But some have extra features like extendable and adjustable legs. This is very useful in the camp because of uneven grounds, and this also adds to their versatility because you can use them as side tables and as dining tables.
---
My list of best bamboo camping tables
So here is the list with the bamboo tables ordered by weight from lighter to heavier. 
Having the tabletops of a relatively heavy bamboo material, these tables are still surprisingly light. So have a look and please follow the links for more.

---
1. Snow Peak Single Action Round Table Low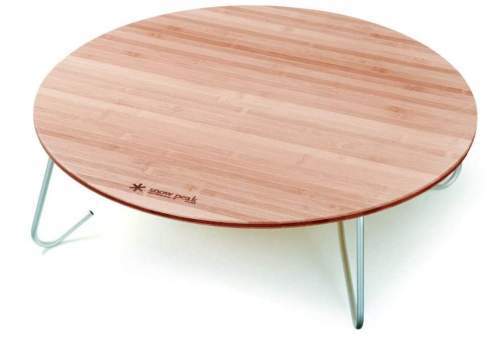 This table is unique here because it is round. This is also one single piece, so the legs and the tabletop fold together. The packed size is half its tabletop, the dimensions of its included half-circle carry bag are 25.6 x 10.2 x 2 in (65 x 26 x 5 cm).
This is a very low side table, the height is 8.3 inches (21 cm). The legs are aluminum, and the weight is 8.4 lb (3.8 kg).

---
2. Camco 51895 Bamboo Folding Table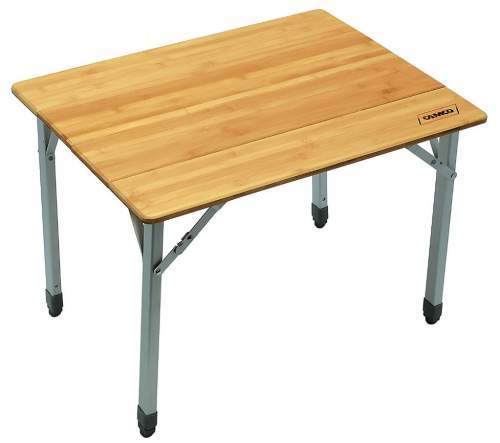 The tabletop here is a thick natural bamboo and it is combined with aluminum legs and frame. These two parts fold separately so the table is a collapsible type with a simple assembly. It comes with a carry bag for transportation.
Yet another great feature here is two possible legs lengths, 18 inches (46 cm) and 25.5 inches
(65 cm). This means you can use it as a side table and as a dining table. There is also a fine-tuning with the feet. This is why I have included it my list of
tables with adjustable legs
.
The weight is 9 lb (4.1 kg) and the tabletop dimensions are 25.5 x 19.75 inches (65 x 50 cm). 

---
3. KingCamp Bamboo Folding Table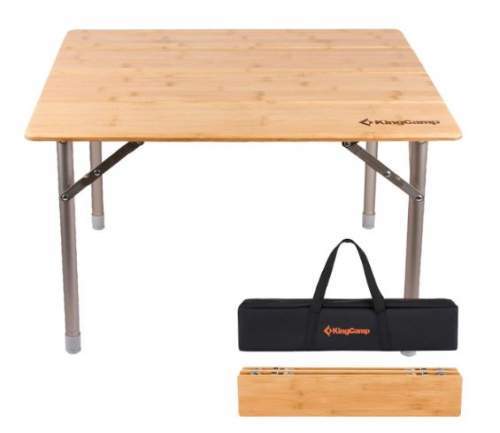 This KingCamp Bamboo Folding Table is what its name says, with a bamboo tabletop, but I would describe it as collapsible because of a simple assembly. The tabletop and the aluminum frame fold separately. The picture shows the included carry bag.
Here you have telescopic legs and you can have any height in the range 16.5 – 25.6 inches (42 – 65 cm). So this is a really great feature. You turn the screw which is on the tube and extend the tube that fits in it, then fasten the screw. You can do this independently for each leg.
The table weighs 9.26 lb (4.2 kg) and its tabletop size is 25.6 x 19.7 inches (65 x 50 cm).

---
4. ATEPA Folding Camping Table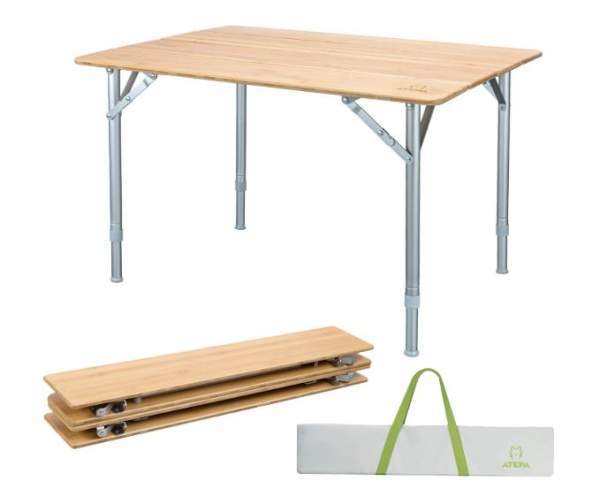 This table is a collapsible type with its bamboo tabletop and frame that fold separately, so there is a simple assembly. The legs are adjustable independently and this is for any length in the range 17 – 25.6 inches (42 – 65 cm).
It comes with a nice carry bag shown in the picture. The table weighs 11.5 lb (5.2 kg) and the tabletop dimensions are very good 31.5 x 23.6 inches (80 x 60 cm). 

---
5. Snow Peak Single Action Low Table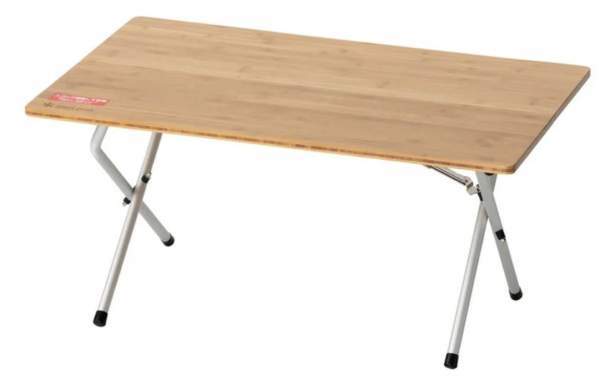 This table is a pure folding construction. It is an incredibly easy to use and ingenious, so the aluminum frame and the bamboo tabletop both fold together.
It folds in half its tabletop size, so the folded dimensions are 33.3 x 9.8 x 2 inches (84 x 25 x 5 cm). As you see it becomes incredibly thin when packed. 
The weight is 12 lb (5.5 kg) and the height is 15.7 inches (40 cm), so this is a side table. You have a carry bag included.

---
6. Zempire Kitpac Round V2 Table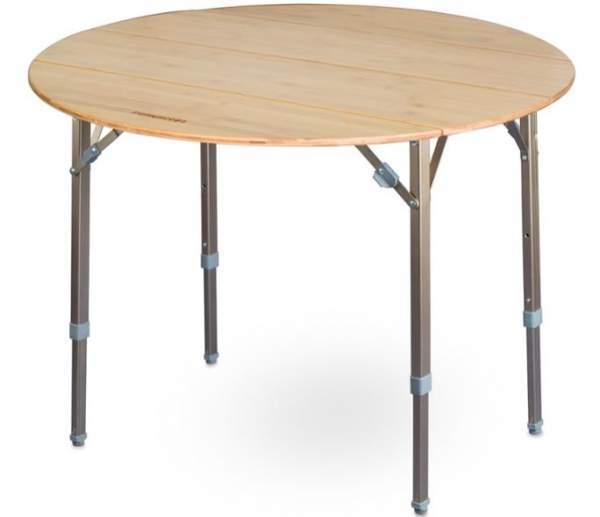 This table is here because of its natural bamboo tabletop that folds in 4 parts together with the frame. There are only two bars underneath the tabletop that must be placed into position, so this is all assembly here.
The legs are telescopic and with 3 heights, and the feet have micro adjustments as well. The frame is aluminum and with several locking elements that make the structure stable. A nice carry bag is included. The weight is 17 lb (7.7 kg).

---
Final thoughts
So this was my selection of the best bamboo camp tables, and the list will be updated as I am adding reviews of such tables here in the site. This is why you might want to bookmark this text and visit it occasionally when you find time. This will keep you informed.
There are big differences in prices, and this is primarily due to the Snow Peak products that are expensive but also of the highest quality. This brand also offers a lifetime warranty for all their products. But if you cannot afford their tables, you have several other really affordable options here in the list.
Let me know if you have questions, there is a comment box below. Thank you for reading and have a nice day.