---
AMENITIES DEPOT Memory Foam 6-Leg Foldable Camping Cot is extra long and extra wide, and padded as well. So this is an incredibly comfortable camping bed.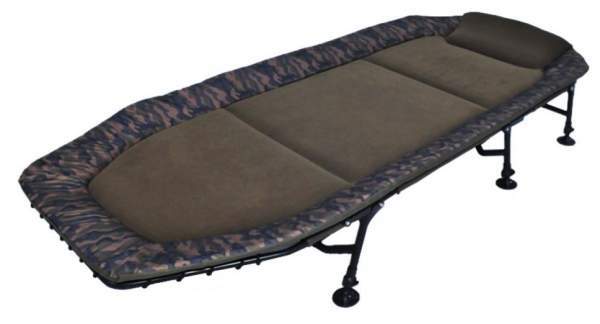 ---
Key features
Padded cot.
Folding design.
Huge size.
Telescopic legs.
---
What is in the name
They use the word Bedchair in the name of this cot, so this is quite misleading because the cot is not reclining type and you cannot use it as a longer or a chair.
This is a folding structure and the packed dimensions are 39.4 x 31.5 x 11 inches (100 x 80 x 28 cm).
The cot is huge, more below, and it is also with a memory foam padding as the name suggests.
---
Who is it for
Size-wise, this is an impressive cot with the bed dimensions 85.6 x 39 inches (217 x 99 cm). So if you are a tall person and need lots of space, this is the cot to consider. Because of such dimensions, I have included it in my list of extra long cots as well as in the list of extra wide cots.
Capacity-wise, the cot is moderate. The declared capacity is 260 lb (118 kg). So if you need something much stronger, check my list with cots for heavy people.
Weight-wise, with 22.7 lb (10.3 kg) of weight, it is not light, but you will see in the comparison table below that this weight is typical for such a type.
The packed size mentioned above is such that you clearly need a car for transportation.
So this is an incredibly comfortable camping bed but you can also use it at home for emergency situations and for sudden guests. With such a padding, you do not need a mattress.
---
Materials & Construction
This is a steel cot so the frame is standard when you compare it with other cots of this type. However, the memory foam padding here is exceptional, and you have a pleasant fleece cover.
The legs are also a great design, they are extendable and this feature allows you to level this cot even if you have to use it on a surface that is not perfectly flat. This is something you will surely need if you use it as a camping cot. You can extend them in the range 13 – 15.7 inches (23 – 40 cm).
This also tells you that you have enough clearance under the cot to store some gear, this is useful when you have a limited space in a tent.
Note also that there are 6 legs in total and they are with large feet, so this should be good enough to use without issues in a floored family camping tent. Such feet will not sink much if the ground is soft.
---
My rating, pros & cons
This cot is currently on Amazon with the price shown in the link. So clearly not the most affordable option among the padded cots.
It has received a few reports by customers and the rating so far has been mixed. I use several criteria and apply them consistently to all the cots here in the site so you can compare:
My rating breakdown of the AMENITIES DEPOT Memory Foam Cot:
Weight -

6.5/10

Size -

9.9/10

Capacity -

7/10

Packed size -

4.2/10

Ease of use & features -

9/10
Summary
My overall rating of this cot is Very Good:
Pros
Very comfortable.
Padded.
Great legs' design.
---
Specifications
Weight: 22.7 lb (10.3 kg).
Capacity: 260 lb (118 kg).
Dimensions: 85.6 x 39 x 13 in (217 x 99 x 33 cm).
Packed size: 39.4 x 31.5 x 11 in (100 x 80 x 28 cm).
---
AMENITIES DEPOT Memory Foam Folding Cot vs Competitors
You might want to see how this cot stands when compared with some other great padded cots. So I give two of them from renown brands. As you realize, they are not a match regarding the size. But its capacity is not so impressive and the same holds for the packed size. Please follow the links to read more.
Amenities Depot
Memory Foam Cot
39.4 x 31.5 x 11
(100 x 80 x 28)

Timber Ridge
Juniper Padded Cot
31.2 x 30 x 4.6
(79 x 76 x 12.2)

Bushtec Adventure
Cot Sierra 440
33 x 32 x 10
(81 x 81 x 25)

---
Final thoughts
So you have seen that this AMENITIES DEPOT Memory Foam 6-Leg Foldable Camping Cot is exceptionally large and also very comfortable. The padding is such that you do not need extra insulation under you at least for a 3-season use. So if it looks bulky to you when packed, bear in mind that this saves you from a separate mattress.

If you would still want something with a mattress, please check my list of cots with mattress included.
Note that this is not a sponsored text and I am not paid by the brand. Please use the comment box below in the case of questions or comments. I wish you a nice day.

---