---
The Disc-O-Bed Single Large Cot comes with an impressive capacity and extendable legs, it is stable and strong, and it offers lots of space.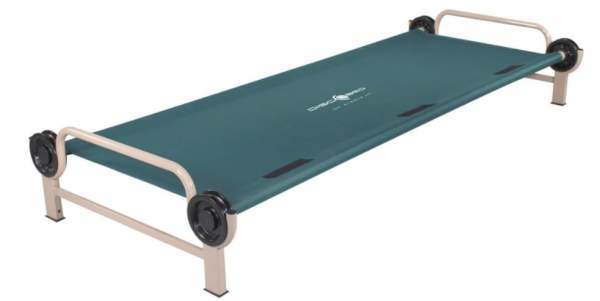 ---
Key features & benefits
Collapsible cot.
Great capacity.
Great size.
Top craftsmanship.
Legs extensions.
---
What this is about
If you are familiar with this brand, you will realize that this is quite similar if not the same as the upper cot from their Disc-O-Bed Large bunk bed. So they sell it as a single cot.
The cot is collapsible, so it needs assembly. It comes with a nice carry bag shown below. The packed size when in its carry bag is 33 x 14 x 6 inches (84 x 36 x 15 cm). As you realize, it is very thin when packed.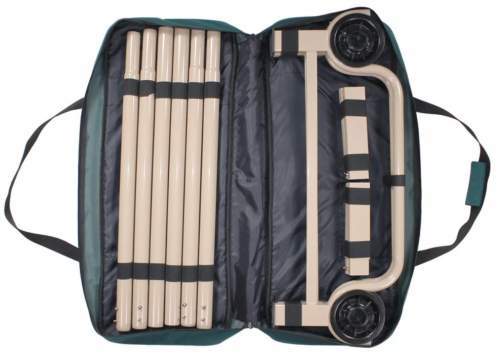 The package includes 2 straight end frames, 1 polyester mat, 4 discs, 4 swaged side rails, 2 straight side rails, 4 foot plugs, 4 leg extensions, and a canvas carry bag.
Materials
The frame is a very durable powder-coated steel, and the fabric is a 600D polyester. Note that it has extensions for its 4 legs, the pictures below show how it looks without and with them.
Using the cot in a tent
The dimensions are such that it can fit in almost any tent, no matter how low, this in particular if you use it without the leg extensions.
The feet are wide and there are some caps/plugs, bit it is best to put something underneath them to protect tent's floor.
For a warm weather camping, you do not need any pad except for extra comfort if you wish.
---
Who is it for
Regarding the capacity, this is an impressive outdoor bed that supports up to 500 lb (227 kg). This is enough for practically everybody. This weight is more than three times my own weight, and it is above the weight of the heaviest sumo wrestlers. So I have included it in my list of cots for heavy people.
Regarding the dimensions, the cot is long an wide, you have (L x W) 82 x 32.5 inches (208 x 83 cm). Though there is a frame around so you can count on 79 x 29 inches (201 x 74 cm) of an actual sleeping area. This is still plenty of space as you realize from the picture below.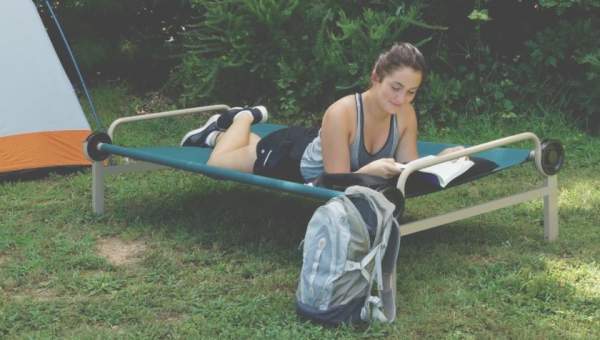 Note that the bed is 8.5 inches (22 cm) above the ground without extensions. So you still have plenty of space to store some longer items under the cot. With extensions it is 15.5 inches (39 cm) high, this may be more suitable for elderly users.
Regarding the weight, the cot can be described as heavy with its 29 lb (13.2 kg). But this is a very strong construction with a steel frame, and this is reflected in its weight capacity.
You have already seen its packed size, so I would describe it as moderate. But in any case you need a car for transportation.
Regarding the price, this brand is not known for low prices, but their products are of exceptional quality, built to last.
---
Specifications
Weight: 29 lb (13.2 kg).
Capacity: 500 lb (227 kg).
Dimensions (L x W x H): 82 x 32.5 x 13/20 in (208 x 83 x 33/51 cm).
Bed height: 8.5 in (22 cm) and 15.5 in (39 cm), without & with extensions.
Folded dimensions: 33 x 14 x 6 in (84 x 36 x 15 cm).
Frame: steel.
---
Rating, pros & cons
Below you can see how I rate this cot using my standard set of criteria. This may help if you compare it with some other cots here in the site. Feel free to rate it yourself, there is a rating bar for this purpose.
Impressive capacity and size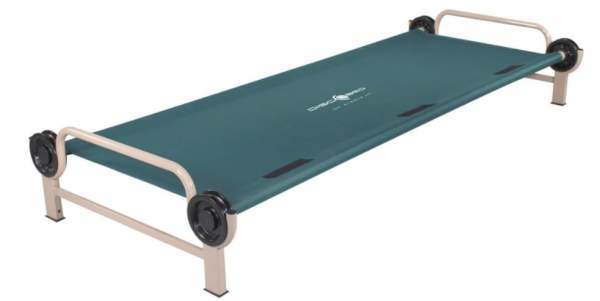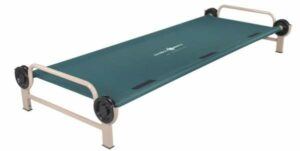 Product Name: Disc-O-Bed Single Large Cot
Product Description: The Disc-O-Bed Single Large Cot Is Very Large, Strong and Stable, with an Impressive Capacity, and Extendable Legs.
Brand: Disc-O-Bed
SKU: 2996348
MPN: 30011
Weight -

5.4/10

Size -

9.3/10

Capacity -

9.5/10

Packed size -

7.4/10

Ease of use & features -

8.8/10
Summary
Clearly, the weight and packed size are not the best features of this cot, but the overall rating is Very Good.
Pros
Top quality.
Very strong and stable.
High capacity.
Two heights.
Great size.
Great carry bag.
Cons
Expensive.
Heavy.
Needs assembly.
---
Final thoughts
So this Disc-O-Bed Single Large Cot is a high quality product. It is designed for single use, but you can always order yet another from the same brand and use them together as a bunk bed. They can also combine into a long bench with a backrest. Fully recommended.
Best places to buy:
For more options, please check under the category Collapsible Cots. You will find them many here in the site, and in all sizes and shapes.
Bookmark this site and visit it when you find time, this will keep you informed, you have new texts added here on a regular basis. Let me know if you have questions, there is a comment box below. Thank you for reading and have a nice day.