---
Camping cots are widely used. but for beginners it may be difficult to choose one. This is why I have decided to make this list of frequently asked questions to have as a reference when people ask.
Is a camping cot worth it?
I would say absolutely yes. There are several good reasons, here are some:
You are off the cold and uncomfortable ground.
You need less insulation, if any.
The space under the cot can be used to store your gear, you do not have this when you put a sleeping pad on the tent's floor.
A cot can also be used as a spare bed for sudden guests at home, and in emergency situations in general.
How do I choose a camping cot?
There are various aspects to bear in mind. This includes legs design, width, length, capacity, ease of use, packed size, weight, etc.
If this is about sleeping in a tent, this can be a floored tent or a tent without a floor. So make sure the cot's legs will not damage the floor.
Cots can be of various sizes, their lengths and widths can be very different. Many of them are narrow, so go for a wide camping cot if you need space to sprawl.
If you are a tall person, you will want to have a long cot. No worry, there are many great options presented here in the site, so check my list of cots for tall people. The picture below shows an excellent example.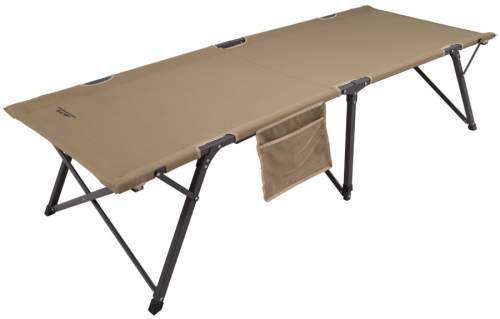 For heavy users, make sure you have a cot with an appropriate capacity. There are many of them here in the site that can support the heaviest users.
There are very easy to use cots that are in the group of folding cots presented here in the site. But such camping cots are usually heavy and bulky.
So if you need something light and compact, you should check among collapsible cots. Some of them are light enough to be carried on the trail. They are also surprisingly small when collapsed and you can transport them on a bicycle, motorbike, in a kayak, etc.
Among folding cots you have two very distinct groups regarding the packed size. One type folds like an umbrella so you have an elongated but narrow tube that will not take much space in the car.
The other type folds two or three times and such folding cots may become very thin but they are large in two dimensions.
⇒ Related: How Can I Make My Camping Cot More Comfortable?
What materials are used for camping cots?
This question requires talking separately about the frame and about the fabric. As for the fabric, this is typically a polyester, and most frequently you will have 600D as its denier value.
The frame is either aluminum or steel, and they are sometimes combined. But there are wood cots as well.
In most of collapsible cots, you also have some plastic hub elements used for their shock-corded legs, this is mostly a solid nylon. These cots can be ultralight and ultra compact, and they are backpack portable.
Some cots are padded, and this is usually an open cell foam. There are insulated cots, so this can be either foam or synthetic fibers.
What are the best known camping cots brands?
Camping cots are popular and there are many manufacturers around. Some are specialized in ultralight cots that can be carried on the trail.
So if this is the type you want, then check some cots of Helinox and Therm-a-Rest brands, but there are more of course. In particular Helinox is well-known for its exceptionally great warranty conditions.
For car camping you have plenty of options, I would point out Browning Camping, Alps Mountaineering, Guide Gear, Disc-o-Bed, and also Coleman with its numerous budget-friendly options.
Are cots good for winter camping?
The answer is yes. When you are off the ground you need much less insulation. So what does this "much less" really mean?
It all depends on the type of the ground, but roughly speaking you lose 30-50 times more warmth to the ground than to the surrounding air.
This means when you are on a cot, you have air underneath you and this is why you need less insulation. You are also physically separated from the ground moisture, so your overall experience and comfort is much better.
Can you put cots in tents?
The answer is yes, this is why most people buy cots. If this is about tents without a floor, then you do not have any issue and you can use any cot.
On the other hand, in a floored tent you might want to pay attention to the legs design. This in particular if the ground is soft. Narrow feet may sink under pressure, and this can make damages to the floor.
It is best that legs are U-shaped so that the weight is distributed over a larger area. This will reduce sinking in a soft ground. Otherwise, add something underneath the feet to avoid potential damages of the tent's floor.
Do you need a mattress for a camp cot?
It depends. You do not really need it, but you might want to have it. For example, for summer camping you do not need. But if you want more comfort, you can put something.
On the other hand, there are cots with padding (see the picture below), and some cots also come with a pad or mattress included. In this case you definitely do not need anything extra.
For camping in a cold environment you will add some insulated pad. But you always need less insulation for off-ground sleeping.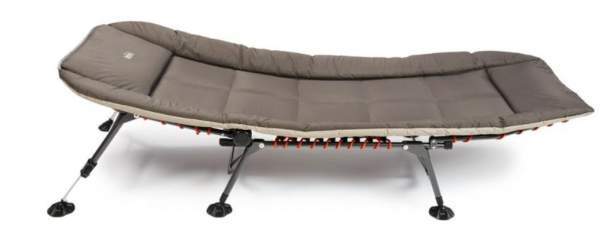 ⇒ Related: Sleeping Pads vs Camping Cots.
How comfortable is a cot?
This depends on the cot's design. In most cases you have a fabric tensioned by a frame around, so this is a more or less flat surface and not particularly comfortable.
But there are also padded cots on the market, and you will find them many here in the site. These are normally more comfortable than those without a padding, and they also provide some insulation.
You can buy a cot that comes with its own removable mattress (see the picture below). So this is almost like sleeping on your home bed. You have some great options here in the site.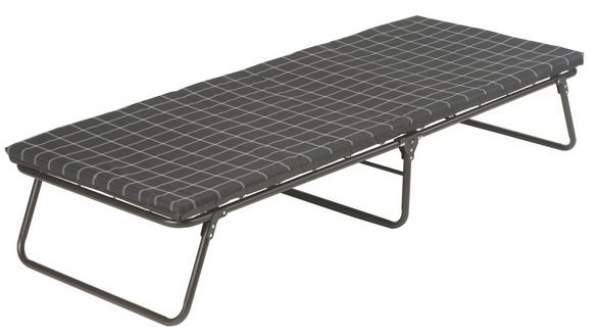 Some cots have an integrated head incline, and some are with an adjustable headrest. Some come with an integrated pillow. All these features add to comfort.
On the other hand, nothing will help if the cot is too short for you or too narrow. So you realize that there are many things to consider.
What makes a good cot?
Here again there are many factors to consider. If you are an older person, you might want a higher cot because it is easier to get in and out.
Also, some cots need assembly. This type is usually compact and light. So this is a sort of trade-off. Folding cots are much easier to use but they are heavier and bulkier.
The cot must be a proper size for you. If you are a short person, you will probably be good with most of them. But this is not so with tall people.
Cots can be narrow, and there are always side poles that take a few centimeters. So if you are a side sleeper you might want to go for a wider option.
Even if you are a back sleeper, and the cot is narrow, you will not have much space for your arms. So here again, go for a wider option.
If you are sensitive to noise, make sure you buy a stable and quiet cot that will not disturb you every time you move.
There are cots with adjustable legs. This may be useful in the camp where the ground is not always perfectly flat.
Can you side sleep on a cot?
The answer is yes, I already mentioned this above. I tend to move my knees close to the upper body, and this needs some extra space. So it is best to go for a wider cot to avoid pressure points on the side bars.
Is it colder to sleep on ground or cot?
I already discussed this issue above. It is definitely colder to sleep on the ground. You will always need far less insulation if you sleep on a cot. Sometimes you do not need anything, a sleeping bag or blanket will be enough.
Are cots warmer than pads?
In principle no, a typical cot offers just a fabric underneath your body. But you are off the ground and this may compensate for the lack of insulation.
However, some cots come with integrated padding and insulation, and this also adds to comfort. These can indeed be warmer than pads used on the ground. See one great example:

How do you insulate a cot?
This is easily done by using a sleeping pad. So this can be an inflatable air pad, a self-inflating pad, or a closed-cell foam pad.
As mentioned above, some cots come with their own removable insulating mattresses, or insulation is integrated inti the bed deck. In this case you do not need anything extra.
How many cots fit in a tent?
This will depend on the tent of course. There are small and low cots on the market that will fit even in the smallest solo tents. So the answer in this case is one cot in the tent.
If this is about larger tents, make sure you leave some space to get in and out. So a 3-person tent should be able to accommodate two cots. In a 4-person tent you can put two cots and have plenty of space in between, plus the storage space under the cots.
On the other hand, in taller cabin-type family camping tents you can use bunk cots or stackable cots and save lots of floor area. Here is one of the best on the market: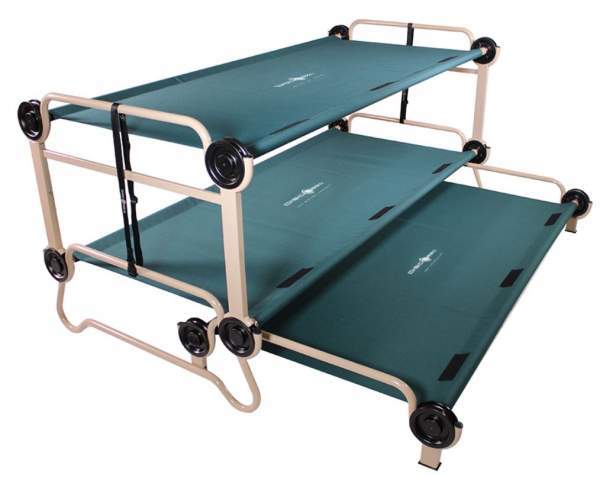 What is more comfortable a cot or air mattress?
These two options can hardly be compared, both have some advantages. If this is about a padded cot (or a cot with its own mattress), then the cot is more comfortable.
But a simple cot without a pad or a mattress is less comfortable than an air mattress.
Can a newborn sleep in a camp cot?
If this is about a baby that is still too small to turn around then the answer is yes, it can sleep in a standard camp cot. So how small or how young baby?
Well, we have a grandchild that is now more than 5 months old, but he can easily turn from back to stomach position. So this boy is not for a standard camping cots, he can easily end up on the floor.
There are camping cots for kids here in the site, and some have a sort of fence around, one example is shown below. This is suitable for small kids and for babies.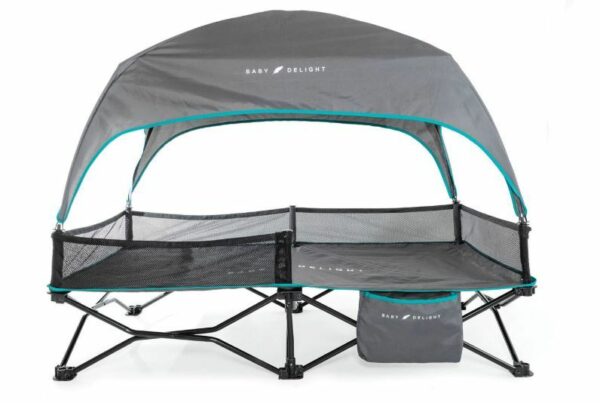 How much weight can a camp cot hold?
Camping cots are typically with an official capacity in the range 100 – 270 kg. The weight capacity is always indicated. Most of them are in the range 100 – 140 kg.
So for heavier users it is best to check my separate list of cots for heavy people. The cot shown below supports up to 600 lb (272 kg). You will never need more.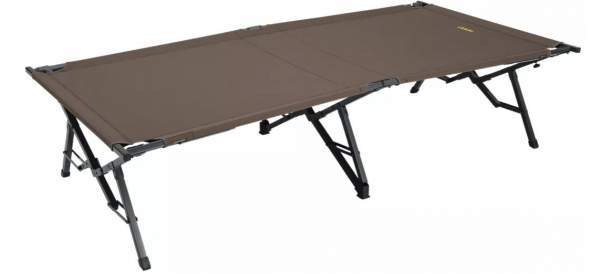 Do you use a pad with a cot?
This question is already answered above. Yes you can use it, but no you do not have to use it, unless you need more comfort or you camp in a cold environment.
Can I put an air mattress on a cot?
The answer is yes, any camping pad or camping mattress can be used on a cot. With a thick enough mattress you will not feel the cot frame and this will save you from potential pressure spots.
How do I make my cot warmer?
So you cannot make the cot warmer, but you can use a pad or a mattress to prevent heat loss to the air underneath you. For the rest of your body you will have a blanket or a sleeping bag.
How do I keep my camp cot warm?
The answer is the same as in the question above. You cannot keep the cot warm, but you can use a pad underneath your body.
Are wooden cots safe?
Actually, wooden cots are rare, but there are some great examples on the market. Probably the best known is this Byer of Maine Heritage Cot that has been around for many years already.
So yes wooden cots are as safe as any other metal cots.
What size cot should I buy?
A cot should be longer than your body. This holds in particular for cots that have poles/bars on all sides. Such bars create a frame that takes a few centimeters on every side.
Some folding cots are without end bars at the head and foot side. So in this case you have no pressure spots but the cot should still be longer than you.
---
So this was my selection of frequently asked questions related to camping cots. I might add more in the future, so bookmark this text and keep it as a reference, or share it with your friends on social media.
You might want to have a look at my text about camping chairs frequently asked questions.
Let me know if you have any question or comment, there is a comment box below, and I shall be happy to answer. Thank you for reading.