---
Here you have my collection of camping chairs frequently asked questions which you might want to read and also keep as a reference.
There are hundreds of camping chairs presented here in the site, and people ask various questions. This is why I have decided to collect some of them at one place and offer in replies when readers ask.
What's the best lightweight camping chair?
There is no simple answer to this. It depends on a variety of factors like the size, capacity, ease of use, comfort, packed size, weight.
If you are a tall person, then the best chair for you is probably with a higher seat and perhaps with a high backrest and a headrest. It is just the opposite with shorter users who might rather have a lower seat.
Also, if you are a slim person, almost any chair will be fine. But if you are a heavy person, the best chair for you should be in my list if camping chairs for heavy people.
There are collapsible chairs that need a simple assembly, while folding chairs are ready in seconds.
Some camping chairs are just a fabric on the seat and on the backrest, but some are padded. On the other hand, some come with armrests and some are without them. Such features make a lot of difference regarding comfort.
There are comfortable camping chairs that are quite bulky when folded, so they take some space in the car.
But if this is about lightweight options, you will not find many that can match Helinox camping chairs. This brand also normally offers a 5-year warranty, and this is without a match on the market.
A bit more on this question you can read in my separate text.
Does the Yeti chair recline?
The answer is no, the YETI Trailhead Collapsible Camp Chair is a great camping chair but it has no reclining features.
But if reclining is a must for you, then check in my collection of reclining camping chairs.
What is a quad camping chair?
The term quad camping chair implies a chair with the seat and backrest fabric as a single piece. This is its basic feature, but quad chairs can include many other details like armrests, headrest, rocking design, etc.
It is best to see some examples, so check this Coleman Big-N-Tall Quad Chair and also KingCamp Folding Quad Chair With Lumbar Support and Armrests.
You can have them for solo use and also as double-wide chairs like this Coleman Quattro Lax Double Quad Chair in the picture below.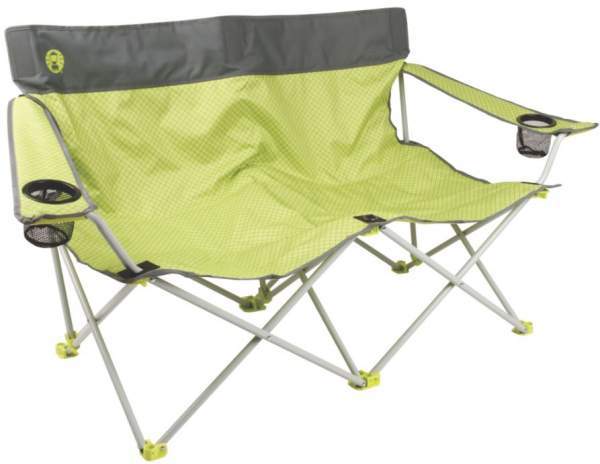 How do you fold a wooden camping chair?
Wood camping chair follow the same design as metal folding camping chairs. So you can have the type that folds like a book and remains large in two dimensions.
The other type folds like an umbrella and it becomes an elongated but narrow tube that does not take much space. It is best to see examples so have a look at this elegant Zempire Roco Lounger V2 Chair: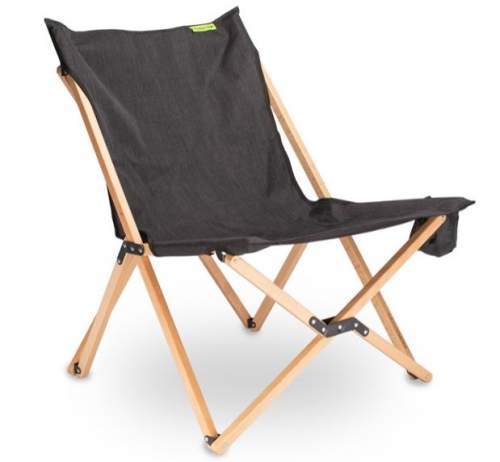 Are wooden folding chairs comfortable?
This all depends on the design. You have seen the Zempire chair above. It offers the same level of comfort as any other metal quad chair of this type (without armrests).
So there is nothing special about comfort of the wood chairs, except that they look cool with their natural materials.
How do I choose a camping chair?
There are many things to consider. Here are a few:
Your body weight. If you are exceptionally heavy, you have to choose a camping chair with an appropriate weight capacity.
Your body size. If you are a slim person, almost any chair will be fine. But some people need a wide seat.
Your height. There are chairs with exceptionally high seats, those are most suitable for tall users.
Space in the car. This is related to the packed size. I already mentioned two basic types of folding chairs (which do not need assembly). But collapsible camping chairs (that need assembly) usually pack very small.
Armrests or not? Having armrests is fine, they add to comfort. But do you plan to play guitar in the camp, or you need the chair for dining? In this case armrests may not be the best feature. So choose a camping chair without armrests.
Extra features. Camping chairs may be reclining, rocking, with a sunshade, with a footrest, with or without headrest, padded or not padded, etc. So choose the one with the features that you need.
What is a moon chair?
These chairs are called moon chairs or saucer chairs because of their round profile. They are also called club chairs. It is best to see an example and you will realize what this means, so here is the Bolderton Heritage Oversized Club Camp Chair: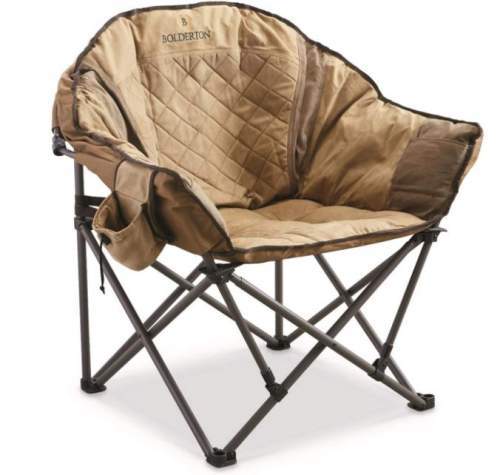 Are camping moon chairs comfortable?
The answer is yes and there are several reasons. One of them you can see in the picture above. Most of these chairs are generously padded.
But what you do not see is the fact that these camping chairs are usually very large, and most of them are with an impressive weight capacity. So the chair in the picture above can support users of up to 500 lb (227 kg). When you have something so sturdy you feel comfortable.
How do you fold a saucer chair?
All the examples that are presented in my list of club camping chairs are the folding type that packs like an umbrella. So they are surprisingly compact when stored or when transported in the car.
As an example, the chair presented above is an elongated tube with the dimensions 42.1 x 12.6 x 11 inches (107 x 32 x 28 cm). But here is yet another, the ALPHA CAMP Oversized Camping Chairs Padded Moon Round Chair: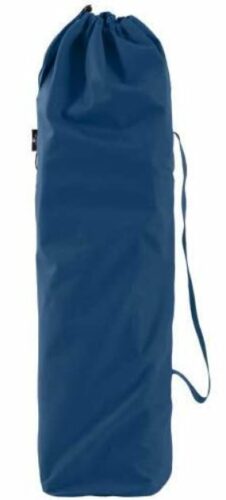 How do you make a backpacking chair?
Backpacking chairs are in the group of collapsible outdoor chairs. This means i) they need a simple assembly, and ii) the are very compact. But being designed for the trail, they are also ultralight.
What this all means in terms of numbers? So the lightest backpacking chairs weigh less than 500 grams. On the other hand, the packed size of the Helinox Chair Zero is only (L x D) 13.8 x 3.9 inches (35 x 10 cm).
But how are they really made? Well, this is always a shock corded hubbed frame with all tubes pre-attached to each other. So they click in place almost by themselves, there is nothing to guess, and you can do this even in the dark. After that you simply attach the sling on the frame. This is all done in seconds.
How do you keep a chair from sinking in sand?
You have seen a few pictures in the text here. So the feet of camping chairs can be narrow and they sink easily in a soft ground.
But Helinox has developed a ground sheet that you attach on the feet, this spreads the weight. You can see an example in my text about their Helinox Sunset Chair.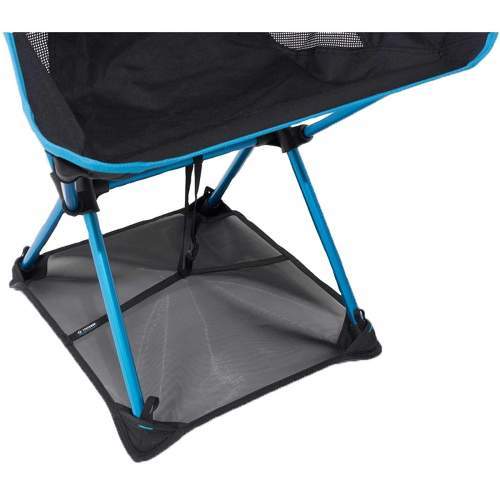 But there are camping chairs with U-shaped ground bars instead of narrow feet. One great example is this Coleman Living Collection Flat Fold Chair: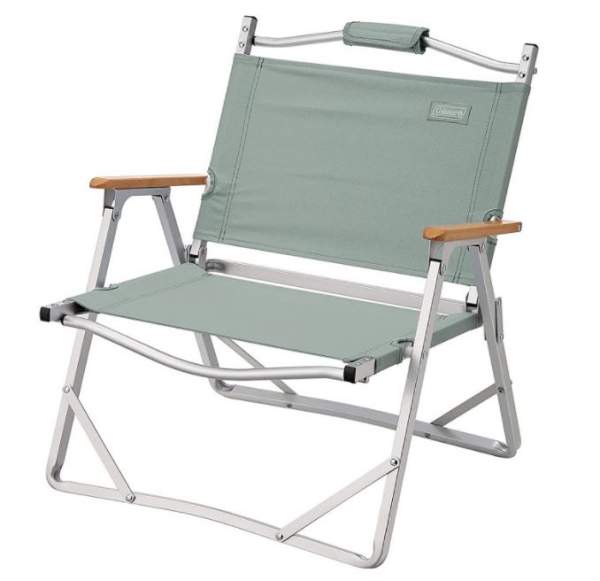 With such bars on the ground, the weight is distributed and such chairs can be used on practically any surface.
Are bamboo folding chairs comfortable?
When you see a bamboo camping chair, it looks the same as a wood camping chair. There are several great examples here in the site, see for example this Snow Peak Take! Bamboo Chair Long.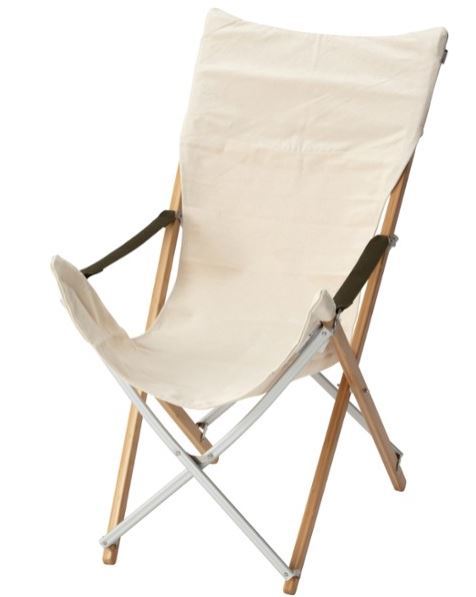 So the same holds as for the wood camping chairs, there is nothing specific or extra regarding their comfort. This depends on the overall design, regardless of what material is used for the frame.
What are metal folding chairs made of?
If this is about camping folding chairs, this is usually steel or aluminum. Sometimes you have a combination of both. But metal can be combined with wood or with bamboo as in the picture above.
However, backpacking chairs are always made of aluminum.
What kind of fabric are camping chairs made of?
Camping chairs' fabric is typically polyester. Sometimes this is combined with nylon mesh sections for ventilation.
In most cases this is a 600D fabric, but there are high quality chairs with a much higher denier value like the previously mentioned Zempire Roco Lounger V2 Chair.
But there are also chairs with cotton fabric, and this is typical for the Snow Peak brand. See how great their Snow Peak Low Beach Chair looks: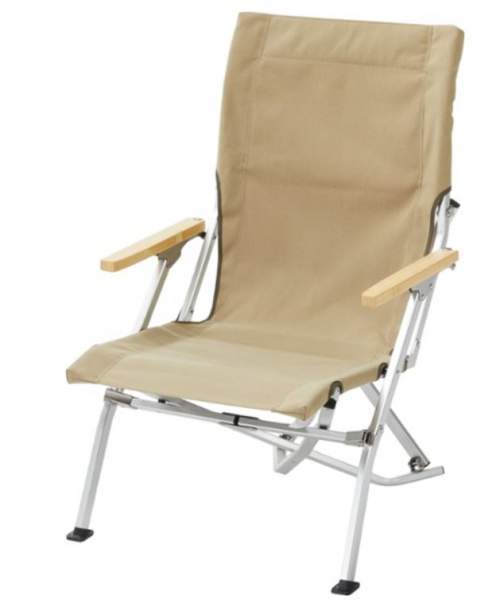 What are camping chair legs made of?
Legs in camping chairs are a part of the frame, so this is the same material. As mentioned above, this can be steel, aluminum, wood, or bamboo.
The feet are usually some sort of plastic, typically nylon or sometimes rubber.
---
So this was my selection of camping chairs frequently asked questions, this list will be updated from time to time, dependent on the questions I receive from readers. This is why you might want to bookmark this text and have it as a reference.
Please share this text with those who might find it useful. Let me know if you want to have a question answered, there is a comment box below. Thank you for reading and have a nice day.