---
In this text you have the best known Folding Camping Cots With Mattress that are available on the market. All of them are foldable and with removable foam mattresses.
My list of best camping cots with mattress
What you have here are folding camping beds with foam mattresses with various thicknesses, all with a sturdy construction, suitable both for home use and for outdoor use. So these cots are very different from the cots with integrated air mattresses that are presented elsewhere in the site.
The cots in the table are given in alphabetical order, so the numbers are only for navigation, not for ranking.
As I mentioned above, the cots are foldable together with their mattresses. This means that they remain with two relatively large dimensions when packed, but they can still be easily stored at home or transported by car.
The weight of all given folding camping beds is in the range 5 – 13 kg (11 – 29 lb) and this may look substantial. But these tools are not designed to be carried long distances, so the weight difference is not so important.
WHY using a folding camping bed
First, it is about comfort. Sleeping on the ground can never be as comfortable as sleeping on the bed.
Second, there is the problem of insulation. When you are on the ground you need far better insulation, this because you lose around 50 times more body warmth to the ground than to the air, this is about heat conduction. So when you are on the cot, essentially air is under you, and you avoid spending much on expensive sleeping pads.
Third, when you put a pad on the ground, it takes a lot of space in the tent. But if you have a cot, all space and volume under the cot can be used to store the gear, and even for a dog if you have one with you.
Note also, these are 3-in-1 tools. You can use both the cot and mattress separately and together. If you have two sudden overnight guests and only one cot, no problem one can sleep on the cot without the mattress and the other on the floor with the mattress.
---
1. Byer of Maine Cottage Cot Bed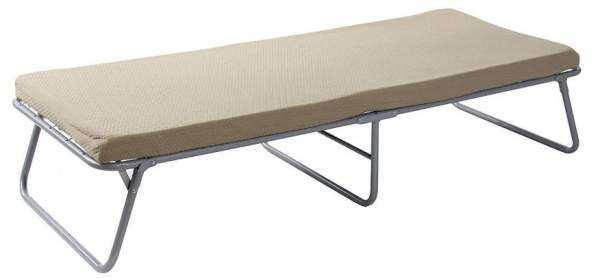 Here you have a new item on the market from this renown brand. This time they came out with this cot that has a 3 inches (7.6 cm) mattress built as a laminate of memory and ordinary foam. The cover is removable and washable.
The bed size is 75 x 31 inches (190 x 79 cm) and the frame is a very strong steel. The legs are with locking mechanisms.
Less GREAT features
No stuff sack.
Expensive.
---
2. Coleman ComfortSmart Cot
This cot with foam mattress is described in my separate text so please follow this link to see more. Here only a few basic details:
KEY FEATURES AND BENEFITS
Foam mattress included.

Durable heavy-duty steel construction.

Versatile bed.
Great price.
Less GREAT features
No stuff sack.
Quite short.

---
3. Coleman ComfortSmart Deluxe
This is an extra large cot suitable for tall people. It is described in detail in my separate review, here just to mention a few key features:
Obviously, a foam mattress is included.

Durable heavy-duty steel construction.

This is a deluxe model, suitable for people up to 6 ft 6 in (198 cm).
Great price.
To see more please check the link:

---
4. Coleman Ridgeline III Camp Cot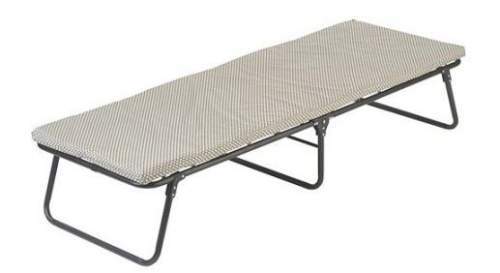 This is a quite large and reliable cot, see some of its most important features:
Foam mattress included.

Durable heavy-duty steel construction.

Great price.
Less GREAT features

---
5. ELTOW Cozy Folding Camping Cot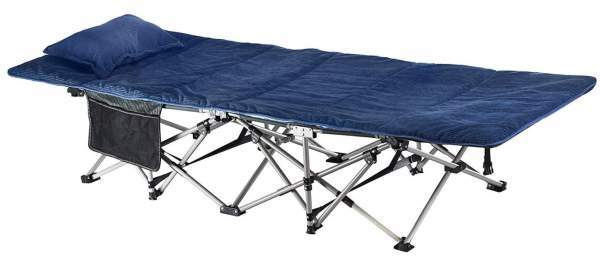 This Eltow Cozy Cot is a rare example of cots with mats that fold in such a way to remain long in one dimension only. So its packed size is 41 x 12 x 6 inches (104 x 30 x 15 cm).
This is a strong steel frame and I have included it also in my list of cots for heavy people. The weight capacity is 400 lb (181 kg).
As you realize from the picture, it comes with a pillow and with a mat and this is why it is in the list here. You also have a carry bag included.

---
6. GigaTent Folding Comfort Camping Cot with Mattress, X-Large
Key features and benefits
This cot is built very large, suitable for people up 6 ft 4 in (193 cm).
The frame is a strong 1 inch (2.54 cm) tubular steel.
U-shaped legs (bars) are very much suitable for a tent floor. Such a design is good also because it does not sink into a soft ground.
The cot is high so you can store a lot of stuff under it when you use it in a tent.
The open-cell foam mattress is covered with coated polyester on top and with waterproof vinyl on the bottom for durability and moisture protection.
The mattress and the cot can also be used separately.
Less GREAT features
The mattress is rather thin.
Specifications
Weight: 18 lb (8.16 kg).
Capacity: 250 lb (113 kg).
Dimensions: 79 x 29 x 14.2 in (201 x 74 x 36 cm).
Foam mattress: 1 inch (2.54 cm).

---
7. Purenity Comfort Folding Military Bed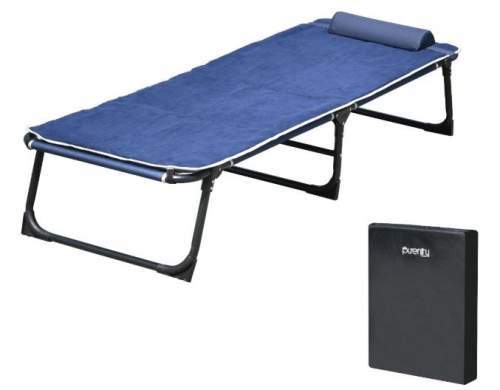 This Purenity Cot comes with a mat but this is far thinner than the mattresses in the other cots in the list. But it still offers some cushion and insulation, good enough for up to 2-season use. This is a good option if you do not want a bulky and heavy item.
It comes also with the carry bag which is shown in the picture above, it is equipped with a zipper and it has a strap so you can carry it short distances. You also have a bonus pillow included.
Here are some numbers. The weight is 11 lb (5 kg) and the dimensions are (L x W x H) 72 x 24 x 18 inches (183 x 61 x 46 cm). Please follow the link for more.

---
8. REI Co-op Trailgate Vehicle Sleeping Platform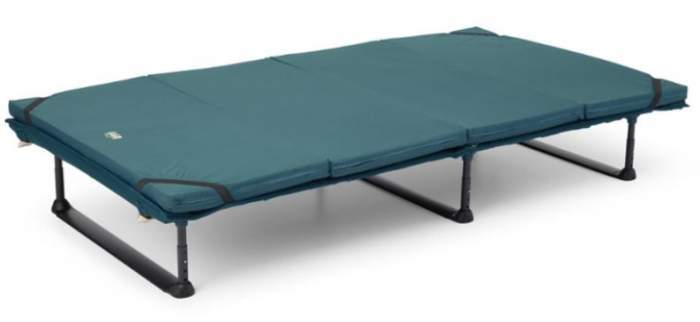 Here you have a completely unique sleeping system that is built specifically for car camping. It includes a cot with adjustable legs, slats in the sleeves, and a pad. The set is available in two sizes.
The most unique part of this system are its legs that are extendable in such a way that the cot can be used for car camping where you have an uneven surface. But this is also suitable for a tent of course.
The weight of the mentioned two different options is 31 lb (14 kg) and 45 lb (20.4 kg). A carry bag is included.

---
9. Simmons Beauty Sleep Foldaway Guest Bed (Twin)
Key features
Very wide.
Thick mattress.
It folds to 7 inches (18 cm) depth when folded.
Plush Micro Quilt removable and washable cover.
Very durable construction.
Note, they have a smaller version as well.
See more in this short video:
Less GREAT features
A bit expensive, $155 Amazon price at the moment of writing the text.
Although "Twin" by name, it is "only" 31 inches (79 cm) wide.
Specifications
Weight: 29 lb (13.2 kg).
Capacity: 300 lb (136 kg).
Dimensions: 75 x 31 x 17 in (191 x 79 x 43 cm).
Mattress: 3 in (7.6 cm).

---
10. Snow Peak Campfield Futon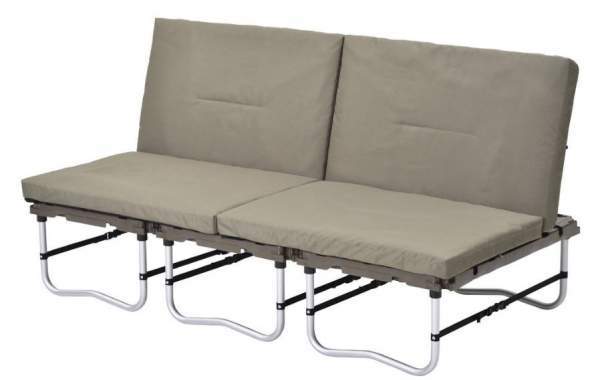 This is an incredibly functional, convertible, and versatile product which can be used:
As a sofa as shown in the picture.
As a camping cot with mattress, this is why it is here.
As two separate padded camping chairs.
As a lounger.
As a storage shelf.
When used as a sofa, it is also with a reclining design. But it is here as a cot, so just to know that in such a setup you have a 2 meters long cot with 7 cm mattress. Please follow the link to see more about this ingenious design.

---
11. Stansport Conifer Steel Cot with Mattress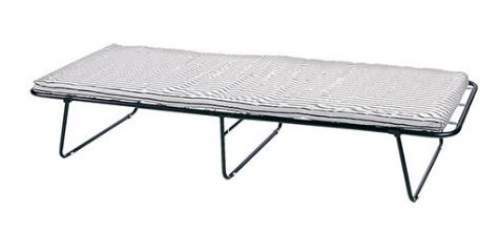 KEY FEATURES AND BENEFITS
Great price, only $48 on Amazon at the moment of writing the text. Please check the links for updates.
Powder-coated steel frame with spring tensioned metal supports and three full-width attached U-shaped bar-legs.
One-year warranty against manufacturer's defects.
Less GREAT features
A bit short.
Thin mattress.
Confusing description, with two numbers for the mattress thickness and weight capacity.
Specifications
Weight: 18.6 lb (8.44 kg).
Capacity: 250 lb (113 kg).
Dimensions (L x W x H): 75 x 30 x 15 in (190 x 76 x 38 cm).
Folded size: 37 x 31 x 4.5 (94 x 79 x 11 cm).
Foam mattress: 1.5 in (3.8 cm).

---
Summary
So this was my list of Folding Camping Cots With Mattress, all very popular models presently available on the market. As you realize, all are at really reasonable prices.
There are differences in the mattress thickness and also in the support system. The latter includes U-shaped bar legs in most of the cots, and only one is with classic legs. This is important if you plan to use it in a tent, to avoid damages to the tent floor.
Most importantly, none of them has bars under the mattress, so you can be sure you are safe from such an issue. There are end bars of course, in all models, so bear this in mind and buy an appropriate length. Though a mattress reduces this problem considerably and with it, you practically avoid touching the end bars.
If nothing here is good for you, and you need something portable, collapsible, and suitable for hiking and backpacking, and for transporting on a motorbike perhaps, see this list of ultra lightweight cots.
Thank you for reading. If this text has been useful to you, please share it with others. Use the comment box below if you have comments or questions. I wish you a nice day.