---
In this text I give a list of Best Camping Cots With Air Mattress that are available on the market, all completely collapsible and portable, suitable for outdoor and home use.
My list of cots with air mattress
Note, there are not so many camping cots with air mattresses available on the market, but see the comment below related to the Haotian cot.
So here they are, ordered by weight from lighter to heavier and with only a few basic parameters, to see more please follow the links, they all are described in separate texts:
What you have here
Two cots are with the dimensions which put them in the group of cots for one person.
Three of the cots are double-wide type, so these are great tools for couples. Obviously, when used outdoors, they require a large tent.
All cots are completely collapsible. This term implies that when packed, they reduce to a very small size with only one relatively large dimension, so that they easily fit in any car trunk.
One of the cots is in the group of collapsible tent-cots, which means that it comes with a tent that sits on the cot. So this is a complete sleeping system.
All these tools can be used at home as well as spare beds for sleepovers and sudden guests.
All come with thick inflatable pads.
Several of them also include either a cover or a sleeve for the mattress. This makes them quite comfortable and you will not be touching the plastic at any point.
Some models come with an integrated pump that needs electric power, so this limits a bit their use as camping tools.
All are described in detail in my separate reviews, so please follow the links to see more.
---
1. Big Agnes Goosenest Inflatable Cot

This Big Agnes Goosenest Inflatable Cot is very special here. It is a sort of inflatable mattress with extra features. It allows for attaching it to other items of the same type, and also for fixing an extra sleeping pad on it as shown in the picture.
So this is a unique design, and it serves as an extra thick platform. You can sleep on it without extra pad. The weight is 4 lb 1 oz (1.84 kg) and the thickness in outer/inner area is 6/5 inches (15/13 cm).

---
2. KingCamp Ultralight Camping Cot with integrated air mattress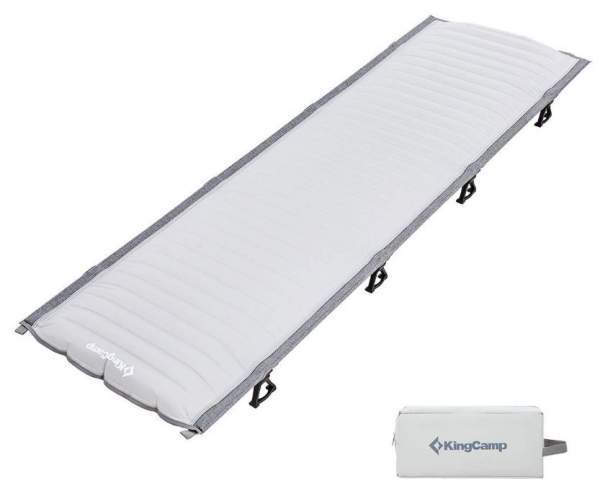 Here you have an award-winning collapsible backpack-portable cot that weighs only 5.8 lb (2.6 kg). It comes with an integrated air pad, so you do not have to carry an extra sleeping pad. This is what makes it suitable for shorter hiking tours.
The cot is fully collapsible and it fits into its carry bag shown above. The packed size is 15 x 8.2 x 6.7 inches (38 x 21 x 17 cm). So indeed it can be attached to a pack or transported on a bicycle and motorbike.

---
3. Helinox Cot One Convertible Insulated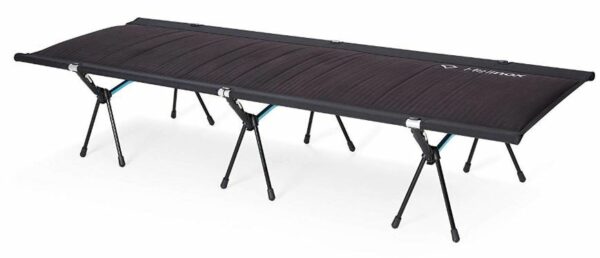 This is a unique item on the market. What you see above are removable legs that can be ordered separately. The cot comes with an integrated self-inflating pad with an R-value 5. This is the reason for including it here in the list. So this is a 2-in-1 system with the top quality cot and a pad. They give a 5-year warranty for it.
Here are some numbers you might want to see. The weight is 6 lb 4 oz (2.86 kg), the capacity is 320 lb (145 kg) and the bed size is 74.5 x 26.5 inches (190 x 68 cm). This is a backpack portable system.

---
4. Hey Foly Folding Camping Cot with Mattress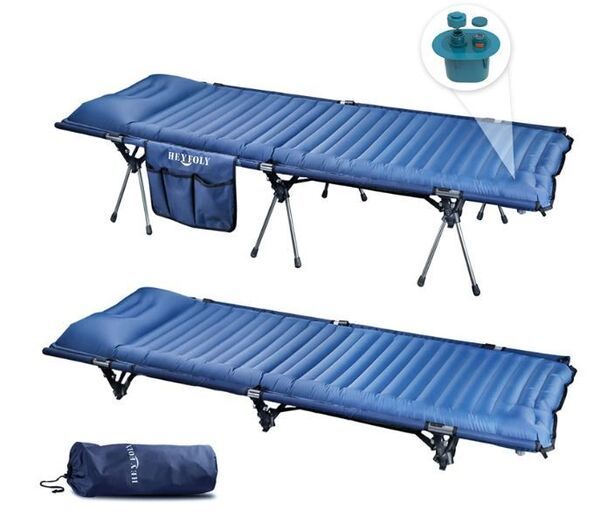 This cot is incredibly feature-rich. It comes with extensions for legs, so it has two heights as shown in the picture.
But it is here because of its integrated inflatable pad which is also with an integrated electric pump. The pump is with a rechargeable battery. The mattress thickness is 3.1 inches (7.8 cm).
The pad's official R-value is 1.7 so this is for the warmer part of the year. As you see from the picture, it also has an integrated headrest, plus storage elements.
The cot weighs 9.5 lb (4.3 kg), its capacity is very good 330 lb (150 kg), and the dimensions are (L x W x H) 78.7 x 29.5 x 15/6.7 inches (200 x 75 x 38/17 cm).

---
5. KAMPKEEPER Twin Camping Cot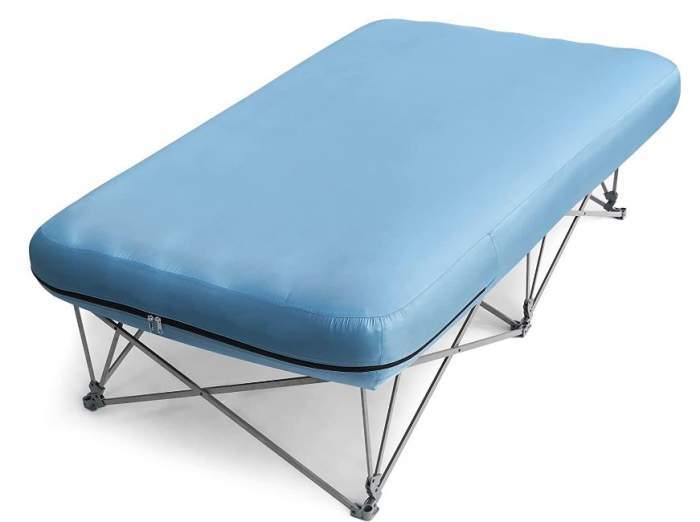 This cot is with an impressive width, the bed measures 74 x 39 inches (188 x 99 cm). Though as you see the length is quite moderate.
It comes with a pre-attached and fixed mattress sleeve and an air mattress included. The mattress can be used on its own of course.
The whole set weighs 18.26 lb (8.3 kg), and the capacity is 250 lb (113 kg).

---
6. Haotian Compact Camping Cot
This is a complete sleeping system that includes 9 elements in total: the cot, tent attached to it, inflatable pad, sleeping bag, inflatable pillow, foot pump, pad cover, pillowcase, carrying bag.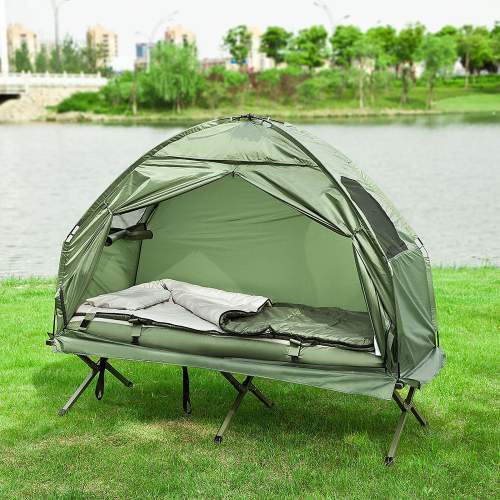 The bed size is 76.4 x 34.2 inches (194 x 87 cm) and it weighs 27.78 lb
(12.6 kg).
A peculiar detail related to this sleeping system is that you can find it on Amazon under 7 different names. The brand Haotian presented here is with the best price. I do not give more details here because it is described elsewhere:

---
7. Tangkula 1-Person Tent Cot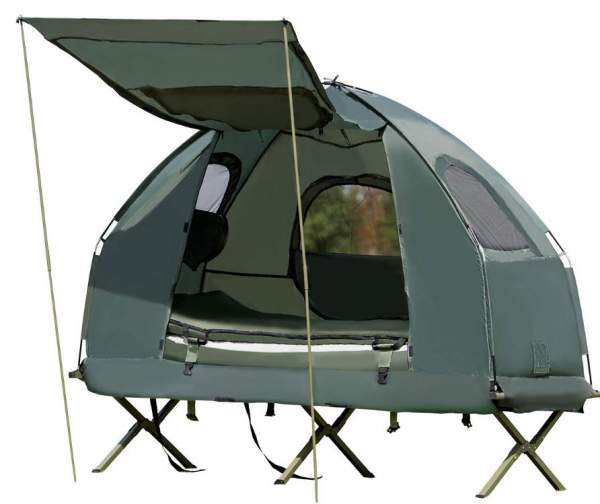 Here you have a complete outdoor sleeping system that includes a cot and a tent together with all the bedding (a sleeping bag, an inflatable pad, an inflatable pillow, and covers for the pad and pillow), plus a foot pump.
But it is here in the list because of its modular design. So you can use the cot separately from the tent and you can use it with the included inflatable mattress of course.
The cot itself is military-style and collapsible, with the usual easy setup. The pad is inflatable and very thick. The whole system weighs 30 lb (13.6 kg) and this is why it is in this position in the list. The cot and pad are much lighter.

Note that they have also a 2-person version of this sleeping system, with a double-size cot and a double-size inflatable sleeping pad. So follow the link to read more.
---
8. Coleman Twin Cot
From the numbers in the table above, you realize that this is a really wide cot, but it is not for very tall people. Bear this in mind and if you are very tall, you might want to check one of these.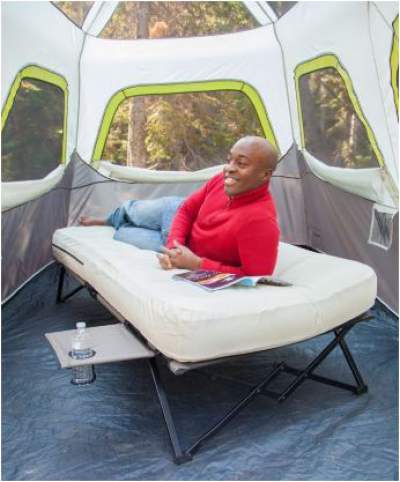 As you see from the picture, here you have a very thick and wide comfortable mattress. It comes with one side table with a cup holder. A pump that works on batteries is also included, and a sewn-in cover with a zipper keeps the mattress in place.
The bed size is 74 x 40 inches (188 x 102 cm) and the weight is 30.8 lb (14 kg). One thing to add, ad the moment of writing this text, this all costs only $72. See more in my review:

---
9. Coleman Queen Size Cot
This is a true giant, a sleeping system for couples, and the most versatile of the three double cots in the list. Its packed size is quite reasonable, 48 x 18 inches (122 x 46 cm), and the pump works on batteries.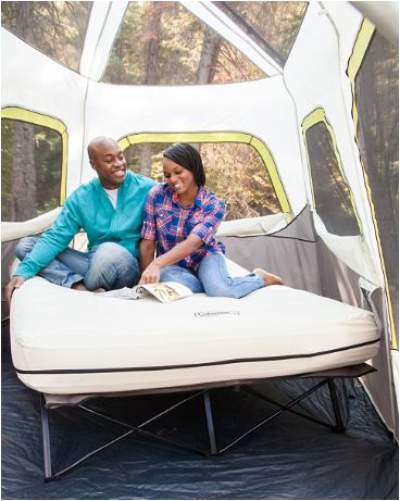 The bed size is 78 x 59 inches (198 x 150 cm) and the weight is 42.8 lb
(19.4 kg). There are several elements in this set, so please follow the links to see more.

---
10. Outsunny Compact Collapsible Portable Camping Cot Bed Set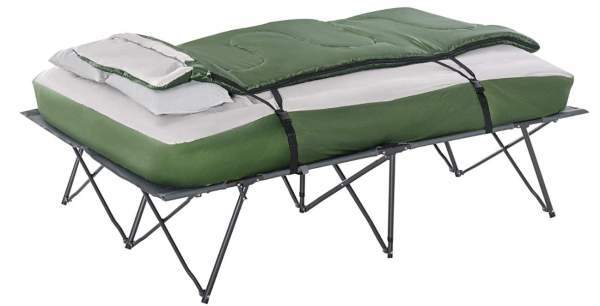 This Outsunny Compact Collapsible Portable Camping Cot Bed Set is here because of its 20 cm thick inflatable double-wide mattress.
But it is what its name says, a full system of 9 elements that also include a double-wide camping cot, 2 pillows, 2 pillowcases, a sleeping bag, a textile cover, a foot pump, and a carry bag.
This is a compact outdoor sleeping system for two people and you have a bed that measures 74.75 x 54 inches (190 x 137 cm). The weight is 44 lb (20 kg), and the capacity is 352 lb (160 kg). This all is very affordable.
---
11. Coleman Queen Frame Airbed Cot
This huge bed with the air mattress comes with an integrated electric pump. This is one of the several differences as compared with the model above which is from the same brand.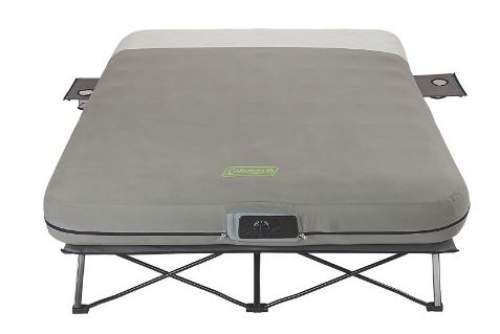 You will notice it comes with two side tables with cup holders. The mattress sleeve is fixed to the cot, so it is not removable. Its packed size is really great for all that it includes, 39.6 x 10.5 x 10 inches (101 x 27 x 25 cm).
The bed size here is 78 x 59 inches (198 x 150 cm) and the weight is 45.4 lb
(20.6 kg). Please follow the link for more.

---
12. Insta-Bed Ez Queen Raised Air Mattress with NeverFlat pump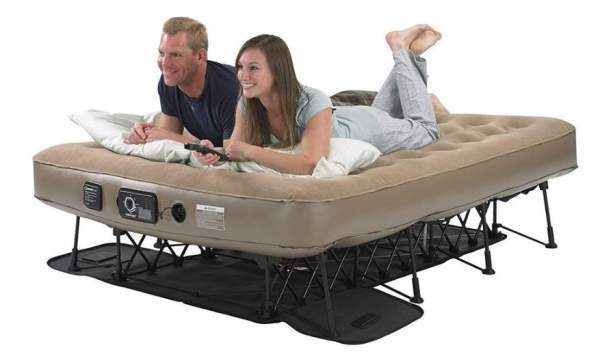 As you realize from its name, this Insta-Bed is a queen size and you have a bed that measures 78 x 60 inches (198 x 152 cm) and the air mattress is 9.5 inches (24 cm) thick. The bed weighs 48.9 lb (22.2 kg).
This is a bed equipped with two electric pumps. So the primary pump inflates or deflates the mattress and this is done in 2 minutes. The other is what they call NeverFlat, a quiet pump with sensors that activates automatically if the pressure is reduced.
The frame is very strong steel and you have 28 legs. This all packs to a nicely designed carry bag which is 37 x 18 x 17 inches (94 x 46 x 43 cm).

---
13.
Ivation EZ-Bed
They have Queen and Twin versions. The Queen is is the biggest but also the heaviest cot in the list. It offers a lot of space for two people, and it comes with a very thick air mattress. It inflates and deflates automatically due to the integrated electric pump. The weight is the same as in the Insta-Bed above, 48.9 lb (22.2 kg).
This Queen cot requires a bit more space than the numbers 3 and 4 above. Its packed size is 26 x 21 x 16 inches (66 x 53 x 41 cm). So it is surprisingly short when packed, but it is a bit bulky, like a big suitcase. But it has two wheels so moving it around should not be an issue.
The Twin version is smaller but will the same basic features, and with a different price of course.
The setup of this cot is such that it is hard to believe. So it is best to see it, enjoy the video:

---
14. Serta EZ Bed Queen Size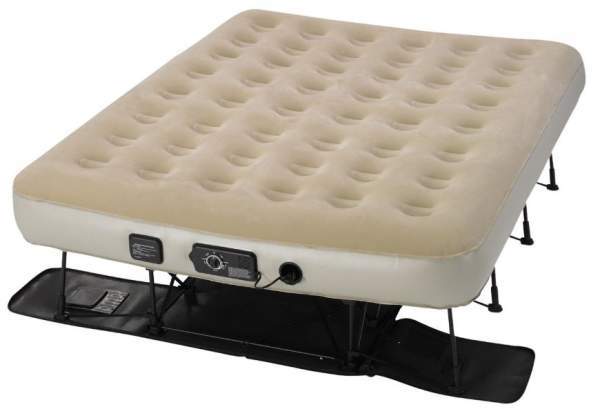 This Serta EZ Bed looks similar to some of the beds above, but there are differences regarding the pumps and deployment.
So the bed comes with a primary and a secondary electric pump. The former deploys the bed automatically and this makes it different from the Insta-Bed above. The same pump also deflates the bed. The secondary pump keeps the pressure at the desired level, and this is the same as in the Insta-Bed.
This is a large bed and the size is 78 x 60 inches (198 x 152 cm). It weighs 50 lb (22.7) and this is why it is in this position in the list. But it comes with a nice carry bag equipped with a handle and wheels.

---
How to choose
There are many parameters to consider before you choose, so here are a few tips given in no particular order, they might help in making an informed choice.
The packed size
This is about camping stuff and as you know the space in the car trunk is limited. If this is critical for you, make sure that you inspect the packed size of the cot and its mattress, there are big differences.
The weight
The weight depends on the design, functionality, and on several other factors. But you would use the car in any case so this may not be so critical.
The bed size
This may be a crucial factor if you are a very tall person. In this case, some of the items in the list are simply not for you. Also, some of the cots here are double-size and designed for two, but check if this is really enough for you and your partner. In any case, check the dimensions.
Ease of use
You have some ingenious designs here, some mattresses inflate automatically and the cots deploy also automatically. But those models require electric power. So check what suits best your usual camping locations.
The size of the tent
Clearly, this is very important. The cot must fit inside. The good thing with any cot, and this is what I love to stress, is that you always have plenty of space underneath it to store the gear. So even if the cot consumes most of the area in your small tent, do not panic, this can still be perfectly fine.
Tent's design
Make sure that you can get the cot in. So this is related to the design of the tent, the size of its door and the position of the door. Some small tents have a side door, and getting the cot inside may be tricky. On the other hand, setting the cot in the tent may be impossible due to the cot's design and due to the tent's features (low ceiling, etc.).
---
Summary
To conclude this text about Best Camping Cots With Air Mattress, as you realize you have two main groups, for solo use and for couples, but they are quite different in many ways.
There are models that include a tent, and this is then a complete outdoor sleeping system with many elements and with full protection from the elements.
If you prefer cots with foam mattresses, no worry, there is a long list of such tools in the site, so please check here.
Thank you for reading, please have a look in the links below, those are the cots listed above. If you have any questions or comments, please use the comment box below. Have a nice day.