---
This Helinox Cot One Convertible Insulated is a lightweight, compact, fully collapsible, and backpack-portable 4-season camping cot with an integrated insulated sleeping pad.

---
Key features & benefits
2-in-1 system, cot & pad.
Insulated pad.
Backpack-portable.
Extendable legs design.
5-Year warranty.
---
So what this is about
This Cot One has been on the market for a number of years. They have upgraded it previously by adding extra extendable legs feature and it is on the market under the name Helinox Cot One Convertible.
However, now they have upgraded it even more, so this is now:
Padded cot & insulated
This is something cool they added here. The bed deck is not just a fabric, it contains a self-inflating pad in it, see the picture below. The pad is with insulation and you have an effective R-value 5. So I have very good reasons to add it to my lists of best padded cots and also to the list of cots with air mattress.
This makes the cot suitable for all seasons, and this is why I wrote above that you have 2 in 1 products here.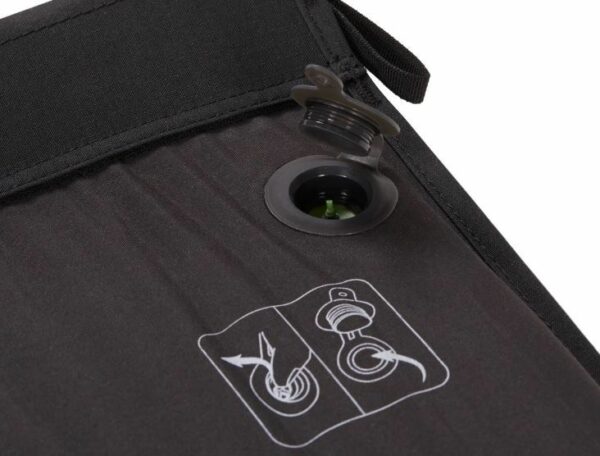 But is this unique? The answer is no it is not. There is also the KingCamp cot of the same type launched in 2019, but there are differences.
The most important is that you have insulation on this Helinox cot while the KingCamp cot is with an inflatable pad without insulation.

You have a 2.5 inches (6.3 cm) warm pad and you will never need anything extra. When you set the cot up, simply open the valve and the mattress will self-inflate while you are busy with other activities in the camp.

Option for leg extensions
You can take the cot to the next level, literally. This means you can raise it for another 10 inches (25 cm) if you order leg extensions. The cot comes with the design in its legs-bars that allows for such a setup. See how it looks in this case: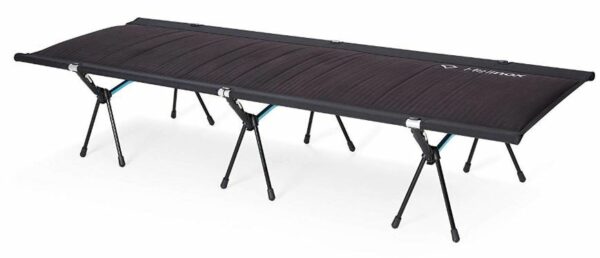 The picture below shows how the attachment points for the extensions look: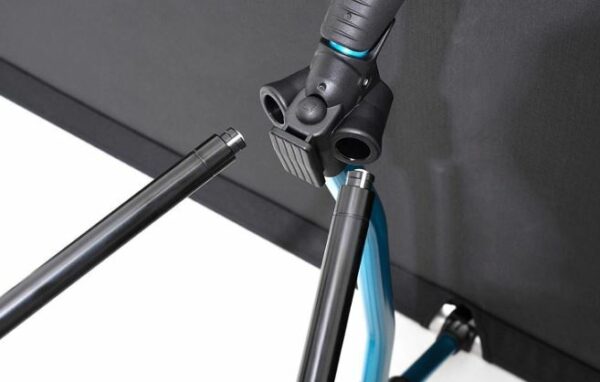 This makes it easier to get in and out of the bed, and this might be useful to elderly users. This also allows you to use the cot as a bench or even a table, and it also provides more volume to store the gear under the cot.
You can order the extensions here. The pictures below show how they look. Note that they come in a nice carry pouch. The whole set adds lots of weight, so you certainly would not use them if you carry the cot in the pack.
---
Who is it for
Regarding the capacity, the cot is quite typical for such a type, and its declared weight capacity is 320 lb (145 kg). This should be good enough for most of the users, even some lighter sumo wrestlers could sleep on this cot.
Regarding the size, with the bed's dimensions 74.5 x 26.5 inches (190 x 68 cm) this is not a particularly large cot. But note that there are no end bars here, so what you see as its length is the true length.
Regarding the weight, this whole system weighs 6 lb 4 oz (2.86 kg). So this may look too heavy for a pack, but note that this includes a sleeping pad as well. So this is surely not a backpacking cot, yet it is indeed backpack-portable and you can use it on some short hiking tours.
Regarding the packed size, with (L x D) 25 x 7.5 inches (64 x 20 cm) packed size and in view of the fact that this includes the pad as well, this is simply excellent.
You might want to compare this packed size with the earlier mentioned Helinox Cot One Convertible (so without the pad) which packs to 21.5 x 6.5 inches (54 x 16 cm). Compare it also with the KingCamp cot with an integrated mattress that packs as small as 15 x 8.2 x 6.7 inches (38 x 21 x 17 cm) but you have no insulation.
So all in all, you can indeed carry it in the pack, or transport in any way you want, on a bicycle, in a kayak, on a motorbike.
Using this cot in a tent
With its standard legs (without extensions) the bed is 6.5 inches (17 cm) above the ground. This is low enough to fit in practically any tent, yet you still have space underneath the cot to store some gear.
The legs are such that they should not make any issue regarding the tent floor. But if you add extensions, you should consider adding some protection for the floor, the legs are numerous (12 in total) and the weight is distributed, but the feet are narrow.
---
Materials
This is an expensive product and they use advanced materials. So the legs and side poles are a proprietary aluminum alloy set, and these are shock-corded structures so you cannot lose them and there is nothing to guess when you set the cot up.
The fabric used for the bed and the carry bag (shown below) is a 600-weave rip-stop polyester. There is no info about the foam used in the pad but this is some open-cell material that provides a very good insulation.

Note that they give the manufacturer's five-year warranty, so they show lots of confidence in their product.
---
My rating, pros & cons
Please see below how I rate this cot, I use the same set of criteria for all cots here in the site. But what you have here is not a typical cot, there is a pad included.
My rating of the Helinox Cot One Convertible Insulated:


Product Name: Helinox Cot One Convertible Insulated
Brand: Helinox
SKU: B0832QV7N3
Weight -

9.4/10

Size -

8.5/10

Capacity -

8/10

Packed size -

9.5/10

Ease of use & features -

9.6/10
Summary
As you realize, the packed size and the weight are great although the cot includes the pad. My overall rating is Excellent:
Pros
2-in-1 design.
Backpack-portable.
Carry bag included.
Easy to use.
Cons
Not very wide cot.
Expensive.
---
Specifications
Weight: 6 lb 4 oz (2.86 kg).
Capacity: 320 lb (145 kg).
R-value: 5.
Dimensions: 74.5 x 26.5 in (190 x 68 cm).
Height: 6.5 in (17 cm).
Packed size (L x D): 25 x 7.5 in (64 x 20 cm). These numbers are from the Helinox site and they differ from those on Amazon.
5-Year manufacturer's warranty.
---
What if you already have the Helinox Cot One?
So if you would want to add this insulated deck bed on your existing Cot One, you can order only the Helinox Cot One Accessory Insulated Pad.
Its size is 75 x 27 inches and it weighs 2 lb 14 oz (1.3 kg). It comes with a manufacturer's 5-year warranty.

---
Final thoughts, rating, pros & cons
So you have seen it, this Helinox Cot One Convertible Insulated is unique on the market with respect to its overall features, and it is built at the highest standards as you would expect from such a brand. This all comes at a price of course, but you have a 5-year warranty. Fully recommended.
If you need more options, please check under the category Cots here in the site, you will find them in all sizes and types. Check their ultralight backpacking Helinox Lite Cot, one of the lightest on the market. But if you would rather have a cot with fixed legs, see their Helinox High Cot One Long.
Note that we add texts regularly, so bookmark this site and visit occasionally. Subscribe to our weekly newsletter and stay informed, there is a subscription form below. For questions and comments, please use the comment box below.