---
The Cabela's Big Outdoorsman Cot with Lever Arm is both long and wide military type collapsible cot with a lever arm that makes assembly very easy, and with an impressive capacity.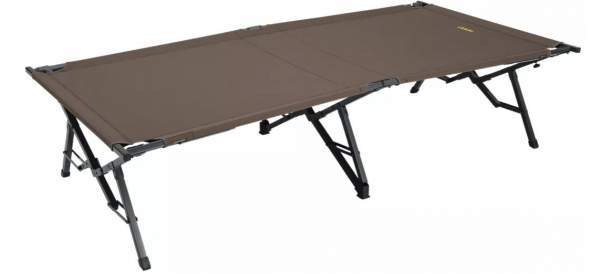 ---
Key features & benefits
Huge bed.
Impressive capacity.
Easy to use.
Lever lock.
---
What is in the name
This Cabela's Big Outdoorsman Cot with Lever Arm is a military type collapsible camping cots. This means that the bed needs a simple assembly.
The most of the frame and the bed fabric are pre-attached to each other. There are only two end bars that have to be added when you unfold the frame. This is all typical for such cots.
In military cots of this type, only adding the second bar requires a bit of force because of tension created in the fabric. Well, this problem is solved here, they have added a lever lock, and this is why it is mentioned in the official name and in the title. See how elegant it looks.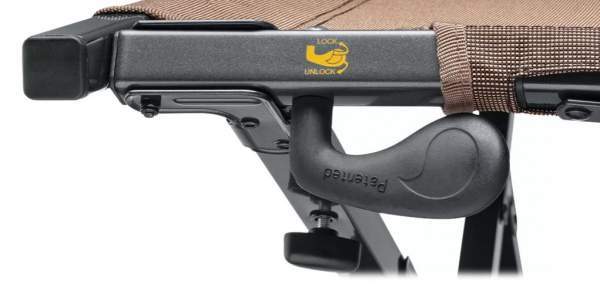 So you add the two end bars in the usual way, but no force is needed for the second bar. The lever arm locks it in place and it also adds tension in the bed deck.
The cot comes with its carry bag shown below, which measures (L x D) 41 x 9 inches (104 x 23 cm). So as you you see, it is a bit long but this is a thin tube.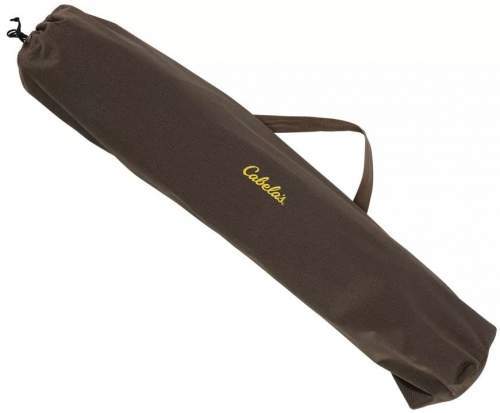 Note that you have to unfold the legs, and you rotate them, so this needs lots of space. This is why you will probably have to do this outside of the tent. So it is important to have a large enough door to get the cot in.
Materials & use in a tent
The frame looks very strong and this is a powder-coated steel. The legs design is very similar to some other cots of this type. You can see it also in this Slumberjack Big Cot and Timber Ridge TR Fir Magnum XL Oversized Heavy Duty Cot.
The fabric is 600D durable and water-resistant polyester. The feet are with plastic caps but they are not wide and it is best to put something underneath then if you use the cot in a floored tent.
With such a cot you can manage without a pad. But if you need extra comfort, note that they have a pad that fits perfectly here, this is is the Cabela's All-Season Campbed XL Sleeping Pad shown in the picture.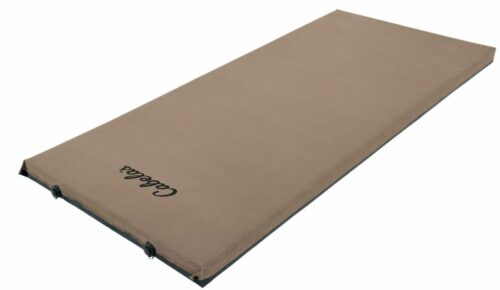 They offer also Cabela's XL Camp Pilow, see how it looks: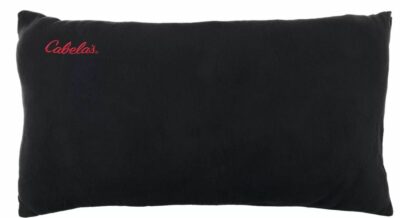 Note that the bed is 20 inches (51 cm) above ground, so you have plenty of space and volume underneath it for gear. Please see more in this video, this is not exactly the same cot but the lever arm system is the same:
---
Who is it for
Regarding the capacity, I have seen several numbers around. At Cabelas site the capacity is officially 600 lb (272 kg), but in questions and answers I have seen 400 lb (181 kg) mentioned.
I would go for the official number, but in any case, you will hardly ever need more regardless of which number you accept.
Regarding the dimensions, the cot is impressive. It measures 85 x 40 inches (216 x 102 cm) so it is both wide and long, in fact one of the largest on the market.
Though this is a military cot with a frame around that takes a few centimeters on each side, bear this in mind. I have included it in my list of extra long camping cots and also in extra wide cots.
I already mentioned its height, so the cot is high and this may be suitable for elderly users.
Regarding the weight, this is not its best feature. The cot weigh 31.3 lb (14.2 kg), but you have seen its size, and this is a very strong construction. The packed size is typical for the cots of this type.
Regarding the price, you will see it in the links below, and I think this is a fair price for such a great cot.
---
Specifications
Weight: 31.3 lb (14.2 kg).
Capacity: 600 lb (272 kg).
Dimensions (L x W x H): 85 x 40 x 20 in (216 x 102 x 51 cm).
Folded dimensions (L x D): 41 x 9 in (104 x 23 cm).
Frame: steel.
---
Rating, pros & cons
I have a set of criteria which I apply consistently to all the cots here in the site for easy comparison. See how this cot stands:
Huge size and capacity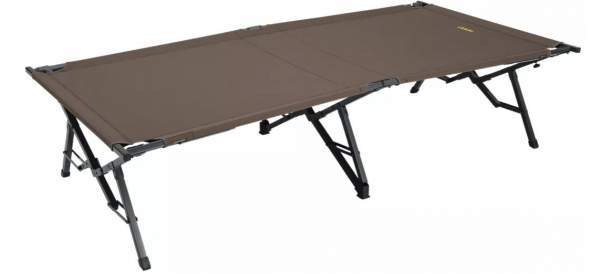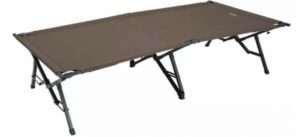 Product Name: Cabelas Big Outdoorsman Cot with Lever Arm
Product Description: The Cabela's Big Outdoorsman Cot with Lever Arm Is Long and Wide Military Type Bed with a Lever Arm that Makes Assembly easy & with an Impressive Capacity.
Brand: Cabelas
SKU: 2509685
MPN: 100106822
Weight -

5/10

Size -

10/10

Capacity -

9.8/10

Packed size -

8.2/10

Ease of use & features -

9.4/10
Summary
The cot is heavy but its overall rating is well-deserved Very Good.
Pros
Great size.
Lever lock.
Huge capacity.
Fair price.
---
Final thoughts
So this Cabela's Big Outdoorsman Cot with Lever Arm is really nicely built, its is incredibly large and with an impressive capacity. The cot is military-type but its lever arm makes it easy to attach the second bar.
The cot is also very high and this can make it suitable for elderly users. I see it as a great outdoor bed, but it can be used also at home in emergencies and for sudden guests. Fully recommended.
Best places to buy:
You might want to check also my list of Cabela's camping cots. If you need a smaller size military-type cot, check this Slumberjack Pine Vista Ultralight Camp Cot.
Bookmark this site and visit it when you find time, this will keep you informed, you have new texts added here on a regular basis. Let me know if you have questions, there is a comment box below. Thank you for reading and have a nice day.