---
This Byer of Maine Heritage Cot review is about a unique bed on the market, built completely from wood. It is very large and strong, built in the classic military style.
Stand out features and benefits
Pleasant materials: this is a wooden cot.
Huge dimensions.
Huge capacity.
Built in the style of military cots from 40's through 70's.
What type is this
The Heritage cot is built in the style of military cots. So this is a standard X-shape profile with six legs, and the bed is with two side bars and two end bars.
But what definitely is neither standard nor typical is its frame material; this is a sturdy hardwood frame. This cot is nearly identical to the wooden cots used by the military during the 40's through the early 70's.
The cot is naturally collapsible, so it packs to a relatively small size which is around 41 x 5 x 5 inches (104 x 13 x 13 cm), and as such, it can be transported and carried in its included bag.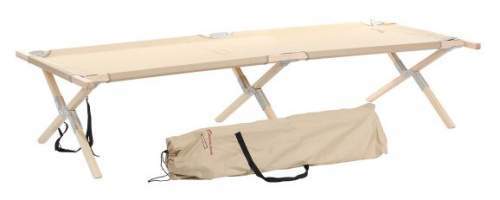 The all-wood frame is made from 1 1/4 inches quality North American hardwood. The bed deck is a very durable 600 denier polyester.
Who is it for
The Maine Heritage Cot is a great spare bed at home for sudden guests. With its wooden structure, it will look pleasant when spread it for your sleepover. It offers a durable and comfortable sleeping surface and its carry bag will keep it clean and free of dust wherever you store it.
For outdoor use, and in view of its packed size, you will transport it in a car. So this is a great camping bed at any place with a car access. Numerous activities come to mind, like regular camping places, summer camps, open air festivals.
I already mentioned its huge dimensions and capacity, so this bed is suitable even for very tall and very heavy people. Even if you are over 6 feet tall, its 84 inches of length and 30 inches of width will be the right size for you.
Using it in the tent
The Heritage cot will hardly fit into any solo tent. It is rather long and it is also 76 cm wide. The end bars are on both sides a few centimeters wider than the bed, and this requires some extra space in the tent.
So the smallest tent with this cot, for a solo use would be some good size 2-person tent. I would suggest using it with tents with front doors; in such a case you can set it up outside and bring in the tent unfolded. One example of such a tent is this Kelty Horizon 2 tent.
But if you have two cots of this type, for couples, you might consider these Kelty Camp Cabin 4 and Kelty Mirada Tent. You will have plenty of space even with two cots inside.
In any of the variants, you have a lot of storage space under the cot; remember it is 18 inches (46 cm) high.
The cot is with 6 legs, and I would be very careful regarding the tent floor. Pieces of thick cardboard may be good enough to put under the legs, or tennis balls.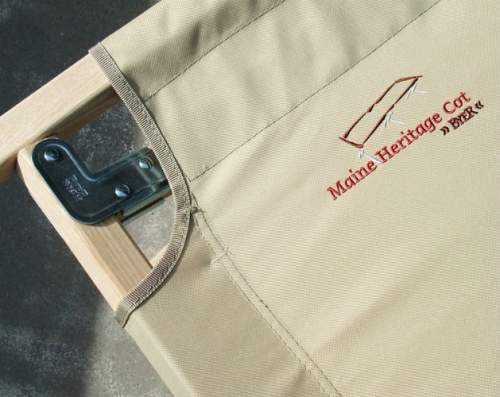 Using it with a pad or not
The bed deck alone may not be comfortable for some, though in the summer time you can sleep without any pad. In cold conditions or just for more comfort you should add a pad of course.
But being far off the ground, you have air under you. Now, the air is known for far less conductivity than the ground, so you need less insulation. In any case, you might want to check some of these sleeping pads.
Pros and Cons
Here is my summary:
Pros

Cons

• Very large cot.
• Great capacity.
• Stable construction.
• Versatile tool.
• Pleasant & old style.
• Carry bag included.

• A bit heavy but see the size.
• Steep price.

The Maine Heritage Cot may look a bit heavy but just see its impressive dimensions. On the other hand, this is not a tool to carry long distances, so the weight is not a big deal in any case.
The price
At the moment of writing this text, the price of this cot is $160. So this may look steep, but again, see the quality and its features. It looks great wherever you put it.
What the users think
This cot has received great reviews by customers. The average rating on Amazon is currently 4.1/5. See below how I rate this unique camping bed:
My rating breakdown of the Byer of Maine Heritage Cot
Weight -

6.4/10

Size -

9.1/10

Capacity -

8.5/10

Packed size -

9/10

Ease of use & features -

9.2/10

Price -

7.5/10
Specifications
Weight: 24 lb (10.9 kg).
Capacity: 375 lb (170 kg).
Dimensions (L x W x H): 84 x 30 x 18 in (213 x 76 cm x 46 cm).
Packed size: 41 x 5 x 5 in (104 x 13 x 13).
Fabric: 600D polyester.
Frame: wood.
Color: natural wood, tan.
Maine Heritage Cot vs competitors
See how this cot compares with some other cots built in the same military style:
Bed size, inches (cm)

Packed size, inches (cm)

Weight,
lb (kg)
Maine
Heritage Cot

84 x 30




(213 x 76)

41 x 5 x 5




(104 x 13 x 13)

24 (10.9)

KingCamp Military Cot
81 x 30
(206 x 76)
40.2 x 8.7 x 5.5
(102 x 22 x 14)
21.4 (9.7)
Rio Adventure Military Cot
75 x 27
(190 x 68)
37 x 8 x 5
(94 x 20 x 13)
15.85 (7.19)
EARTH Ultimate Cot
77 x 25
(196 x 64)
38 x 8 x 6
(97 x 20 x 15)
17.5 (7.94)
The dimensions of the Heritage Cot are simply impressive. It is slightly heavier than its competitors but this is not such a big deal.
The prices are the moment of writing the text are, respectively, $160, 60, 45, 79. So you see what the main issue is.
About the Byer of Maine brand
The Byer Manufacturing Company was founded in 1880 in Bangor, Maine by a Russian immigrant family. So this is a brand with a very long tradition and experience. They have been building wooden cots for decades.
This New Maine Heritage Cot is produced at a family owned wood product factory near Hangzhou in China. The Byer did not choose this manufacturer by chance; this factory has been producing high-quality wood products for western markets for two generations already.
Summary
To conclude this Byer of Maine Heritage Cot review, at the moment of writing this text I am not aware of any cot on the market built in the same manner. Many collapsible cots are presented within the site, but those are either steel or aluminum beds, or some combination, and with various plastic elements as well.
What you have here is the cot built from wood in the best traditional style, a most pleasant construction, very large and easy to use. Nevertheless, if you want something more modern, check this Easy Cot from the same brand or their TriLite Cot.
Thank you for reading. If you have any question or comment, please use the comment box below. Have a nice day.


---