---
The Big Agnes Goosenest Inflatable Cot is a sort of inflatable mattress with extra features that allow for attaching it to other items of the same type and for fixing an extra sleeping pad on it.

---
Key features & benefits
Unique design.
Extra thick platform.
Attachment options for other similar items.
Attachment points for the included cover.
---
What this Big Agnes Goosenest Inflatable Cot is about
When I first noticed this product, I was really puzzled by the fact that they named it a cot. It looked just like any other thick inflatable mattress.
So I decided to contact the brand and to ask why they describe this thing as a cot. See what they wrote in their reply:
Thanks for reaching out!
We refer to the Goosenest as an inflatable cot to make it clear that this is meant to be used as more of a long term camp bed, and is less portable than our Air Pads.
The extra features allow the Goosenest to be used alone, or combined with another to either set up a double wide-sleep system or provide extra clearance from the ground. You can even set up four of them for a double-wide, double high deluxe sleep system!
You can use these cots in conjunction with your sleeping pad to provide even more clearance and comfort. While they are certainly soft enough to use without a pad, you can max out the comfort by adding a sleeping pad. Our pads (Especially our Q-Core pads) are designed to provide maximum comfort by enabling air to flow freely laterally throughout the pad. While our Goosenest cots are comfortable in their own right, they do not feature such as system.
Let me know if you have any other questions!"
So this is how they see the product. But let's go through all its features and you can decide how to call it and how to use it.
You have already seen in the official name that this is an inflatable item. It is based on their proprietary I-Beam technology.
The low profile but high-volume dual port valve allows for efficient and easy inflation, super-fast deflation, and micro air-pressure adjustments to get your comfort just right.
The valves are on the top in the corner, you can see them in this picture that shows the top of the mattress:

Note that the thickness is 6/5 inches (15/13 cm), the two numbers are for the perimeter height and the inner height, respectively. So it is designed to keep you comfortably cradled in the center of the cot.
The thick air chambers inherently equalize on uneven ground providing a flat sleeping platform with minimal adjustments. However, there are camping pads that are even thicker, just to know.
But here is one of the reasons why they call it a cot. You can put an extra sleeping pad on, and then keep it in place with an included mesh. You have an elevated sleeping structure as you would have in a cot:

Below you can see one out of eight attachment points with buckles welded to the cot exterior for attaching the accessory mesh cover: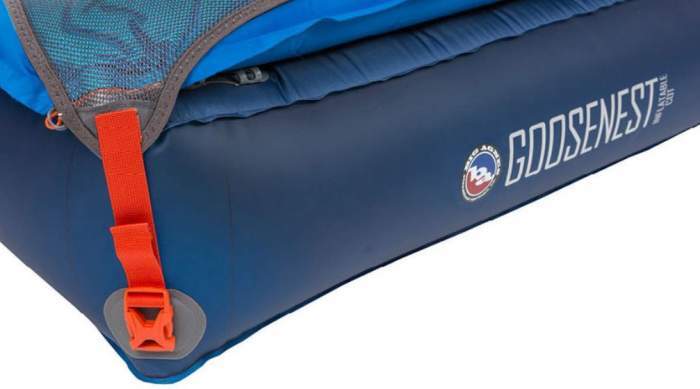 Here is the view of the cover with its 8 attachment elements. It is made from durable open weave mesh.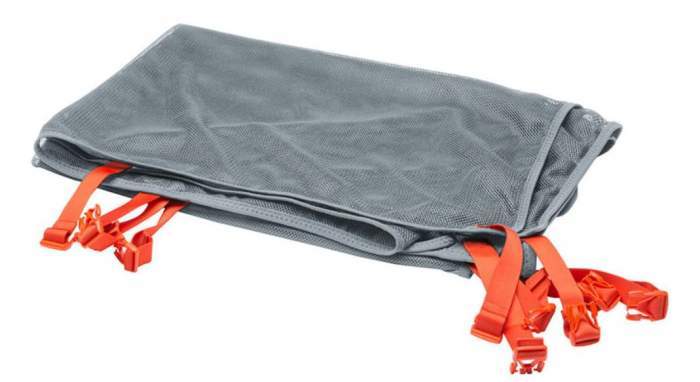 This is not all. The cot is fitted with Velcro patches on the bottom and on the sides for easy conversion into Double Wide Mode or Double Decker Mode. Both are shown in the pictures:
Other details
Included is a carry bag, upcycle inflation sack, and 3M repair patches.
They claim it is individually inflated and tested at their factory ensuring 100% quality performance.
The shell is a abrasion resistant and durable nylon ripstop.
Strong welding with aviation grade TPU lamination technology.
Antimicrobial treatment on the interior of the cot. This prevents microorganism growth and deterioration over time.
---
Who is it for
Regarding the size, you have already seen in their reply to me that you can sleep on this platform without anything extra. The bed is indeed quite long, its dimensions are 78 x 26 inches (198 x 66 cm).
But I am not very impressed with its width. They could have built it wider, this thing is supposed to be used also as a platform for a sleeping pad.
Regarding the weight, it is 4 lb 1 oz (1.84 kg), so this bed is heavier than the usual inflatable camping pads. You realize this if you compare it with the ALPS Mountaineering Oasis Air Pad.
But it has extra features and they call it a cot, so among cots it can be described as ultralight.
The same is with its packed size, if you compare it with ordinary sleeping pads, it is bulky with its 28 x 6 x 5.5 inches (71 x 15 x 14 cm). But then again, among cots, it is very compact, though it is quite long.
Regarding the best use, this is a versatile product. You can use it at home as a spare bed for sudden guests or for emergencies. I see it also as a great bed for hunters, and for camping in general.
How about insulation?
They do not give any information about R-value. You have air inside, so this gives some small insulation, my guess is that the effective R-value is around 1, but do not take this as a fact. It could be much more, there is lots of air trapped inside.
So this is why you will need an insulated sleeping pad if you use it as a bed in a cold environment.
Using it as a bed in a tent
So the length is such that it will fit in any tent. The same holds for its thickness, this thing can be used in almost any tent no matter how low it can be.
But if you compare it with a classic cot, the space is better used with a cot because you can always store some gear underneath it. This product is just like a thick pad, so the floor space is wasted when this is in the tent.

---
Specifications
Packed weight: 4 lb 1 oz (1.84 kg).
Packed size: 28 x 6 x 5.5 in (71 x 15 x 14 cm).
Thickness outer/inner area: 6/5 in (15/13 cm).
Dimensions: 78 x 26 in (198 x 66 cm).
---
How to rate such a thing?
This is the first product of the type on the market, so it is really difficult to rate it properly simply because there is nothing to compare it. If I would rate it as a sleeping pad, it would not stand good because it is heavy and bulky for a pad.
But if I rate it as a cot, the story is quite different. Here is how it looks when rated as a cot, and note that you can rate it yourself, there is a rating bar below:
Unique, versatile, and functional product.


Product Name: Big Agnes Goosenest Inflatable Cot
Product Description: The Big Agnes Goosenest Inflatable Cot is a Unique Inflatable Bed with Extra Features that Allow for Attaching it to Other Items of the Same Type.
Brand: Big Agnes
SKU: B09CHH4N8M
MPN: FGNIC21
Weight -

9.8/10

Size -

8.3/10

Packed size -

9.2/10

Ease of use & features -

9.7/10
Summary
The bed is not very wide, but the overall rating is Excellent.
Pros
Unique design.
Versatile.
Very comfortable.
Very stable.
Cons
Not very wide.
Expensive.
---
Final thoughts
So this Big Agnes Goosenest Inflatable Cot is indeed built as a thick mattress, but it has quite a number of extra features.
This is a new and unique product on the market, very comfortable and reliable, you have a great outdoor brand behind it. Big Agnes is well-known for its high-quality inflatable sleeping pads, and this product is a step beyond an ordinary pad.
If you can afford it, I can definitely recommended it. I have included it in my list of best camping cots with air mattress, but it is quite different from the rest in this group.
Best places to buy:
There are more inflatable cots here in the site. You might want to check also this unique Decathlon Quechua Camping Inflatable Cot which has some features similar to the item presented here in the text. But see also the FLATED Air-Deck Raised Platform Bed which is again something completely unique on the market.
See also yet another unique item, the Born Outdoor Badger Bed which is designed to protect your sleeping bag.
Let me know if you have questions, there is a comment box below. Bookmark this site and come again, as you realize I follow the situation on the market and you can always find new outdoor pieces here. Thank you for reading.