---
The Haotian Compact Collapsible Portable Camping Cot Tent is a complete system for sleeping outdoors and at home, with many elements that can be used together or separately.
Key features & benefits
This is a complete outdoor sleeping system.
Great price.
Simple setup without tools.
Great packed size.
Portable system.
Very versatile system that can be used in various ways.
Several bonuses (pillow, pillowcase, mattress cover).

What is included
This is an incredible sleeping system which includes the following elements:
A military-type cot.
An inflatable sleeping pad.
An inflatable air pillow.
A foot pump for the pad and the pillow.
A textile cover for the mattress, removable and washable.
A removable and washable textile pillowcase.
A sleeping bag.
A tent with poles.
A carrying bag.
Instructions for use.
What you have on the market
At the moment of writing this text, I have seen this cot on Amazon under 7 different names. Hard to believe but this is a fact. The links given here will show you the tent cot with the best price.
What type is this exactly
This is a completely collapsible system and a tent-cot in the true sense. This means that it packs to a really small size, 37.8 x 8.3 x 8.7 inches (96 x 22 x 21 cm), and in such a case it can be transported in the car and carried short distances in the included carry bag.
This is a tent-cot, which means you have a tent attached to the cot, sitting on top of it.
Regardless of how you use it, this collapsible structure needs only a simple assembly. For the cot, this implies only adding the two end bars. No tools are needed for this. For the tent, this is what you would do with any ordinary tent, you will see more in the video below.
Who is it for
This is a versatile system suitable for entry-level outdoor adventurers, with so many elements that can be used together and separately. You can use this system in many ways:
As a spare bed at home for sudden guests. So use everything from the set except the tent of course. The legs are with plastic caps for the floor protection so you will not have problems with them, see the picture. When you do not need it, put it in the closet or in the garage, it will be protected from dust in its carry bag.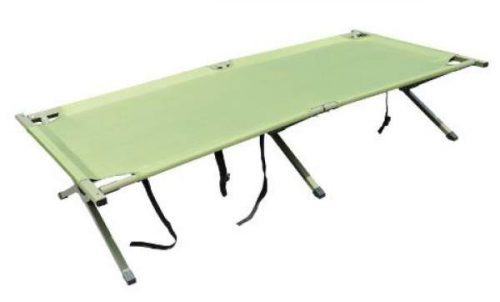 As an outdoor sleeping tool for any activity at places with a car access. Clearly, this can include a plethora of activities, like ordinary camping, hunting, fishing, festivals in the open air, etc.
The bag and the pad can be used separately for travel, backpacking, and hiking.
Of course, the cot can be used separately in another bigger tent, and in such a case you can combine it with the pad, the bag, and the pillow.
The dimensions of the bed are reasonable, 76.4 x 34.2 inches (194 x 87 cm), in fact it is very wide, but the length is not for exceptionally tall people:

The bed is quite wide and the tent is high enough.
How about 4-season use
Clearly, the included air mattress will not be enough if you use this system at high altitudes or in winter conditions. I have just returned from the Alps and I had snow at high altitudes although it is August, see my recent texts here and here.
So you can either use some insulated sleeping pad instead of the existing one, or use some really thin closed-cell foam pad and add it as a layer underneath the existing pad. Such foam pads have the R-value high enough for such a purpose. Note, you are off the ground and in general, you need less insulation.
One nice option is also this Exped MultiMat, which is thin and can be folded, which effectively doubles its relatively small R-value which is 1.2.
The bed is 45 cm high, so you can put it in the snow, literally, and you will be far above it. You can use a different bag if you have it, with a higher R-value and sleep like a baby.
Setup and construction
There are three main pieces and three major steps. First, you set up the cot. This is just the matter of unfolding it and setting it on its 6 legs. Adding the second end bar may require some force, but this is typical for most military-style cots.
Second, you place the tent on the cot and pass the poles through the sleeves. When this is done, put their ends in the holes on the cot in the  4 corners. You will see all details in the video below, there are some Velcro tabs to fix the tent to the bed as well, and to add the top sections of the poles.
Third, you add the inflated pad with its cover, and the pillow with its cover, and the bag.
See this all in the video below. Note, this video is about the tent-cot which is sold under a different name, but this is completely the same construction. The video is a bit long, so put it at a higher speed if you have no time:
The tent
They do not provide details about the waterproof rating, but the tent is a single-layer type with 190T polyester fabric and with PU coating.
The door is really large, and you have 2 windows on both ends, with integrated mosquito nets. There is a vent above the door as well, this all should be good enough for the ventilation and condensation should not be an issue.
The tent is designed to be used with the cot only. It is without the floor, so basically, this is just a fly. If you can find a proper size footprint, then perhaps this could be used as a fast-fly variant.
The cot
The cot is made of powder-coated strong iron tube frame and a durable oxford fabric. The bed deck is 45 cm above the ground, it is quite wide but perhaps not for extremely tall people, 76.4 x 34.2 inches (194 x 87 cm).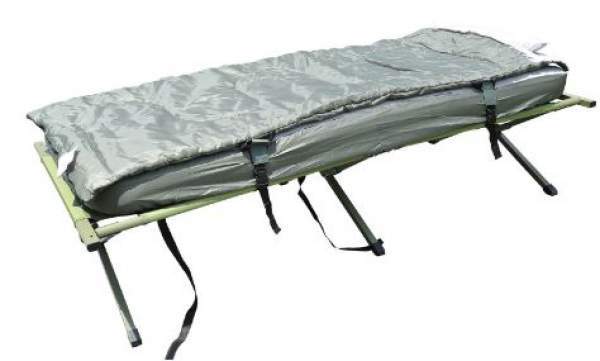 With the included bag and the pad, you have a sub-system that can be used without the tent in various situations, as a bed in a larger tent, or as a spare bed at home.
My rating, pros & cons
The dimensions of the bed are quite good, but if you are exceptionally tall, better see some larger options given in the comparison table below.
The whole structure is 165 cm high and in principle, it is not anchored to the ground, so I would not use this system at places with strong winds.
My main issue with this tool are window flaps. They are inside. This cannot work in a strong rain.
The tent itself is a structure without a floor, so you do not have a complete protection from bugs. See below how I rate this system:
My rating breakdown of the Haotian Compact Collapsible Portable Camping Cot Tent
Weight -

8/10

Size -

9.1/10

Capacity -

8.5/10

Packed size -

9/10

Ease of use & features -

9.6/10
Summary
Note, this is not a tool to carry long distances. Its weight is great for its design and all the elements which are included.
If you want to be completely safe from the rain, add a tarp above.
Pros
• Great price.
• Very easy to use.
• Very comfortable.
• Versatile.
• Very wide.
• Carry bag included.
Cons
• Not for extremely tall people.
• Not for very windy situations.
• The window flaps are inside.
• The tent is without the bottom.
Specifications
Weight: 27.78 lb (12.6 kg).
Capacity: 352.74 lb (160 kg).
Dimensions (L x W x H): 76.4 x 34.2 x 65 in (194 x 87 x 165 cm).
Packed size: 37.8 x 8.7 x 8.3 in (96 x 22 x 21 cm).
Easy to inflate mattress.
Summary
To conclude this Haotian Compact Collapsible Portable Camping Cot Tent review, this is a very versatile system and with an incredible price, good for beginners and for people who go outdoor only occasionally. As it is, I would not recommend this tool for severe weather conditions with a lot of wind and rain.
But its elements (the cot, the bag, the pillow, and the pad) are also great tools to have at home for sleepovers.
Note that this same system is currently available on the market under many different names, just to know to avoid confusion.
There exists also an option to order it without the pad, the bag, and the pillow, you can see it here. This may be good to know if you already have some quality bag and pad. You might want to check also this Ozark Trail Tent Cot.

Thank you for reading. I love to hear from you, so please use the comment box below. Have a nice day.

---