---
This KingCamp Ultralight Camping Cot with integrated air mattress is an award-winning collapsible backpack-portable cot with a waterproof surface.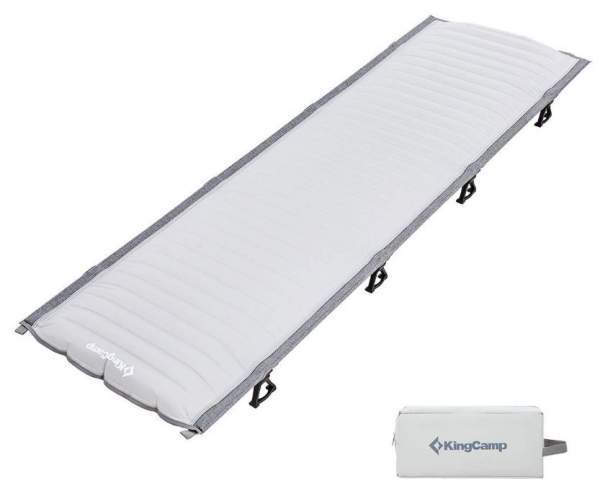 ---
Where to buy
This cot is available on Amazon. They operate globally so please follow the link and check shipping conditions for your location.
---
Key features & benefits
Integrated air mattress.
Unique 2-in-1 awarded design.
Fully collapsible.
Lightweight.
Nicely packable.
---
So what this is about
Here you have a fully collapsible camping cot, and this means all its components are separate and it needs a simple assembly when you want to use it. The package includes:
4 Shock-corded bars with pre-attached legs.
2 Side bars.
Bed deck & mat combo.
Carry bag.
All these elements are shown in this picture: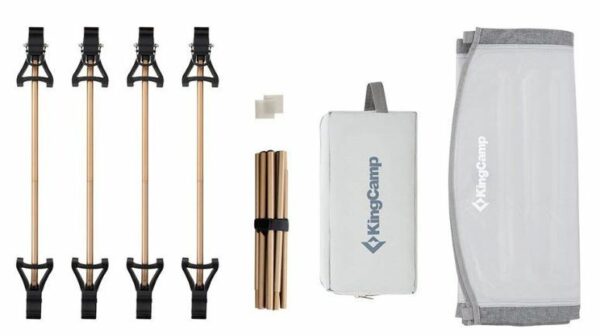 This is an awarded design, they write the cot has received Gold Winner of ISPO INTERNATIONAL AWARD in 2018. In the jury decision this is what you can read: "A cot that's just as comfy as your luxury air guest bed at home, but much more compact and faster to assemble, insulating and ultralight – perfect for longer hikes." (Marianne van der Steen | Professional Ice Climber).
Now, I could argue a bit about such a description regarding 'insulating', 'ultralight', and 'for longer hikes', but see more below.
This all fits in its nicely designed carry bag which measures 15 x 8.2 x 6.7 inches (38 x 21 x 17 cm), see the picture: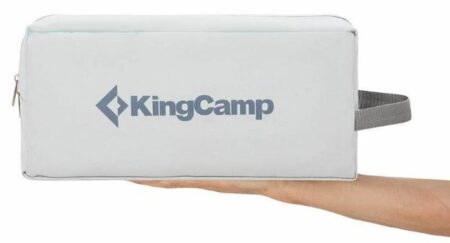 If it looks bulky to you, remember that you have 2-in-1 items here.
The air mat
What you have here is not just a bed deck, this is an air mat with a waterproof fabric. The picture below shows how it looks. In view of this bonus, I have added it to my list of cots with air mattresses.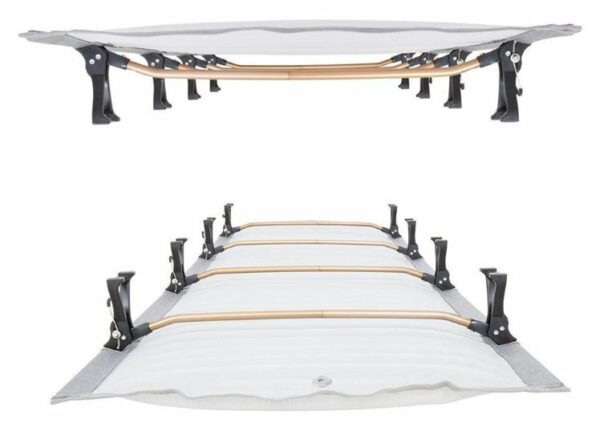 The valve is on the bottom and you can see it in the picture above. Here is its zoomed view: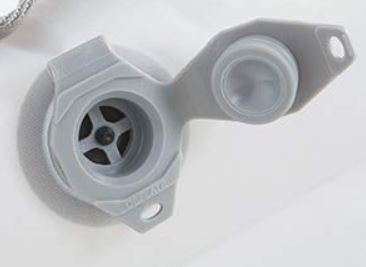 Materials
The frame is a durable aluminum and the fabric is a ripstop nylon with a TPU coating.
The legs design appears to be completely the same what you can see in their another Kingcamp Ultralight Compact Folding Camping Tent Cot. Observe that this is a cot with a standard deck and it weighs 4.4 lb (2 kg).
So the bigger weight which you have in the cot with air mattress presented in this text is due to the mattress itself.
---
Who is it for
Weight-wise, they describe it as a cot for hikers and backpackers, and you have seen also the statement from the jury when the cot was awarded. So indeed with its 5.8 lb (2.6 kg) it is backpack-portable. But there are much lighter options if you need something for the trail and longer hikes, check this list with ultralight backpacking cots.
However, one should not forget that there is an air-pad included here as well. So you do not have to carry it separately. You might want to know that even ultralight air-pads are with the weight around 400 grams.
Size-wise, with its bed's dimensions of 75 x 25 inches (190 x 64 cm), the cot is not particularly impressive. If you are a very tall person, you will want to check our separate list with cots for tall people.
But the truth is that all its 190 cm are a true length to use because the cot has no end bars. This is all a comfortable air-pad. In addition, and to be completely fair here, those ultralight backpacking cots mentioned above are usually shorter. So the length you have here is really good in view of its weight.
The packed size of 15 x 8.2 x 6.7 inches (38 x 21 x 17 cm) is also quite impressive bearing in mind the integrated air-pad.
Capacity-wise, with its 265 lb (120 kg) declared capacity this cot is quite standard. If you are a heavy person, check some of these high-capacity cots.
Climate-wise & seasons-wise, such air pads always offer some minor insulation. But they do not provide any statement about this, though you have seen the statement from the jury member about insulation.
So, typically for such air-pads, the "insulation" is simply due to the air inside. You could expect the effective R-value in the range 0.6-0.8. In terms of temperatures, this would be above 10 C (50 F).
But note that this is in the case when you sleep on the ground. Being off the ground means that you have air underneath the bed, and you need far less insulation in general. So I would say this is roughly a 3-season air-mat but this is not an insulated mat, and I have no idea what the respected jury member had in mind.
Using this cot in a tent
The cot has legs connected with 4 bars underneath the deck. So you have 8 legs yet each of them has 2 feet, you can see this in the pictures below. This means there are 16 points on the ground to which the weight is distributed. In view of this, you should have no issues with the floor when you use such a cot in the tent.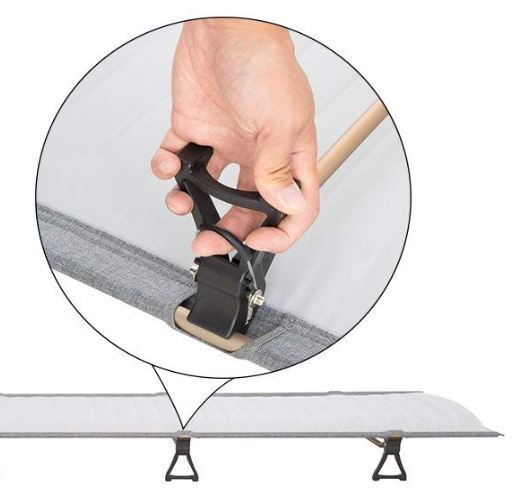 Note also that the cot is low, the deck is only 4.7 inches (12 cm) above the ground. This means it will fit in any tent, literally. This is why it is included in my list of low camping cots.
Yet, you still have that 12 cm clearance, so you can store some of your thin and lengthy camp items underneath the cot, like poles, ice axe, a rope, etc.
---
My rating, price, pros & cons
The price is shown below and it is updated daily. If it looks expensive, bear in mind that you have the cot plus the air pad. This is a fair price for such a unique design.
Please see how I rate this cot against my standard set of criteria. In fact, it is a bit difficult to rate it because of its unique features. This hold for its weight and packed size because they include the air mat.
My rating of the KingCamp Ultralight Camping Cot with integrated air mattress:
Weight -

9.6/10

Size -

8.3/10

Capacity -

7.5/10

Packed size -

9.9/10

Ease of use & features -

9.2/10
Summary
My overall rating of this cot is Excellent:
Pros
2-in-1 design.
Backpack-portable.
Carry bag.
Easy to use.
---
Specifications
Weight: 5.8 lb (2.6 kg).
Weight capacity: 265 lb (120 kg).
Dimensions: 75 x 25 in (190 x 64 cm).
Height: 4.7 in (12 cm).
Packed size: 15 x 8.2 x 6.7 in (38 x 21 x 17 cm).
---
Comparison with competitors
It is always a good idea to compare. This allows you to understand the features better. But the truth is that currently there is no cot known to me with a similar design.
---
Final thoughts
So this was KingCamp Ultralight Camping Cot with Integrated Air Mattress from my perspective. As you realize this is indeed something unique and it is no surprise that it was awarded.
The construction is such that you can carry it attached to the pack, or even better you can transport it on a bicycle and a motorbike. This is indeed a versatile 2-in-1 product with a bed and an air-mat together.

For more cots, simply check under the category Cots here in the site, you will find them in hundreds. Check also their hybrid Cot Hammock, yet again a unique item.
Note that I am not paid by the brand and this is not a sponsored text. Please use the comment box below in case of questions or comments.