---
The KAMPKEEPER Twin Camping Cot is folding and very easy to use, with a pre-attached mattress sleeve and an air mattress included.

---
Key features & benefits
Folding cot.
No assembly.
Very wide.
Pre-attached mattress sleeve.
Air mattress included.
Great price.
---
What this is about
Here you have a complete set that includes a twin-wide cot with a permanently attached sleeve for a mattress, plus an air mattress included.
This is a folding design so there is no particular assembly. You expand it like an accordion, and it folds easily to fit into is included carry bag, this is shown in the pictures below. The folded dimensions are 37.25 x 9 x 9 inches (95 x 23 x 23 cm).

With such a construction the cot is not stiff, so it will adapt to an eventually uneven ground that you might have in the camp.
The feet are wide and there are 6 of them so the weight is distributed and this should work even in a floored family camping tent.
Note that the mattress is without insulation so this is for warm weather camping only.
These days I was in the mountains and sleeping in the car on a mattress with a similar shape. It was off the floor of the car, but I was still cold. So I had to add a self-inflating thin pad on top of the air mattress.
Materials
The cot's frame is what they claim an anti-rust steel with multiple X-crossed support tubes for lateral stability. The fabric is a PVC coated oxford. 
The cot and the sleeve are one single piece so the sleeve cannot be removed for washing, pity. But the air mattress can be removed and used separately as well.
---
Who is it for
Regarding the capacity, this cot is quite typical with its 250 lb (113 kg) official capacity. So if you are a heavy person, you might want to check some of these cots for heavy people.
Regarding the dimensions, this is a twin cot but this applies to the width only. The length is quite modest, the bed measures are given in the picture. Note that it is quite high when the mattress is on, so this may make it suitable for elderly users.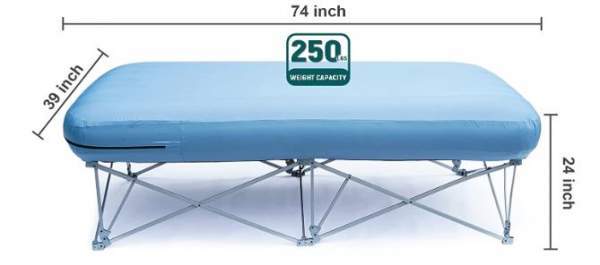 But they also have a queen version and it is available at the same place on Amazon.
Regarding the weight, the cot is on the heavy side in view of its 18.26 lb (8.3 kg) of weight.
You have already seen its packed size, so all in all this is a car camping set and you are not supposed to carry it long distances.
Regarding the price, I think this it is truly fair for what you have here.

---
Specifications
Weight: 18.26 lb (8.3 kg).
Capacity: 250 lb (113 kg).
Dimensions (L x W x H): 74 x 39 x 24 in (188 x 99 x 61 cm).
Folded dimensions: 37.25 x 9 x 9 in (95 x 23 x 23 cm).
Frame: steel.
---
Rating, pros & cons
Below you have summarized my rating and some pros and cons. I use the same criteria for all the cots here in the site so you can easily compare.
A complete sleeping set with a wide cot and air mattress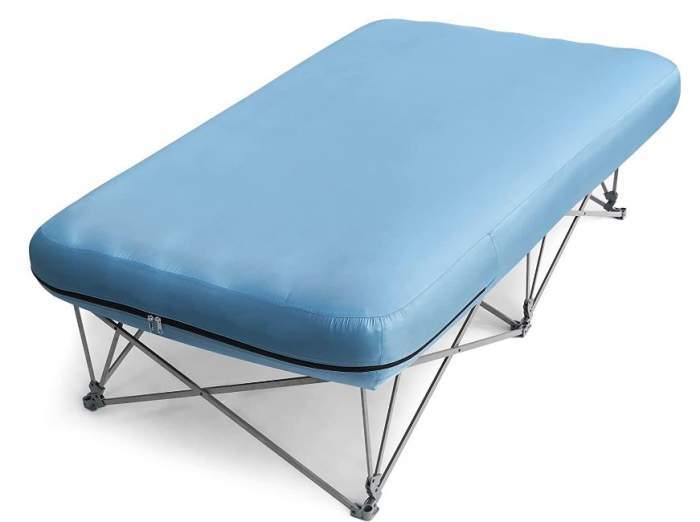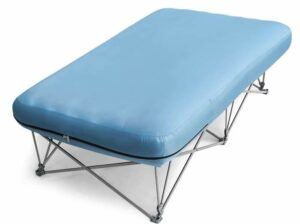 Product Name: KAMPKEEPER Twin Camping Cot
Product Description: The KAMPKEEPER Twin Camping Cot Is Affordable, Folding and Very Easy to Use, with a Pre-Attached Mattress Sleeve, and an Air Mattress Included.
Brand: KAMPKEEPER
SKU: B09WZVSCFF
MPN: KK-3974TB
Weight -

7.5/10

Size -

9.5/10

Packed size -

8.2/10

Capacity -

7/10

Ease of use & features -

9.5/10
Summary
The cot scores good in almost all criteria so the overall rating is very high. You can rate if from your side as well.
Pros
Air mattress included.
Very wide.
Easy to use.
Fair price.
---
Final thoughts
So this KAMPKEEPER Twin Camping Cot is well built and this is a full set for outdoor sleeping. It will fit in most of family camping tents. The included air mattress is very thick and this makes it suitable for any sort of sleepers.
But if you are a very tall person, it will be short for you, just to know. In this case check some other cots with air mattress for more options. 
Best place to buy:
For more options, please check under the category Cots, you will find them many here in the site, and in all sizes and shapes.
Bookmark this site and visit it when you find time, this will keep you informed, you have new texts added here on a regular basis. Let me know if you have questions, there is a comment box below. Thank you for reading and have a nice day.