---
The TravelChair AirTite Cot is a collapsible light and compact outdoor bed that comes with an integrated air pad.
---
Key features & benefits
Collapsible cot.
Integrated air mat.
Easy to use.
Lightweight.
Compact.
Carry bag included.
---
What this is about
This TravelChair AirTite Cot can be described as a collapsible outdoor bed. This means that it has several separate pieces, and it needs a simple assembly. But as usual with such cots, this is all easily done and without any extra tools.
The elements include a set of four unique legs with their interconnected bars, two side rails, and a bed deck which is in fact with an air mat. This all you pack in its included carry bag shown in the picture.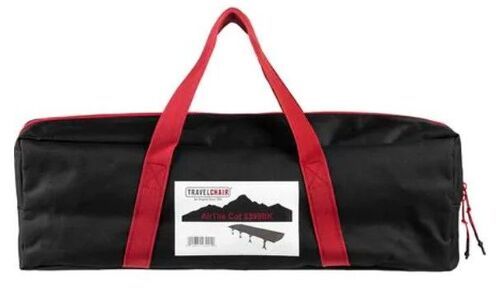 Integrated air mat
So instead of usual piece of fabric, here you have the bed deck that includes an air mat. The video below will show more details, here just to add that you set the cot as usual, and when it is ready, you inflate the inner pad.
The picture below shows it from the narrow side so you get some idea about the thickness of the air pad. Clearly, you do not need any other pad with such a feature.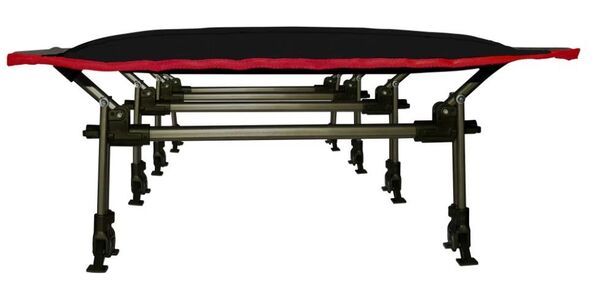 The pad is without insulation so its its effective R-value is 1.5. So this is for summer camping only. If you would use it in a cold environment, it is best to keep its own pad deflated, and then add an insulated sleeping pad above it.
With this integrated mat it is similar to the Hey Foly Folding Camping Cot with Mattress that is presented here in the site. This may be a new trend in cots industry and I think it is good.
The materials
The metal elements are aluminum and it is painted, but they do not provide information about it. The legs look complex, one is shown below, but they are in pairs and interconnected with a bar.
It is easy to attach them to the side bars, and there is a locking mechanism that keeps this in place, you can see it in the picture below.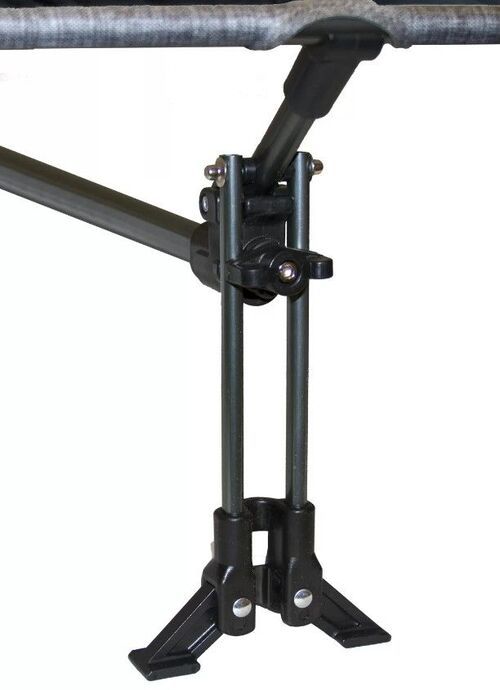 As you see, each leg is with two feet, so there are 16 of them in total. This means that the weight is distributed and this is a floor friendly design. I am sure it is safe to use it even in a floored family camping tent.
The fabric used for the bed deck and the pad is polyester, but there is no detailed information about this.
Please see more in this video:
---
Who is it for
Regarding the capacity, the cot is quite typical with its official 300 lb (136 kg) weight capacity.
Regarding the dimensions, its length is very impressive, the bed measures 79.5 x 25.5 inches (202 x 65 cm). So if you are a tall person, this should be a great cot for you.
Note also that there are no end bars, so this length is all a useful length. The clearance from the ground is 12 inches (30 cm), so this leaves lots of volume underneath the cot to store your camping gear.
Regarding the weight, the cot is indeed light with its 8 lb 8 oz (3.9 kg). Note that this together with the pad.
You have already seen its carry bag, so its dimensions are excellent, the numbers are given below.
Regarding the price, it is steep, but there are several sellers, so please follow the links given below and compare.
---
Specifications
Weight: 8 lb 8 oz (3.9 kg).
Capacity: 300 lb (136 kg).
Dimensions (L x W x H): 79.5 x 25.5 x 12 in (202 x 65 x 30 cm).
Folded dimensions: 24 x 8 x 6 in (61 x 20 x 15 cm).
Frame: aluminum.
---
Rating, pros & cons
Below you can see how this cot stands against my usual rating criteria. As you realize its score is very good.
Light and compact cot with an integrated pad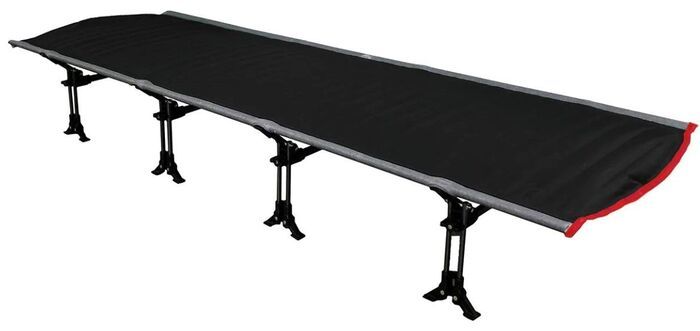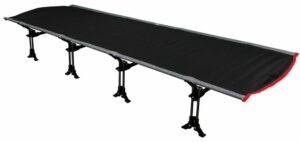 Product Name: TravelChair AirTite Cot
Product Description: The TravelChair AirTite Cot Is a Collapsible Easy to Use Light and Compact Cot that Comes with an Integrated Air Pad and Unique Legs Design.
Brand: TravelChair
Weight -

9.1/10

Size -

8.5/10

Capacity -

7.5/10

Packed size -

9/10

Ease of use & features -

9.3/10
Summary
This cot stands great against all my rating criteria so the overall rating is very high and this is well-deserved.
Pros
Very long cot.
Integrated air pad.
Unique features.
Very light.
Compact.
---
Final thoughts
So this TravelChair AirTite Cot includes a unique combination of an integrated air pad and legs design. It is also very long and without end bars, so it is suitable for tall users. Its packed size and weight are excellent. Because of all these features, I have included it in my list of best camping cots with air mattress.
Best places to buy:
For more options, please check under the category Collapsible Cots, you will find them many here in the site, and in all sizes and shapes. If you need something lighter and even more compact, check this Helinox High Cot One Long.
Bookmark this site and visit it when you find time, this will keep you informed, you have new texts added here on a regular basis. Let me know if you have questions, there is a comment box below. Thank you for reading and have a nice day.