---
Snow Peak Campfield Futon is an incredibly versatile camping system which allows for a cot, sofa, chairs, and storage shelf configurations.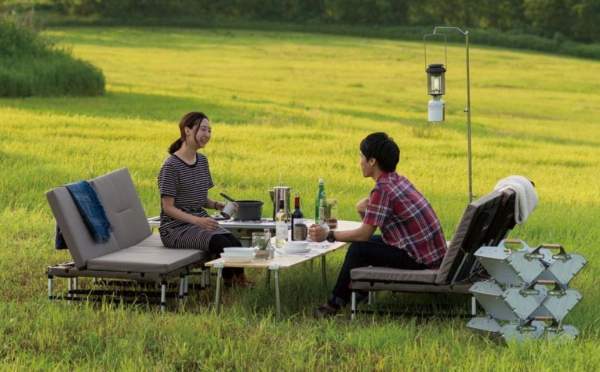 ---
Key features
Convertible construction.
It can be used as a sofa.
One option is to use it as a cot.
It can be used as two padded chairs.
It can be used as a camping storage shelf.
Reclining design.
---
The main elements in the package
Cushion
There are 4 cushions in the package. This is a polyester outer material, nylon, and urethane foam padding. The dimension of each cushion piece is (L x W x H) 75 x 50 x 7 cm, and they weigh 1 kg.
Base units
There are 3 base units in the package and here are their features:
Materials: This is a combination of polypropylene ABS and aluminum alloy.
Size when used (L x W x H): 75 x 50  x 30 cm (each unit).
Size when packed: 75 x 50 x 6 cm.
Weight per unit: 2.5 kg.
One of them is shown folded in the picture. Observe the thick legs which are in fact bars, so you can use this in any floored family camping tent without any danger for the floor.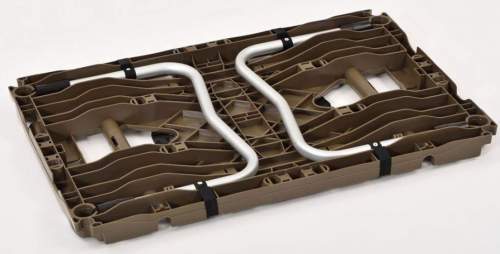 Backrests
There are two backrests included with the following features:
Materials: polyester canvas, aluminum alloy, plywood, polyethylene, polyacetal.
Size: 60 x 25 x 3.5 cm.
Weight: 1 kg.
Note that all these data are from the manufacturer's site. So when you add up all the numbers for the weight this is 13.5 kg and this is very different from the total weight which you can see on Amazon and also on the manufacturer's site and it reads 37.5 lb (17kg).
---
Incredibly versatile camping item
So here are all the ways of using this Snow Peak Campfield Futon
Using it as a camping sofa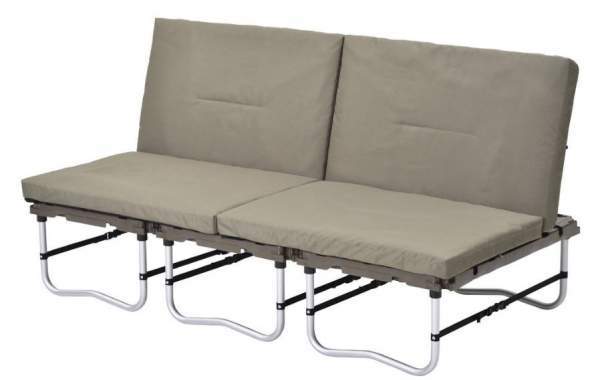 In this configuration, all three base units are locked together. Then you add two backrests and attach two padding units to them, and padding on the seat is added as well.
Note that the backrests allow for two different positions, so this is a reclining design. They can be at 105 and 115 degrees angle, see the picture.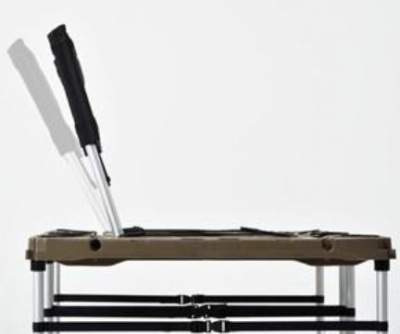 Used as a cot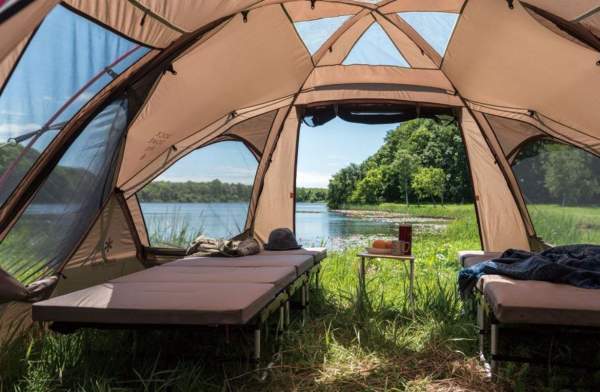 In this setting you keep the three base units connected the same way as in the sofa configuration.
Now remove the two backrests and attach them to the two ends of the base units. This creates an extended platform for the cot. Then rotate all 4 cushions and set them side by side, this gives you a cot which is with the 7 cm thick mattress and it is 2 meters long. This is illustrated in the picture: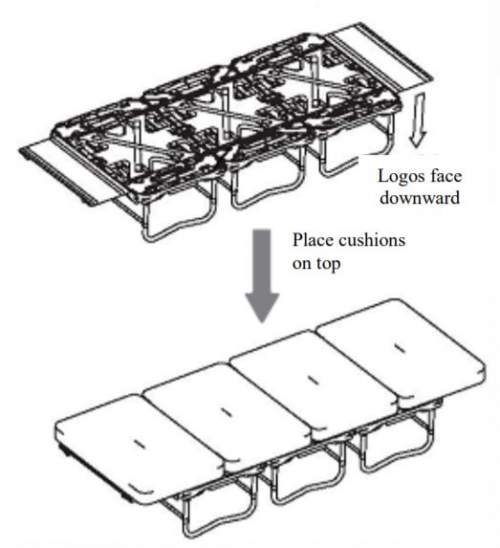 I have added it to my list of best camping cots with mattress. But note that there is a sub-setting here. This is illustrated below; one backrest is positioned vertically on one side while the other remains on one side as in the cot setting above. This creates a lounger: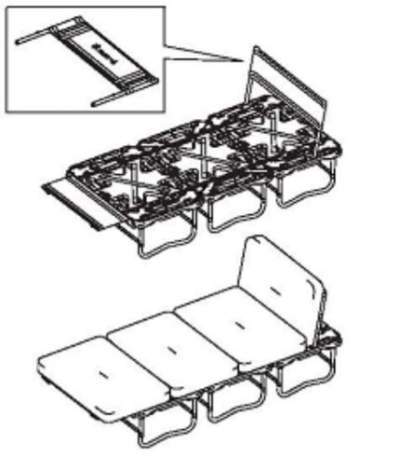 Used as two separate padded chairs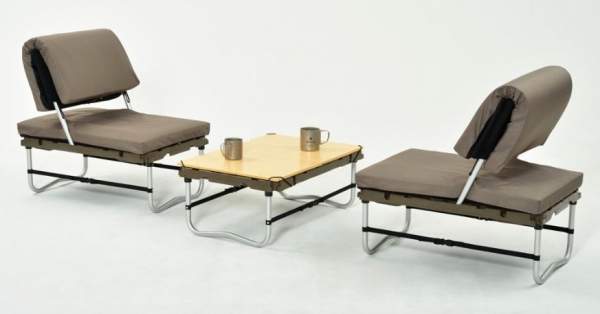 The picture above shows how you can use two of the base elements, two backrests, and two cushions to create 2 comfortable padded camping chairs.
The table in the middle is created by using the third base element plus two Wood Table W Bamboo units which this brand sells separately. Obviously, you do not have to order this, but you will still have two well-padded camping chairs.
Used as a storage shelf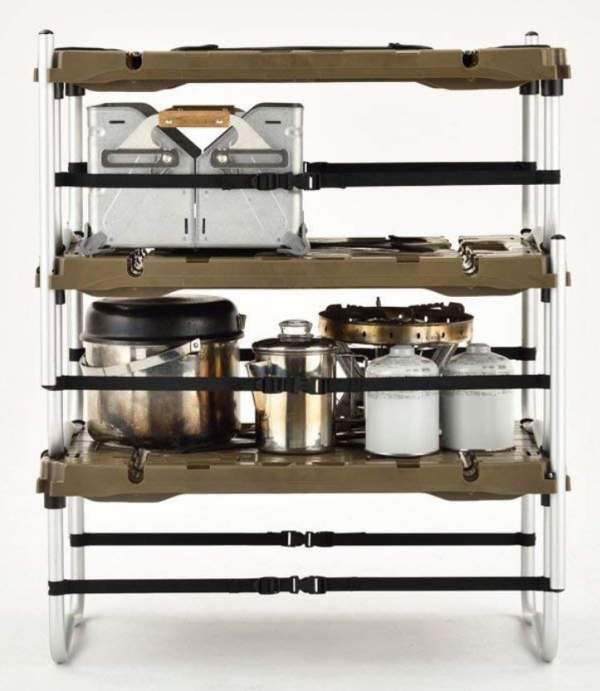 In this setting, you put three base units on top of each other so you have three shelves for your camp kitchen. The structure is stabilized with the pipes from the backrests, you put them in the opposite corners, this is visible in the picture.
So here the cushions are not used and the same holds for the backrests plywood pieces.
---
The price, rating, pros & cons
This system is on the market with the price available in the link. So it is very expensive but you have seen how many configurations you have here.
Please see how I rate this product:
My rating of the Snow Peak Campfield Futon:
Weight -

8/10

Features -

10/10

Craftsamanship -

9.8/10
Overall rating
Based on the given specific criteria, my overall rating is Very Good:
Pros
Incredibly functional.
Multiple configurations.
Tool-less use.
Compact packed size.
---
Final thoughts
So in the summary of this Snow Peak Campfield Futon review, I would stress that you will not find anything similar on the market. This is a unique construction, and this design allows for multiple configurations, all of them very useful for family camping.
You have seen that in some settings, some of the elements are not used. This gives you an option to reduce the size if you know in advance how you are going to use this system. But you can also transport everything to your camp and decide on the spot, and use it in various ways.
For example, you can have 2 padded chairs during the day and then transform them into the padded cot when it is time to go to bed.
This all can be done easily and without any tools. I am totally impressed with this product.
You might want also to see their Snow Peak High Tension Cot, yet another excellent product from this brand.
Note that this is not a sponsored text and I am not paid by the manufacturer. What do you think about this system? Please share your thoughts, there is a comment box below.

---