---
GigaTent Folding Cot With Mattress presented here is an extra large camping bed with a great price tag and a bonus foam pad.
Key features and benefits
Very large bed.
No pressure points, no bars directly under the canvas.
No assembly.
Easy setup, just unfold.
Versatile.
---
What type is it
The name tells it all, this cot is one of the foldable tools, which implies that when packed it preserves two relatively large dimensions, roughly 40 x 29 inches (102 x 74 cm). But in such a folded state it is very thin and can easily be stored at home, in the attic, closet, or under your regular bed.
Also from the name, you realize it comes with its own foam mattress. So this is a bonus, you have a tool for sleeping anywhere. It is included in my separate text with a long list of such tools.
Yet another important feature are its U-shaped bars-legs. This design is good for any terrain because the bars do not sink in the ground so easily as classic legs.
---
A bit more description
This is an XL Comfort Cot built for taller sleepers. The frame is 1 inch (2.65 cm) thick tubular steel, very stable on its three U-shaped legs which distribute the weight to minimize the possibility of damaging the floor.
The deck is a strong polyester and it is attached to the frame through a series of steel springs all the way around its perimeter, see the picture below.
Note that there are no bars close to the deck, so this is a good design and you will have no pressure points under your body.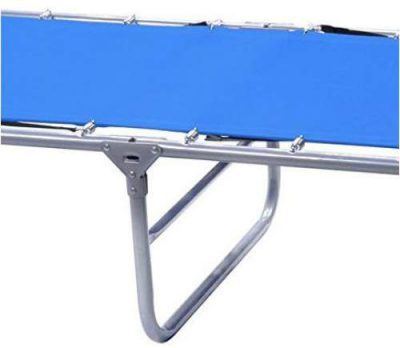 The mattress is 1 inch (2.54 cm) open cell foam, covered with coated polyester on top and with a waterproof vinyl on the bottom for moisture protection. Observe that it is removable and can also be used separately, and the same is with the cot itself, so you have 2 tools in one, and 3 options to use, separately and together.
Note there is a smaller version for shorter people with the following dimensions: 69 x 24.8 x 14.2 inches (175 x 63 x 36 cm). It is a bit cheaper as well.
---
Who is it for 
This cot is a great camping tool and you can use it at any place with a car access. Those include:
regular camping places,
trailhead hotels,
summer open-air music festivals,
sports events (have you seen crowd camping at Wimbledon tennis tournament this year?)
vacations in general,
any emergency situation.
Note this is a long cot, suitable for tall people: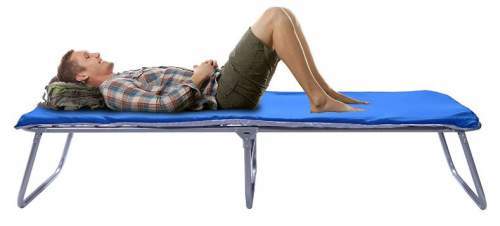 ---
Using the GigaTent Cot in a tent
This cot is extra large by specifications and by its name. But it fits in practically any tent which is high enough, even in some solo tents. Note that solo and 2-person tents are usually around 220 cm long, see some examples here.
A perfect situation is a 2-person tent. So you put the cot and still have plenty of space around for your gear and for a dog if you have it with you. To see the numbers, please take this Mountainsmith Morrison Evo 2 Tent as an example.
Even the height of the cot is good enough for such relatively low tents, but if you want a real castle, check this Kelty Camp Cabin where you can easily put two of such cots and still have a lot of space around.
Needless to say, you have a huge space under such a cot that can be used to store the gear.
The bars instead of classic legs are a good design, so it will not damage the floor and it will be stable on any surface.
Can you use it in any season – How about insulation
Yes, you can. In warm conditions, you do not need any extra under you, but in a cold environment, you can use the regular insulated inflatable or self-inflating pads, they will also add comfort in view of the thin foam mattress which you already have.
But in my view, the best is to use thin insulation layers like closed cell foam pads. They are thin but some have a rather good R-value.

---
Setup
The setup cannot be easier. This bed comes assembled and ready to use. So just unfold it and remove the mattress which stores on the underside between the foldable U-legs. Now turn the bed and put it on its legs, add the mattress above and it is ready. No tools or any kind are needed.
Do the opposite when you fold it away, and when finished, store it in its carry bag shown in one picture above.
---
The price
The price of this cot is currently (I mean at the moment of writing this text) around $78, but please check the links for updates. So I would say this is a real bargain for what you have here.
---
Pros & Cons
Here is my list:
Pros

Cons

• No assembly needed.
• Removable mattress.
• Very large.
• Easy setup.
• Foldable.
• Durable materials.
• Versatile.
• Carry bag included.
• Very good price.

• Very thin mattress.
• No lock for legs.

I like the fact that it comes with a carry bag, this means a lot, to keep it clean and free of dust when you store it somewhere at home for a long time. But it is also very useful if you move it around in your camp.
As for the mattress, well, in principle, you can sleep even without a mattress on such cots, but my guess is that many would love to have a thicker mattress on the cot; the one that comes with this cot is only 1 inch (2.54 cm).
See how I rate the GigaTent Folding Cot, the large version presented here:
My rating of the GigaTent Folding Cot With Mattress
Weight -

7.2/10

Size -

9/10

Capacity -

7/10

Packed size -

4.4/10

Ease of use & features -

9.8/10

Price -

9.5/10
---
Specifications
Weight: 18 lb (8.16 kg).
Capacity: 250 lb (113 kg).
Dimensions: 79 x 29 x 14.2 in (201 x 74 x 36 cm).
Folded size roughly 40 x 29 x 5 in (102 x 74 x 13 cm).
Foam mattress: 1 inch (2.54 cm).
---
GigaTent Folding Cot  vs competitors
In the table below I give GigaTent Folding Cot and a couple of cots from other brands. All are with mattresses and built in the same style, see how they compare:
Size (L x W), inches (cm)

Packed size, inches (cm)

Weight
lb (kg)

GigaTent




Folding Cot

79 x 29
(201 x 74)
40 x 29 x 5 (102 x 74 x 13)
18 (8.16)
Coleman
Ridgeline III Cot
74 x 26
(188 x 66)
36 x 26 x 5.5
(91 x 66 x 14)

16.5 (7.48)

Simmons
Beauty Sleep

75 x 31 




(191 x 79)

38 x 31 x 7
(97 x 79 x 18)
29 (13.2)
To see more, please follow the links to my separate reviews. Obviously, the GigaTent Cot is the biggest in the group, but its weight is reasonable.
The prices at the moment of writing this text for the three cots are, respectively, $78, 80, and 160. So again the GigaTent Cot's price tag is the best.
---
Summary
To conclude this GigaTent Folding Cot With Mattress review, this is a nicely built simple cot, easy to use, versatile and reliable. The pad is not so great but you can replace it if you want something more comfortable. Its price is so affordable that you can really do this.
Check at Walmart
If you feel this is not for you, please check all cots with mattresses presented in the site.
Thank you for reading. In the case of questions and comments, please use the comment box below. I wish you a pleasant day.


---