---
The Stansport Conifer Steel Cot With Mattress is an elegant foldable steel yet lightweight construction with an easy setup and incredible price.
Key features & benefits
Great price.
Powder-coated steel frame with spring tensioned metal supports.
Three full-width U-shaped bars legs.
One-year warranty against manufacturer's defects.
---
Where does it belong
The Stansport Steel Cot with mattress belongs to the group of foldable cots, and many of them are described in this site. So this type folds and thus preserves two relatively large dimensions.
In this particular case, it becomes 37 x 31 inches (94 x 79 cm) when folded. But it becomes very thin, 4.5 inches (11 cm) only. So this is still good enough to transport it in a car, or to store at home.
Also, from the title you realize, it comes with a foam mattress. There is a group of cots with mattresses described in the site.
---
Who is it for
The first thing that comes to mind is to use this cot as a spare bed at home for overnight guests. A really fantastic thing is that it slides easily under most of beds, or you can store it in the closet, attic, or in the garage. When you need it, pop it up and the bed is ready in a minute.
The same is if your children have sleepovers, this will be the time to take this cot out of the closet. The cot may find a place at your workplace, in the office or anywhere, to take a rest when you work overtime.
But this is also a cot that packs nicely and can be transported to any camping place with a car access, to trailhead hotels, or you can use it in summer camps, open-air music festivals and concerts, sports manifestation. It is truly versatile.
---
How about using it in a tent
The Conifer Steel Cot is not particularly big (which is not so great) so using it in a tent is easily done. It will fit any 2-person tent of a normal height, even some solo tents.
But clearly, the higher the tent the better, and I would warmly recommend this great Kelty Camp Cabin which will easily take in several cots of this type. If you are a couple, then this tent and two cots of this type will make your camping really comfortable.
Note also that its construction with the three U-shaped bars legs is such that there is no danger whatsoever for the tent floor.
Even if you use such a cot in a relatively small tent, bear in mind that it allows you for storing a lot of stuff under the bed. You do not have such a luxury if you are using an ordinary sleeping pad and sleep on the ground.
Note also that such cots, in general, are far more convenient than airbeds; the latter are bulky and need time to get inflated and above all, there is always a risk of being punctured. The cots like this one are built to last.
---
Using the Stansport Conifer Steel Cot in winter conditions
The foam mattress is included but this is not a winter tool. You will need some insulation. There are many sleeping pads with a good R-value. The best option is to go for thin closed cell foam pads. They are inexpensive and can easily be used under the existing foam mattress. So you will have both comfort and insulation.
Note that when you are sleeping off the ground, you effectively have air under you. Now, the air is known for less heat conductivity than the ground, in fact, it is around 50 times less conductive. So the point is, you need far less insulation than when you sleep on the ground. You can save on expensive insulation pads.
---
What you get and how to set it up
This is a steel structure with steel springs supporting the mattress, and it is very stable due to its bar legs. The foam mattress is stored on the underside of the bed when it is folded, between its folded legs.
You have tabs on the ends which hold the structure folded, so if you put it in a closet, it will stand independently.
Note that the legs are with plastic caps for floor protection, and there are no bars under the mattress, so you are safe from pressure points, see the picture below.
It comes assembled and the setup is easy. Unfold the bed, unfold the legs, remove the mattress, turn the bed on its legs, and put the mattress on it. The job is done without any tools. Do the opposite when you fold it away.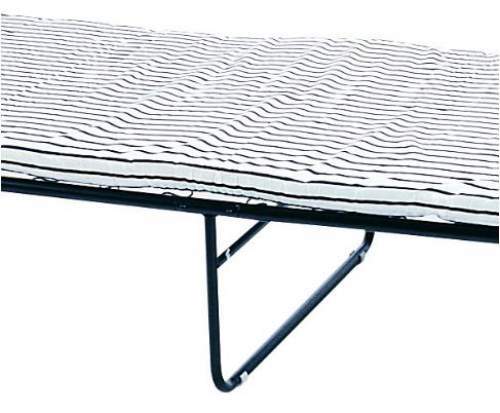 ---
Pros & cons, my rating
The daily updated price of this cot is given in the link below. In view of the mattress included, this is a great price for such a sleeping system. Note also that you can have it shipped for free, this is an Amazon Prime product.
The mattress is indeed only 1.5 inches (3.8 cm), but the spring system under it is very comfortable, so you probably do not need anything thicker. See how I rate this cot:
My rating breakdown of the Stansport Conifer Steel Cot With Mattress
Weight -

7.2/10

Size -

8.8/10

Capacity -

7/10

Packed size -

4.4/10

Ease of use & features -

9.8/10
Summary
My overall rating of this cot is Very Good:
Pros
• Very good price.
• No assembly needed.
• Removable mattress.
• Easy setup.
• Foldable.
• Durable materials.
• Versatile.
• U-shaped legs.
Cons
• Thin mattress.
• A bit short.
• No stuff sack.
• Confusing description.
---
Specifications
Weight: 18.6 lb (8.44 kg).
Capacity: 250 lb (113 kg).
Dimensions (L x W x H): 75 x 30 x 15 in (190 x 76 x 38 cm).
Folded size: 37 x 31 x 4.5 (94 x 79 x 11 cm).
Cotton/Foam mattress: 1.5 in (3.8 cm).

Powder-coated steel frame with springs.

One-year warranty.
---
Summary
To conclude this Stansport Conifer Steel Cot With Mattress review, there is not much one could object to this cot, while it has a long list of pros.
It is built to last, an all-steel structure, a great option for temporary use as a spare bed. The best of all is its price.
Nevertheless, if you are still undecided, please see this list of cots with mattresses, these are the most popular and the best models on the market; you will notice that the Conifer Steel Cot is one of them. If you need something for very heavy people, please check this text.
Thank you for reading, please let me know if you have questions or comments, there is a comment box below. Have a nice day.