---
Need a camping cor for very heavy people? This ALPHA CAMP Oversized Camping Cot might be the right choice for you. Read more below.
---
Key features & benefits
Head incline.
Huge weight capacity.
Carry bag included.
Storage elements.
Amazon's Choice product.
---
Where to buy
This cot is available on Amazon. They operate globally so please follow the link and check shipping conditions for your location.
Note that this is an Amazon's Choice item, and this means they recommend it as well-priced, highly rated by customers, and ready to ship immediately.
---
What type of camping cot is this
This ALPHA CAMP Cot is one of those folding cots that remain large in one dimension only when you pack it. So its packed size is 41.3 x 9.5 x 5.9 inches (105 x 24 x 15 cm).
This is all one single piece, and by this I mean that all the elements are permanently interconnected and there is no assembly, you simply unfold it. Note that it comes with straps to tighten it when it is folded and then you can easily store it in its included carry bag.
Elevated headrest
This cot comes with an integrated headrest, see the top picture above, so you can manage without any pillow. But if you are a side sleeper you might need to add a pillow.
Storage elements
There is a storage system on the side, see the picture, with several separate pockets. This is very convenient to keep things at hand and off the ground.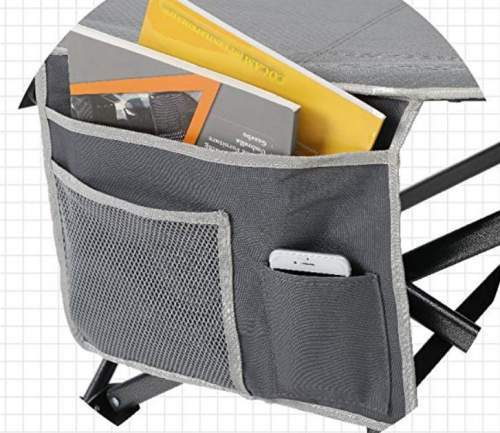 ---
Who is it for
Size-wise, in spite of the word 'oversized' in the name, the dimensions are quite typical, see the picture below. Its 74.8 x 26.4 inches (190 x 67 cm) bed size is good enough for most of the users, but if you need something for very tall people, please check this list.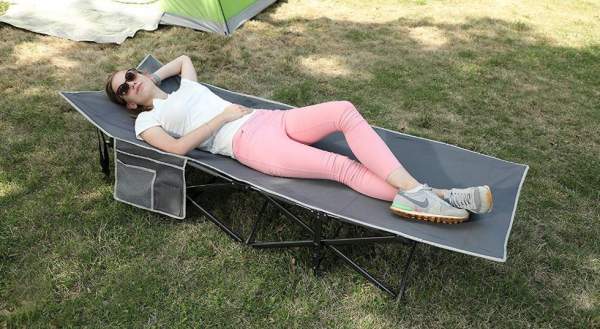 Capacity-wise, with its 600 lb (272 kg) declared capacity, this cot deserves to be in my list of cots for heavy people. This capacity is good enough even for the heaviest sumo wrestler in the Japanese top sumo division. The picture below shows what really is behind such a capacity, see those numerous support bars.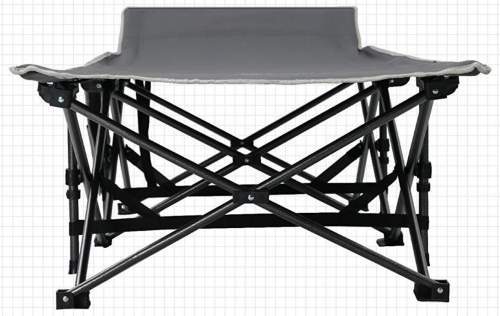 Weight-wise, with 14.6 lb (6.62 kg) it is not a lightweight cot, but you have seen its impressive capacity. So I would say this weight is justified.
The packed size is not so impressive, at least its length. So this is a cot for places with a car access.
Using this cot in a tent
The cot is moderately tall, the bed is 13.8 inches (35 cm) above the ground. This should be high enough even for elderly users. On the other hand the space underneath the cot can be used to store your stuff. So you will need an appropriate height tent.
There are 10 feet and many of them are very wide, the weight is distributed so this should not cause issues with the tent's floor.
Using a sleeping pad or not
You will need a pad if you camp in a cold environment. But as usual with sleeping on a cot, you need far less insulation than when you sleep on the ground. In a warm climate, you do not need any pad.
---
Materials
The frame here is a high strength steel with several support bars and triangle structures which you have seen above. The fabric is a 600D x 300D Oxford. The feet are some sort of plastic, they do not provide information about it.
---
The price & my rating
The link below shows the daily updated price. So you realize this is a fair price for such a great cot. This is also an Amazon Prime product and you can have it shipped for free.
As of the moment of writing this text there are tens of reports by customers on Amazon, and the average rating is impressive, see the link above. Please see how I rate it against my standard set of criteria, so you can compare easily with the other cots here in the site:
My rating breakdown of the ALPHA CAMP Oversized Camping Cot:
Weight -

7.8/10

Size -

8.3/10

Capacity -

9.8/10

Packed size -

8/10

Ease of use & features -

9.6/10
Summary
My overall rating for this cot is Excellent:
Pros
Great capacity.
Very good price.
Easy to use.
Carry bag.
Headrest & storage elements.
Cons
Long when packed.
A bit narrow.
---
Specifications
Weight: 14.6 lb (6.62 kg).
Weight capacity: 600 lb (272 kg).
Dimensions (L x W x H): 74.8 x 26.4 x 13.8 in (190 x 67 x 35 cm).
Packed size: 41.3 x 9.5 x 5.9 in (105 x 24 x 15 cm).
Frame: steel.
---
ALPHA CAMP Oversized Camping Cot vs Competitors
I have decided to show you this cot side by side with Alpcour Cot and KingCamp Cot, both built in the same folding style and with headrest.
As you see the parameters are very similar except for the capacity, the Alpha Camp Cot's capacity is bigger than the other two combined.
41.3 x 9.5 x 5.9
(105 x 24 x 15)

41.3 x 9.1 x 6.7
(105 x 23 x 17)

40 x 8 x 5
(102 x 20 x 13)

---
Final thoughts
In the summary of this ALPHA CAMP Oversized Camping Cot review I wish to stress that this is not really an oversized cot, its size is quite typical. So it is best that you check the actual dimensions and see if it suits you.
There are no end bars so the given length is the true useful length. Note also that there are no bars underneath the bed fabric, so you are safe from pressure spots.

Please check under the category Cots here in the site if you need more options. See also my list of best folding cots in various styles.
Note that this is not a sponsored text, and I am not paid by the manufacturer. I love to hear from you, so please use the comment box below. Have a nice day.

---