---
The Coleman Comfortsmart Folding Cot is a reliable steel camping bed with a price tag hard to match, and with a bonus 1.75 inches mattress.
Key features
A foam mattress included.

Durable heavy duty steel construction.

Versatile bed.
Great price, around $58 at the moment of writing this text.
---
Who is it for
This cot is a great camping tool at places with a car access. It is not so heavy, but this is not to be carried around. There are many situations where this cot can be used, to mention just a few:
regular camping places,
summer open-air music festivals,
trailhead hotels,
vacations,
beaches.
You can use it to sleep under the stars, in a tent, on a pickup car, or anywhere at home.
Being so nicely foldable, the cot is also good to have at home as an extra bed for sudden overnight guests, and for any emergency situation.
---
Description
The Coleman Comfortsmart Folding Cot is the smallest of the three of their cots which come with a mattress, and you can see this from the comparison table:
Size (L x W), inches (cm)

Packed size, inches (cm)

Weight
lb (kg)

ComfortSmart Cot

69 x 25




(175 x 63)

34.3 x 25.4 x 5.5 (87 x 64 x 14)

14 (6.35)

Ridgeline III Cot
74 x 26
(188 x 66)
36 x 26 x 5.5
(91 x 66 x 14)

16.5 (7.48)

ComfortSmart Cot Deluxe

80 x 30




(203 x 76)

39.6 x 30.7 x 5.5 (101 x 78 x 14)

19.3 (8.7)
So the width of this cot is quite reasonable, but the length is clearly not the best for tall people.
The Coleman Comfortsmart Cot is a very sturdy steel construction with a steel spring coil suspension system, so the top bed surface is tensioned just like a trampoline.
The cot is wide, and with the capacity up to 275 lb (125 kg). The bonus mattress is thick enough for a 3-season use, but if you plan to use it in winter conditions, you might want to add some extra insulation underneath the foam.
SETUP
The cot is normally folded to the side where its legs are, and as you can see from the pictures, the legs are foldable bars, three of them, very strong and stable. Such a construction allows for using it on any surface; it will not sink if you put it on sand or on grass.
The mattress is stored on the same side with the legs, and the whole structure is kept folded by a Velcro strap.
So to set the cot up, just undo the Velcro, open it and spread, and remove the mattress. Then put the cot on its 3 bar legs and add the mattress above. This is it.
FITTING IN THE TENT
The bed is 15 inches (38 cm) high, so this should be OK for any 2-person tent. Its width is such that you can surely use it in solo tents as well.
In any case, it may be easier to get unfolded cot in the tent if you use the tent with a front entrance, like this Kelty Horizon 2 tent. The legs are bars, so they will not damage the floor of the tent; the picture below depicts this.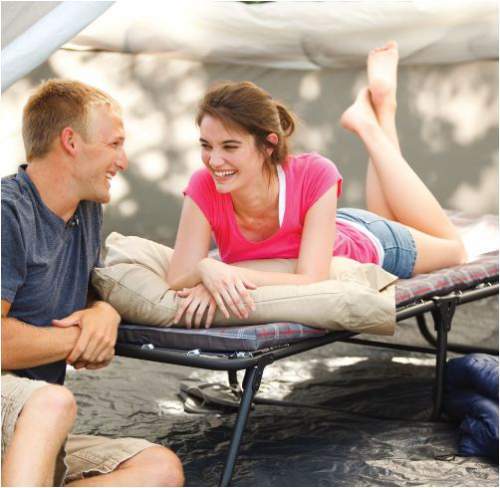 With such a cot in the tent you get a lot of comfort, but remember also that you have a huge space under the cot, where you can store all your gear. So, the cot is more effective regarding space than a sleeping pad which you would use to sleep on the ground in the tent.
FITTING IN THE CAR TRUNK
This is a folding cot, so when packed, it preserves two relatively large dimensions, 34.3 x 25.4 x 5.5 in (87 x 64 x 14 cm). As such, it can still fit in most car trunks.
---
Pros & Cons
My summary is as follows:
Good

Less good
• Mattress included.
• Very quick setup.
• Very comfortable.
• Very reliable.
• Durable materials.
• Great price.


• 

No stuff sack.
• Quite short.

The Coleman ComfortSmart Camping Cot is with many great features but bear in mind ist length.
The price & users' experience
The Amazon price of this cot at the moment of writing this text is around $58. So, in view of all its features, it is not surprising to see how popular this cot is. There are more than 80 customers' reviews on Amazon (at the moment of writing this text), and the average rating is really high, 4.5/5. See the breakdown of my own rating:
My rating breakdown of the Coleman ComfortSmart folding camping cot
Weight -

8/10

Size -

7.7/10

Capacity -

7.5/10

Packed size -

5.2/10

Ease of use & features -

9.7/10

Price -

9.8/10
---
Specifications
Weight: 14 lb (6.35 kg).
Capacity: 275 lb (125 kg).
Dimensions (L x W x H): 69 x 25 x 15 in (175 x 63 x 38 cm).
Folded dimensions: 34.3 x 25.4 x 5.5 in (87 x 64 x 14 cm).
Mattress thickness: 1.75 inches (4.5 cm).
Heavy-duty steel frame.
Fits heights up to 5 ft 7 in (170 cm).
Great comfort with the included foam mattress and spring coil suspension.
Durable construction.
Folds up to fit inside most car trunks.
1-year limited warranty.


---
Summary
In the conclusion of this Coleman Comfortsmart Folding Cot review to stress again that this is a very reliable and comfortable camping bed, assuming that you are a short person. There are many reasons for its popularity even if you forget its really affordable price, this is a great tool.
But if you need something bigger, please check the other two cots given in the comparison table above. They are from the same brand, so if you want a different brand, check this Simmons BeautySleep cot.
Note also that all Coleman cots available on the market in 2017 are presented in my separate text.
If you need something ultra lightweight and collapsible, please check this text with some really impressive backpacking cots.
Thank you for reading. Please let me know if you have any question or comment, there is a comment box below. I wish you a nice day.


---