---
ONIVA Picnic Time Brand Fusion Original Design Outdoor Folding Chair is a luxurious camping chair with a huge cooler, side table, shelves, and many other features.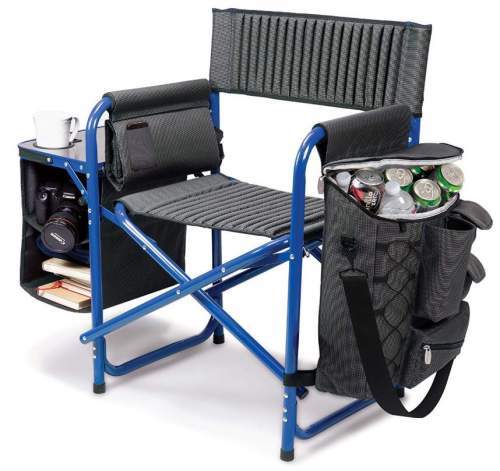 ---
Key features
Unique design.
Side folding table.
Side shelves.
Huge detachable insulated cooler – shoulder bag.
Shoulder straps.
Padded seat and backrest.
Solid armrests.
Multiple pockets.
Aluminum design.
Loops on the back for umbrella or sports banner.
---
Where to buy
Check on Amazon, I have seen it available on several of their stores. Their shipping conditions are the best because of the stores on 5 continents.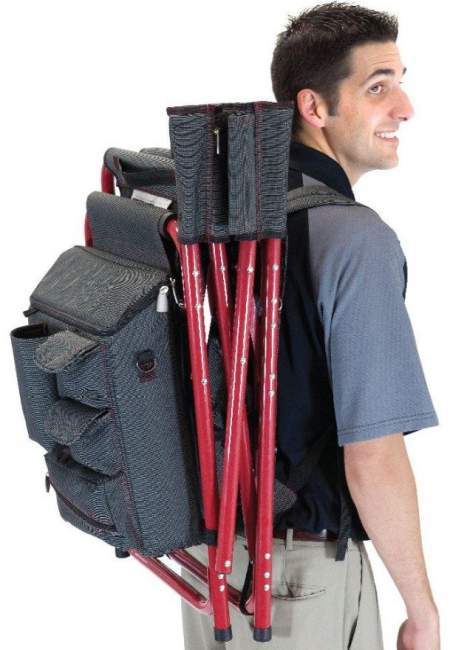 ---
What type of a camping chair is this
This ONIVA Picnic chair is a folding chair with solid and padded armrests. This is the type that remains quite large in two dimensions when folded. However, it is equipped with two straps so you can carry it like a backpack. This is a unique design with plenty of features.
Side table & shelves
This incredible chair comes with a folding side table which is roughly 14.5 by 11 inches (37 x 28 cm) and you have an integrated cup holder on its surface. I have seen people asking if the side table can be removed, so the answer is no, it is riveted. I have included this chair in my list of chairs with side table.
You also have expandable shelves under the table, they are shown in the pictures. So here you can store lots of stuff like books, your tablet, etc. You release the shelves with a snap button on the side.
Storage elements & cooler – shoulder bag
So you have a large storage system on one side, with numerous pockets and storage elements and a large insulated main compartment. But this is also removable and you can detach it and use as a shoulder bag, it has a shoulder strap for this purpose. You will see this in the video.
Other features
On the back you have integrated fabric loops to hold an umbrella so you can sit in the shade.
The chair is equipped with straps so you can carry it on the back just like a backpack, see them in the picture below.
The feet are with plastic caps so this is a floor-friendly design. You also have bars close to the ground and it will not sink if you use it on a soft surface like sand or grass.
---
Who is it for
Capacity-wise, this chair supports the weight of up to 350 lb (159 kg) and this is quite impressive and good enough for most users. But there are stronger chairs just to know if you need such a tool, in this case check this list of chairs for heavy people.
Size-wise, the seat is wide enough for most users, you have 19.5 inches (50 cm) width. But it may be low for tall people, note that it is 16.5 inches (42 cm) above the ground. The solid armrests will help if it is a bit low, so getting in and out should not be an issue.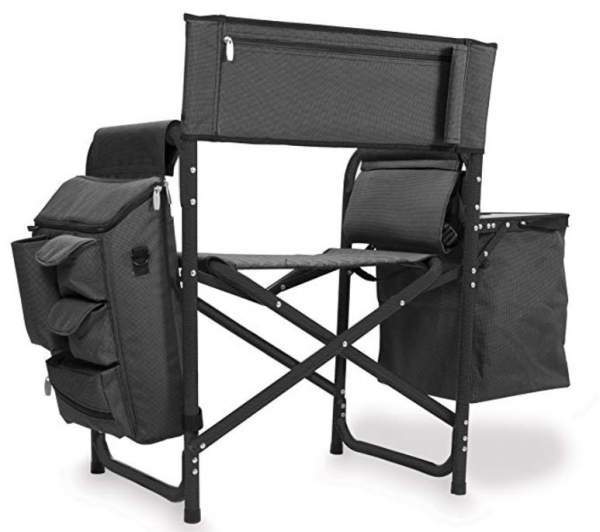 Weight-wise, with its 12 lb (5.44 kg), this does not look like a chair you would want to carry long distances. But when you see the picture above, you realize that such a weight is quite normal for all the features you have here.
On the other hand, the packed size is not so great so you need a car for transportation. But as mentioned above, the chair is equipped with shoulder straps and you can carry it from the parking to some shorter distances where you have to.
Please see more in this short video:
---
Good and less good features
Here is my short summary:

Very easy to use.
Deluxe features.
Quality craftsmanship.
Padding.
Storage elements.
Lifetime guarantee.

Large when packed.
No stuff sack.
Chairs of this type are usually without a stuff sack, but there are exceptions like this OzTent Gecko chair.
They show lots of confidence in their product by offering the lifetime warranty.
The price & rating
The Amazon price for this chair is currently around $86 and I find this reasonable for a chair with so many unique features.
The rating by Amazon customers has been very high, the average value as of the moment of writing this text is 4.5/5. See how I rate it by using the same criteria applied to all other chairs here in the site:
My rating of the ONIVA Picnic Time Outdoor Folding Chair:
Weight -

5.5/10

Dimensions -

7.5/10

Packed size -

2/10

Capacity -

8/10

Comfort -

9.6/10

Craftsmanship -

9.7/10

Price -

8.6/10
---
Specifications
Weight: 12 lb (5.44 kg).
Capacity: 350 lb (159 kg).
Dimensions: 34 x 24 x 18.5 in (86.4 x 61 x 47 cm).
Packed size: 33 x 21 x 7 in (84 x 53 x 18 cm).
Seat height: 16.5 in (42 cm).
Seat width: 19.5 in (50 cm).
Frame: aluminum.
Built in 3 colors.
Lifetime Guarantee.
---
ONIVA Picnic Time Outdoor Folding Chair vs Competitors
The Oniva Picnic Time chair is from the group of camping chairs with a side table, so I give it here side by side with the other two chairs built in the same style. Obviously, no chair currently on the market has so many features, but you can still compare their basic parameters. For current prices please follow the links.
34 x 24 x 18.5
(86.4 x 61 x 47)

33 x 21 x 7
(84 x 53 x 18)

Timber Ridge Laurel Chair
25 x 13.8 x 35
(64 x 35 x 89)

35.8 x 21.3 x 7.1
(91 x 54 x 18)

KingCamp Heavy Duty Chair
22.8 x 22.8 x 37.4
(58 x 58 x 95)

36.6 x 22 x 7.1
(93 x 56 x 18)

---
Final thoughts
I do not remember any chair on the market with so many features as this ONIVA Picnic Time Folding Chair. If you do not need them all the time, the complete set on the left side can be removed, and you will still have the side table with the shelves. The shelves can be packed and fixed under the table, and the table itself is folding, so the chair can look quite different.
The detachable cooler with all those storage pockets on it, you can carry as a shoulder bag and this is a very useful item.

If you need something different, just search under the category Camping Chairs here in the site.
Thank you for reading. Note that this is not a sponsored post and I am not paid by this brand. Please use the comment box below in the case of questions or comments.

---