---
This Mac Sports H900S-100 Topnotch Portable Folding Hammock is a collapsible and compact freestanding construction with a bonus storage feature and a carry bag.
---
Key features & benefits
Collapsible patented design.
Easy to use.
Storage mesh.
Head pillow.
Carry bag included.
Very good price.
---
What this is about
They use the words 'folding' and 'hammock' so I would address this first. In fact the structure could be described as collapsible. There are two elements here, the frame (shown below) and the bed.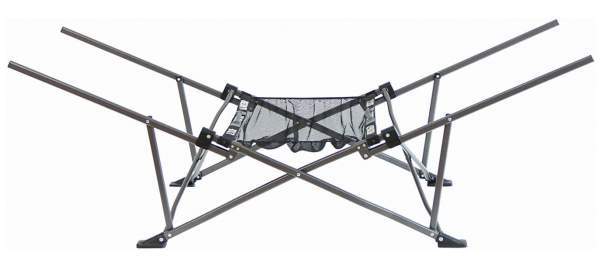 The frame folds as in the picture below, so it becomes narrow and a bit long. The bed itself is with two end-bars and you wrap it as shown below, and then store both of the elements in the nicely designed carry bag that is included: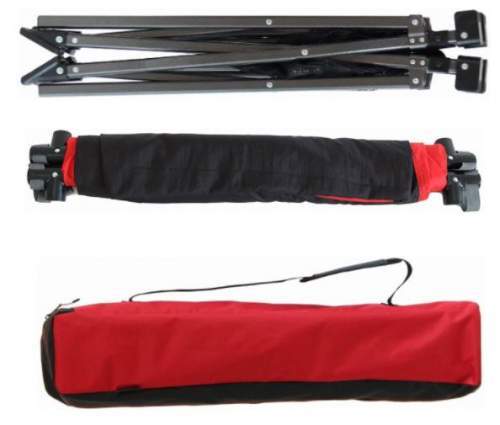 So the frame itself is indeed folding, you simply open it in seconds. The bed with its spreader bars should be added as shown in the picture: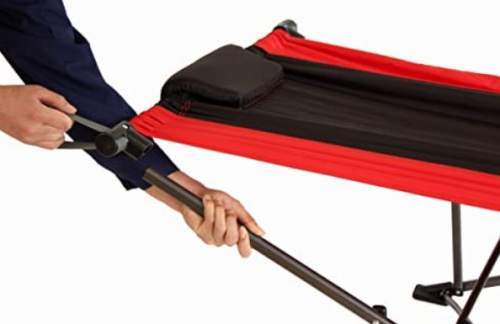 Hammock or cot?
This structure looks like a hybrid between a cot and a hammock. As you see, there are spreader bars at the two ends, so this is very different from a hammock. The structure is rigid and it does not swing as you would expect from a true hammock.
But on the other hand, there are no side bars that you normally have in a cot. So when you are on the bed it gets the shape of a hammock: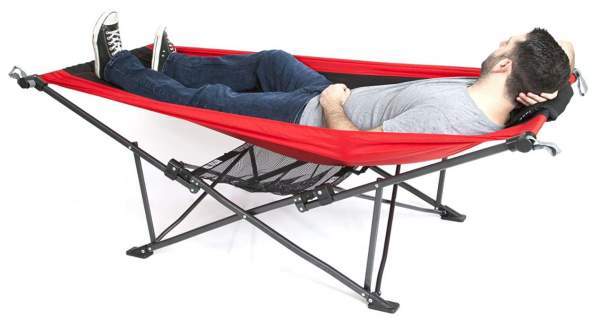 Other details
This is a self-supporting and freestanding construction and this is why I have included it in my list of portable folding hammocks built in the same style. So you can use it anywhere and this is what makes it different from a classic hammock that needs trees to attach it on and to sleep off the ground.
You have a unique and patented design that includes a bonus storage mesh underneath the bed. This is useful to keep your belongings clean and off the ground.
The pictures above show its integrated head pillow, you need it because the bed is quite short. The fabric is a premium-grade soft nylon taffeta, they do not provide details about its denier value. Observe also that they build it in two different colors, red and blue, the latter is shown below.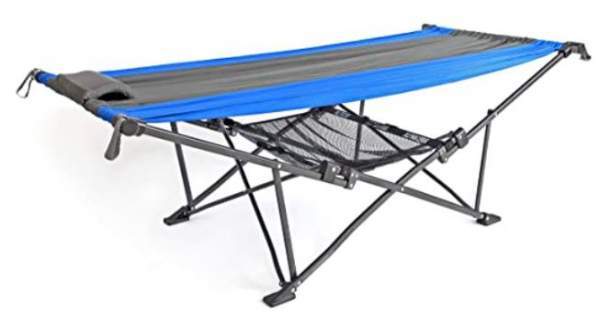 ---
Who is it for
Regarding the capacity, this hammock/cot is quite modest, the official capacity is 250 lb (113 kg).
Regarding the bed size, you have (L x W) 70.9 x 33.1 inches (180 x 84 cm), so it is quite wide, but the length is less impressive.
Regarding the weight, it is around 19 lb (8.6 kg), they describe it as portable and this is so, but you would not want to carry it long distances. Note that the packed size is 35.4 x 7.1 x 5.9 inches (90 x 18 x 15 cm), so it is quite compact and narrow, but clearly you need a car for transportation.
You might want to check this KingCamp Ultralight Folding Camping Cot Hammock if you would need something lighter and more compact.
Using this free-standing hammock in a tent
To start with the feet, they are wide and you should have no issues with the tent floor. But I would always add something extra to avoid damages. Note that the height is 24.8 inches (63 cm) so it is a bit higher than an ordinary cot. But this is still low enough to fit in most of the camping tents.
The footprint (space occupied by its feet) is only around half its length, so you can use it in narrow spaces. The bed hangs above, so you have plenty of space to store your gear underneath it, apart from its mentioned storage shelf.

---
Specifications
Weight: 19 lb (8.6 kg).
Weight capacity: 250 lb (113 kg).
Dimensions (L x W x H): 70.9 x 33.1 x 24.8 in (180 x 84 x 63 cm).
Packed size: 35.4 x 7.1 x 5.9 in (90 x 18 x 15 cm).
---
Rating, pros & cons
The table below shows the summary of my rating and the pros & cons, please have a look:
Unique & freestanding hammock/cot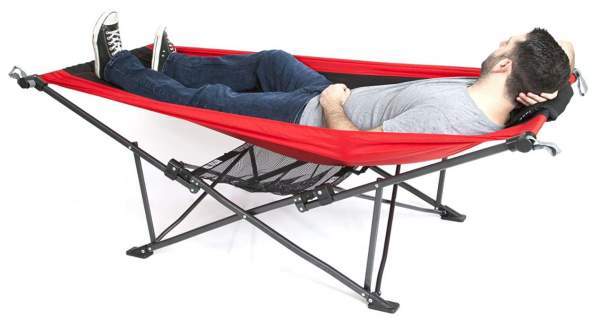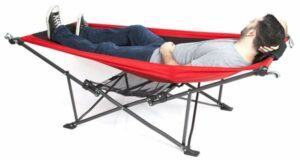 Product Name: Mac Sports H900S-100 Topnotch Portable Folding Hammock
Product Description: This Mac Sports H900S-100 Topnotch Portable Folding Hammock is a Compact Freestanding Construction with a Bonus Storage Mesh and a Carry Bag.
Brand: Mac Sports
SKU: B08F2TRRTC
MPN: H900S-100
Offer price: 0.0
Availability: InStock
Weight -

8/10

Size -

8.8/10

Capacity -

7/10

Packed size -

8.6/10

Ease of use & features -

9.2/10
Summary
This hammock/cot structure scores well in all the rating criteria so the overall rating is well-deserved Very Good.
Pros
Unique.
Freestanding.
Versatile.
Carry bag included.
Storage shelf.
Cons
Modest capacity.
Not very long.
---
Final thoughts
I would summarize this Mac Sports H900S-100 Topnotch Portable Folding Hammock review by stressing again that this is an easy to use and freestanding hammock-cot hybrid, versatile, nicely packable, and portable.
You can use it for camping and it will fit in most of the tents. But this is also a great item to use at home in the garden and on your porch. Fully recommended.
Best places to buy:
For more options of this type please check under the category Folding Hammocks here in the site. Note that they have other similar products, one with a canopy, the Mac Sports Portable Folding Hammock With Removable Canopy, and one without it, the Mac Sports H807S-102 Collapsible/Foldable Folding Hammock.
Bookmark this text and visit again, we add texts here on regular basis so this will keep you informed. Thank you for reading and have a nice day.