---
Timber Ridge Laurel Director's Chair comes with a side table and a cooler. This is a quality and padded chair with solid and padded armrests.
---
Key features & benefits
Folding design.
Solid armrests.
Side table.
Side cooler.
Two cup holders.
Padded chair.
Lightweight.
Mesh pocket under the seat.
Very affordable.
---
Where to buy
Check on Amazon, they have numerous stores on several continents with the best prices and shipping conditions.
---
What type of the chair is this
Here you have one of the most typical examples of folding chairs, one of those that fold like a book and remain large in two dimensions, yet relatively thin, see the picture below. So the packed size is 35.8 x 21.3 x 7.1 inches (91 x 54 x 18 cm).
The chair is with solid and padded armrests. They are around 1.5 inches (3.8 cm) wide. This is also a partially padded chair, you have a padding on the back section.
Bonuses
This is a chair with several bonuses:
Side cooler: This is a sizeable box with the dimensions 15 x 9 x 6.1 inches (38 x 23 x 15 cm) which implies the volume of more than 13 liters. You also have one cup holder integrated on it.
Side table: The table is roughly 12 x 8 inches (30 x 20 cm) in size and here too you have one cup holder, see the picture below. I have included it in my list of chairs with side table.
Mesh pocket: This is a small pocket under the seat where you can put your phone or anything similar. You will see it in the video below.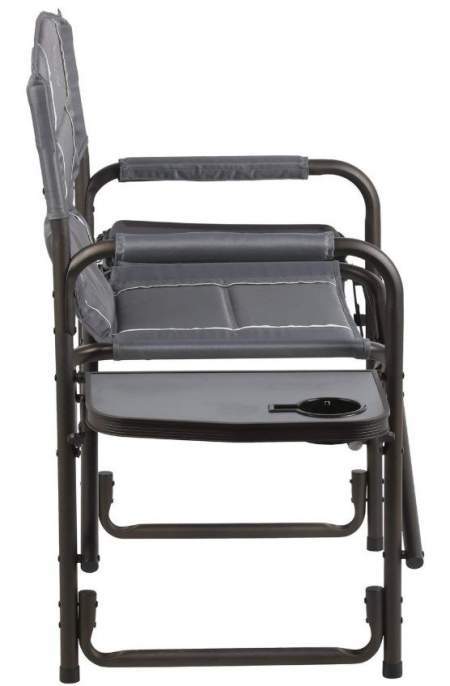 ---
Who is it for
Capacity-wise, the chair is rather modest, it supports up to 300 lb (136 kg). In fact, most of the chairs on the market are in the same range so this should be good enough for most users. But there are chairs with a much bigger capacity, check my list with best folding chairs.
Weight-wise, this is a truly lightweight chair for such a type, you will realize this also from the comparison table below. With its 7.3 lb (3.3 kg) of the weight, it is one of the lightest in this group.
Size-wise, the seat is 20.9 x 13.8 inches (53 x 35 cm), but the chair is wider, there are solid armrests, see in the specifications below. But its width is almost double this size when both the cooler and the table are deployed. Note that you can fold them both when you use the chair at a camping table.
The seat is at 18.9 inches (48 cm) above the ground, so this is quite a typical height. It may be a bit low for very tall people but the armrests are there to help to get in and out of the chair.
---
Materials & construction
The frame is aluminum, so this is partly behind such a great weight. Both the side table and the cooler flip down when not in use, but when deployed you secure them each with two locking bars.
The fabric is a 600D Shadow Embossed & 840 Velocity Dobby Poly. The cup holders are suitable for mugs, glasses and similar items.
I wish to point out the feet, they are with plastic caps but if you use them in a large floored family camping tent, it is best to have a carpet underneath the chair to protect the floor.
Note also that there are bars connecting the feet. Such a construction make the chair stable on a soft ground, the feet may sink but the bars will stop any further sinking. So you can use the chair even on sand.
Note that there is no a carry bag, but the chair is with some handles on the side. Please see more in this short video:
---
Good and less good features
Here is my short summary:

Quality craftsmanship.
Several bonuses.
Very functional.
Padding.
Great price.

No carry bag.
Bulky when packed.
The price & rating
As of the moment of writing the text the Amazon price for this is chair is $54.  I see this as a bargain in view of all its features and bonuses.
There are a few customers' reports on Amazon and the average rating is exceptionally high 4.8/5. My own rating is very different, I have several criteria and I use them consistently for all the chairs in the site, so you can compare easily.
My rating breakdown of the Timber Ridge Laurel Director's Chair:
Weight -

7.5/10

Dimensions -

7.2/10

Packed size -

2/10

Capacity -

7.5/10

Comfort & features -

9.7/10

Craftsmanship -

9.7/10

Price -

9.5/10
---
Specifications
Weight: 7.3 lb (3.3 kg).
Capacity: 300 lb (136 kg).
Dimmensions (W x D x H): 25 x 13.8 x 35 in (64 x 35 x 89 cm).
Seat size (W x D): 20.9 x 13.8 in (53 x 35 cm).
Seat height: 18.5 in (48 cm).
Seat size (W x D): 20.9 x 13.8 in (53 x 35 cm).
Packed size: 35.8 x 21.3 x 7.1 in (91 x 54 x 18 cm).
---
Timber Ridge Laurel Director's Chair vs Competitors
In the table below I show you this Laurel chair side by side with two others built in the same style. The KingCamp chair is also with a cooler. The packed size is very similar as well as the other dimensions, but the Laurel chair is far lighter than the other two.
Dimensions
(W x D x H), in (cm)

25 x 13.8 x 35
(64 x 35 x 89)

35.8 x 21.3 x 7.1
(91 x 54 x 18)

Kamp Rite Director's Chair
34* x 20 x 38
(86 x 51 x 96)

37 x 22 x 7
(94 x 56 x 18)

KingCamp Heavy Duty Chair
22.8 x 22.8 x 37.4
(58 x 58 x 95)

36.6 x 22 x 7.1
(93 x 56 x 18)

*This is together with the side table.
---
Final thoughts
So to summarize this Timber Ridge Laurel Director's Chair review, you realize that this is indeed a lightweight chair for such a type and it comes with quite a number of features. The price is more than fair and the craftsmanship is at a high level.

If you want almost the same chair without the cooler, please check their Director's Chair. You might want also to check the Camping Chair of the same brand with a much higher back support. They have also a great camping cot, one of the largest on the market, the Timber Ridge Deluxe XL Camp Cot.
Note that this is NOT a sponsored post, I am not paid by the brand or related to them in any way. I am only expressing my own unbiased view of this product.
Thank you for reading. If you have any experience with this chair please share it here, there is a comment box below.


---