---
What's the best lightweight camping chair? I have seen this question being asked and here I give some tips that may help in finding one for you.
I have tried to answer this question in my separate text. But I feel that the answer was not detailed enough, this is why you have this text here.
First, it is necessary to make sure that the terminology is properly used. So the term camping chair should imply an outdoor item which is not built to be carried on the trail. This would make it different from the term backpacking chair.
However, I have seen these terms mixed and it is not clear what people really mean when they ask the question given in the title.
Second, the term lightweight is also partly related to the first issue. There are big differences in weight between the chairs designed for backpacking and those designed for camping.
These differences are reflected also in the comfort of such a chair. The purpose of a backpacking chair is to keep you off the ground when you are in your temporary camp. So comfort is of a secondary importance, you need something ultralight and ultra compact.
On the other hand, camping chairs should offer more comfort simply because you will spend more time sitting in such chairs. Comfort implies extra features, and those add weight. So this is about compromises and trade-offs.
All in all, the rest of the text is about camping chairs only.
Lightweight camping chair – is the weight really important?
I would say that the weight as an absolute number is not really so important. This is about camping close to your car so you are not supposed to carry the chair long distances.
The packed size may be a more important feature, it has to do with the space in your car trunk.
But for elderly users, the absolute weight may indeed be an issue. However, even in this case there are other aspects to consider together with the weight. Here are some of them.
Weight vs capacity
If you are a heavy person, you will want a reliable chair that can support your weight. In this case, if you still want a chair that is as light as possible, it would be best to consider its capacity-to-weight (CW) ratio.
In my list of camping chairs for heavy people, there are examples of chairs that can support up to 1000 pounds of weight. But do you really need such a capacity?
If you check in the list, you will see the ALPS Mountaineering Adventure Chair that weighs only 5.5 lb (2.5 kg), but its capacity is 400 lb (181 kg). So you have CW ratio of 72. This chair is indeed light in absolute and in relative sense.
You can compare this with the Kijaro XXL Dual Lock Oversized Chair which is heavier with its 12.4 lb (5.62 kg) and it has the same weight capacity. So CW here is 32, and this chair is relatively much heavier. But wait, this chair has pleasant armrests and a few other features that are missing in the previously mentioned chair.
So you get the idea. There may be good reasons behind more weight, so check the features and then decide if a chair is too heavy or not.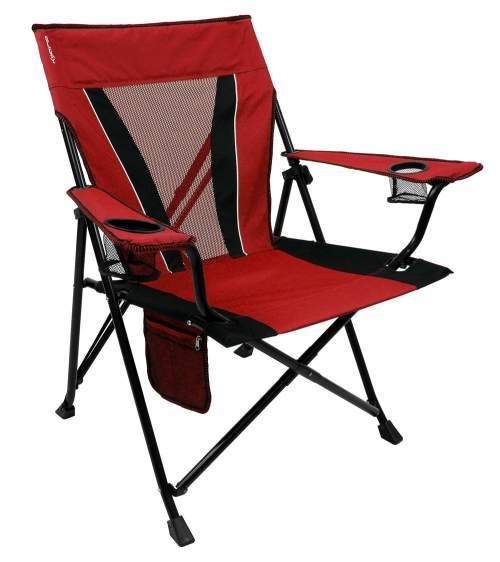 Weight vs seat width
If the chair is too narrow for you, then its weight has no meaning. So if you are of a bigger body size, you will want a chair with a wide seat, see one below. Check also my list of such wide chairs, and you will easily find the lightest option for you.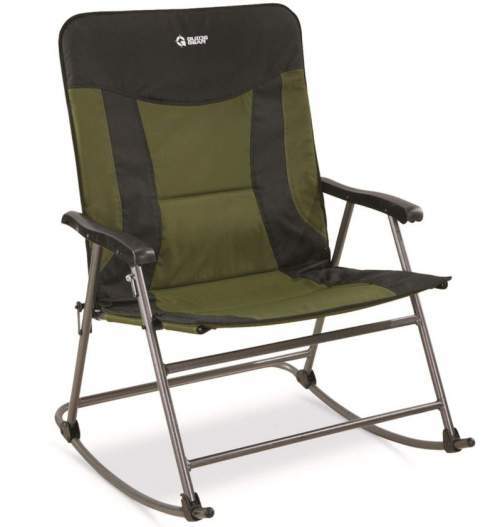 Weight vs dimensions
This issue is similar to the previous one. For taller and bigger users, small chairs will not work. But a large chair is usually also heavier than a small one.
Also, if you are a shorter person, you might not want a chair with a very high seat. Such a chair should have less metal stuff and it will be lighter.
Weight vs comfort
This is again related to the size and seat width, but it may imply many other details. These include:
Padding.
Headrest.
Lumbar support.
Feet support.
Rocking feature.
Integrated sun shed.
Storage options.
Reclining feature, etc.
There are camping chairs here in the site that may include majority of these features. So what do you think, can they be light?
---
The point of all this is the following. There is no sense going for the lightest options without checking its overall features. Make a list of preferences and necessary features that the camping chair must have. Then make a shorter list of options, and only then check the weight if this is important to you.
So what is the best lightweight camping chair? The answer is as follows: This is a chair that can support your weight, that is of an appropriate size for you, and that has features that are essential to you.
Otherwise, go for the lightest possible backpacking chair and you will know that there is nothing lighter on the market. But is it really the best for you?
Thanks for reading. Let me know if you have questions, there is a comment box below.