---
Coleman Quattro Lax Double Quad Chair is a folding and very lightweight camping chair with an easy setup and a great price.
---
Key features
Double wide.
Lightweight.
Cup holders.
Carry bag included.
Huge storage pockets on the back.
Great price.
---
Where to buy
Check on Amazon, they currently have 15 stores on several continents so their shipping conditions are without a match.
---
What type of camping chair is this
This Quattro Lax Double Quad Chair is a folding type, it collapses to the center from all four directions and its packed size is nor bad for a double chair, 31.9 x 7.9 x 6.7 inches (81 x 20 x 17 cm). The picture below shows how it looks when collapsed. In such a state you pack it in its carry bag for an easy transport and storage.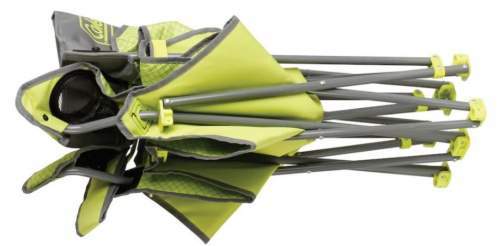 If you would compare its packed size with two 2 separate single chairs, you would realize that it takes less space.
Note that the backrest is not leaned back, I have seen some people asking about that, and it is not particularly high so you do not have a headrest here. Check this OmniCore Designs MoonPhase chair if you want such a feature.
The chair is with soft armrests on both sides, so each of the occupants has one, and they come with integrated cup holders visible in the picture below. On the back you have two very large storage pouches, see them in the picture, this is a really useful detail here.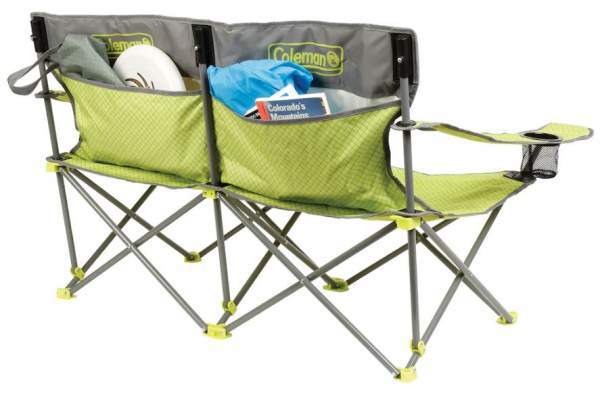 The frame is steel and this is surprising in view of its weight which is truly exceptional. There are 6 feet here and all are with wide and floor-friendly caps, see the picture.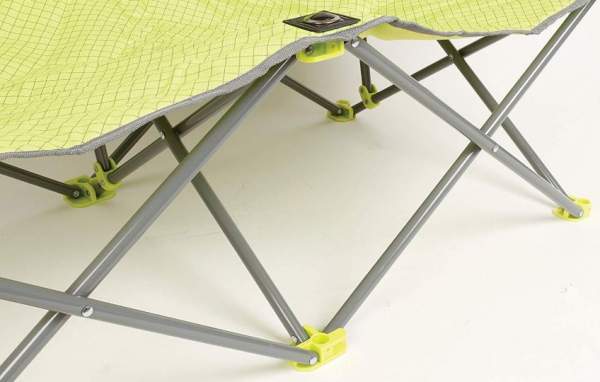 ---
Who is it for
Capacity-wise, it is not particularly impressive, it supports up to 450 lb (204 kg). But this should still be fine most couples.
Weight-wise, with its 10.5 lb (4.8 kg) this chair is excellent. It is much lighter than its competitors.
Size-wise it is also impressive with its 55 inches (140 cm) width from one armrest to another, and the seats are around 21.5 in (55 cm) each. Note however that it is a bit low, the seat is at 14.6 inches (37 cm) above the ground, just to know if you are a very tall person.
---
Good and less good features
Here is my short summary:

Weight.
Carry bag.
Cup holders.
Storage elements.
Price.

A bit long when packed.
Low for some users.
The price & rating
The price on Amazon at the moment of writing the text is around $52. For a double chair this is a really good price. There are currently 170 reports by customers and the chair has received an excellent average rating of 4.4/5. See how I rate if for several parameters used consistently for all the chairs in the site:
My rating of the Coleman Quattro Lax Double Quad Chair:
Weight -

8.2/10

Dimensions -

7.8/10

Packed size -

7.2/10

Capacity -

7/10

Comfort -

9.2/10

Craftsmanship -

9.2/10

Price -

9.7/10
---
Specifications
Type: folding double chair.
Weight: 10.5 lb (4.8 kg).
Total capacity: 450 lb (204 kg).
Dimensions (W x D x H): 55 x 24 x 29 in (140 x 61 x 74 cm).
Packed size: 31.9 x 7.9 x 6.7 in (81 x 20 x 17 cm).
Seat height: 14.6 in (37 cm).
Seat width: 21.5 in (55 cm) x 2.
---
Coleman Quattro Lax Double Quad Chair vs Competitors
You might want to see how this Coleman chair stands when compared with some of its top competitors, so I give two of them built in the same style. It is wider yet far lighter and it is far more affordable, please follow the links to check the prices.
Coleman Quattro Lax Double Quad Chair
31.9 x 7.9 x 6.7
(81 x 20 x 17)

Kelty Loveseat Camp Chair

41 x 12 x 12
(104 x 30 x 30)

OmniCore Designs MoonPhase LoveSeat
40 x 12 x 6
(102 x 30 x 15)

---
Final thoughts
So this Coleman Quattro Lax Double Quad Chair is well built and its size/weight/price combination is hard to match. It has been on the market for several years already so it is tried and tested, a reliable item.

Please check around in the category Camping Chairs if you need something different.
Note that this is not a sponsored post and I am not related to the brand. Thank you for reading, please use the comment box below in the case of questions and comments. Have a nice day. 

---