---
The Zempire Roco Lounger V2 Chair is a wood camping chair with a very strong fabric, easy to use, and with a nice carry bag.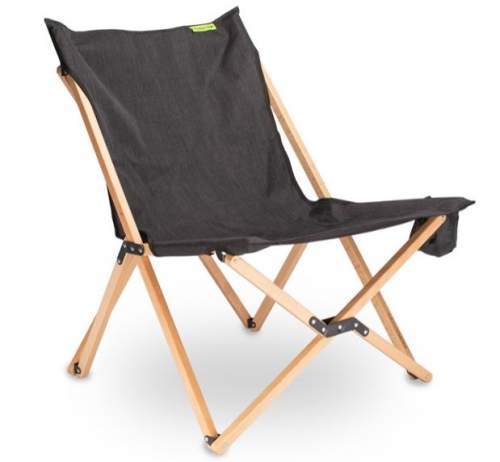 ---
Key features & benefits
Wooden frame.
Folding design.
Very strong fabric.
Bottle holder.
Carry bag.
---
Overview
The Zempire Roco Lounger V2 Chair is a folding and easy to use chair that requires no assembly. It arrives ready to use and you open it or close in seconds.
The chair comes with a nice carry bag shown in the picture, and its dimensions are 39.4 x 6.7 x 5.9 inches (100 x 17 x 15 cm). So it is a bit long but the other two dimensions are small and it will not take much space in the car.

The picture below shows some of its essential features. So the backrest is a relaxed design, quite angled backwards while the seat is slightly higher on the front. But there is no front bar here so you are safe from pressure spots.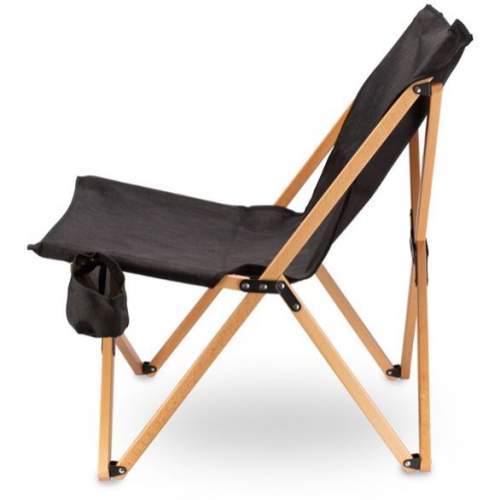 Note also that there are no armrests. This is why I have included it in my list of best armless camping chairs. There is a bottle holder on one side as well. The back view below reveals some details from its construction, and you see the X-crossed support bars for lateral stability.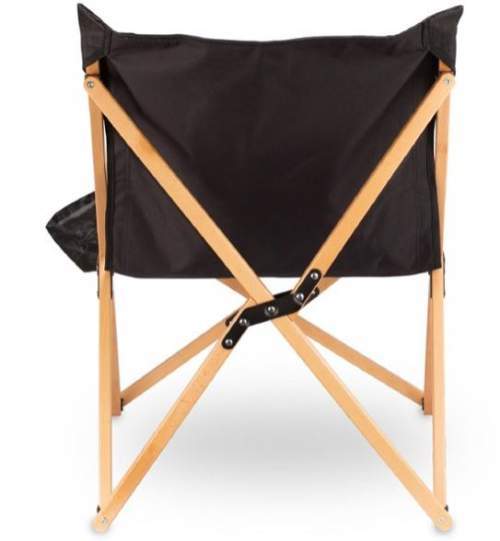 Materials
So this is a wooden camping chair, and this is the German beechwood. If you follow this industry, you have probably noticed that this is a new trend. Such a hard and heavy wood is necessary to keep screws in place. The picture below shows how it is reinforced with those powder-coated steel brackets. They allow the bars to pivot and this is how the chair folds.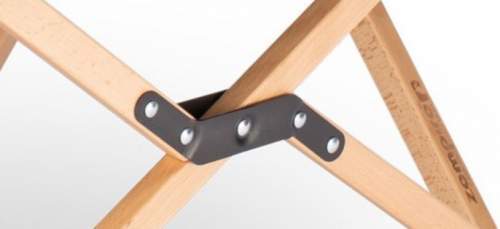 You have steel elements also at the feet, one is shown below. Note that these feet are a bit narrow and I would not use the chair without some extra protection in a floored family camping tent.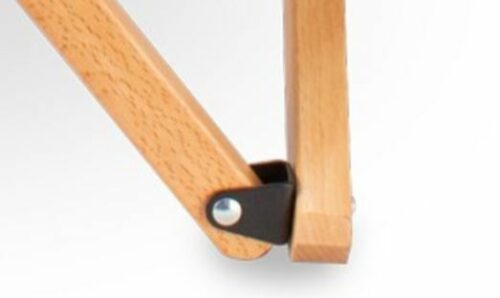 The fabric is a twin layer 900D polyester oxford, so this is a very strong and durable material. Usually, such chairs have the denier value of 600D or so. The same fabric is used for the carry bag. Please see a bit more in this short video:
---
Who is this Zempire Roco Lounger V2 Chair for
Regarding the capacity, the chair is officially for users of up to 265 lb (120 kg). This should be good for most of people. But if you need more, please check in my list of best camping chairs for heavy people.
Regarding the dimensions, the seat measures 20 x 16.5 inches (51 x 42 cm), and its height is 14 in (44 cm). So it is large enough and its height is moderate. Elderly users should bear in mind that there are no armrests to help getting in and out. The backrest is 30 inches (76 cm), so you do not have a headrest here.
Regarding the weight, the chair weighs 8.43 lb (3.82 kg), and it is a bit on the heavy side, but the frame is a beechwood. You will see below how I rate it. The packed size you have already seen, so this is a car camping chair, not designed to be carried anywhere.
Regarding the price, it is a bit steep, you will have a link below. But this is quite a unique design with great materials.
---
Specifications
Weight: 8.43 lb (3.82 kg).
Capacity: 265 lb (120 kg).
Dimensions (H x L x W): 30 x 28 x 24 in (76 x 71 x 61 cm).
Folded dimensions: 39.4 x 6.7 x 5.9 in (100 x 17 x 15 cm).
Seat dimensions: 20 x 16.5 in (51 x 42 cm).
Seat height: 14 in (44 cm).
Frame: German beechwood.
---
Rating, pros & cons
Below you have summarized my rating and some pros and cons. I use the same criteria for all the chairs and apply them consistently for easy comparison. You can rate it from your side, there is a rating bar below.
Wood frame & strong fabric.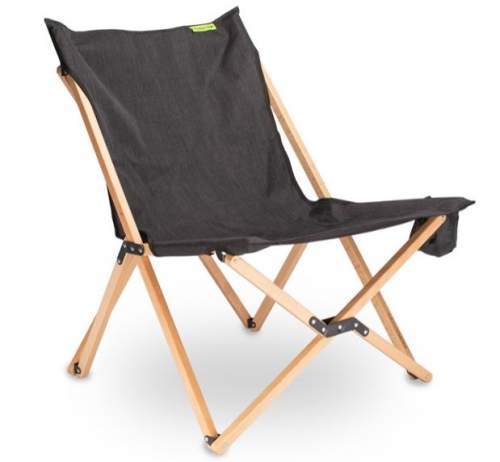 Product Name: Zempire Roco Lounger V2 Chair
Product Description: The Zempire Roco Lounger V2 Chair Is a Folding Wood Camping Chair with a Very Strong Fabric, Easy to Use, and with a Nice Carry Bag.
Brand: Zempire Roco Lounger V2 Chair
SKU: 190491
Weight -

7/10

Dimensions -

7.9/10

Packed size -

6/10

Capacity -

7/10

Comfort -

9/10

Craftsmanship -

9.5/10
Summary
The packed size and weight negatively affect my rating, but it is still Good.
Pros
Wooden frame.
Strong fabric.
Great carry bag.
Easy to use.
Quality craftsmanship.
Cons
A bit heavy.
Bulky.
Expensive.
---
Final thoughts
So this Zempire Roco Lounger V2 Chair is quite unique with its wooden frame. It is very easy to use, and the carry bag allows you to keep it clean for storage and for transportation to the camp side. The chair looks great with such a wood frame and you can certainly use it also at home, in the garden or on your terrace.  
Best places to buy:
For more options, please check under the category Camping Chairs, you will find them many here in the site, and in all sizes and shapes.
Let me know if you have questions, there is a comment box below. Thank you for reading and have a nice day.