---
This Helinox Chair Zero Review is about an award-winning ultra lightweight and very packable collapsing backpacking and hiking chair with a very easy setup.
---
Key features & benefits
Ultra lightweight.
Ultra-compact packed size.
Collapsible.
Very easy setup.
Good back support.
---
What type of camping chair is this
This Chair Zero won the Gold Award at the 2017 Friedrichshafen OutDoor Industry show. In the decision of the jury, I read that "Helinox lightweight camping chairs started a whole new trend. The Chair Zero weighs just 460 grams. This is amazingly light for such a comfortable chair. It also packs down amazingly small into any backpack."
I am a bit puzzled with the weight they mentioned because on the Helinox's official site the weight is 490 grams when unpacked and 510 grams in the carry bag. In any case, this is clearly a great combination of weight and comfort.
You realize how lightweight this chair is when you compare it with the Big Agnes Helinox Chair One which is 850 grams, or with the Big Agnes Helinox Ground Chair which is 615 grams. See how they demonstrate its weight, but note also the size: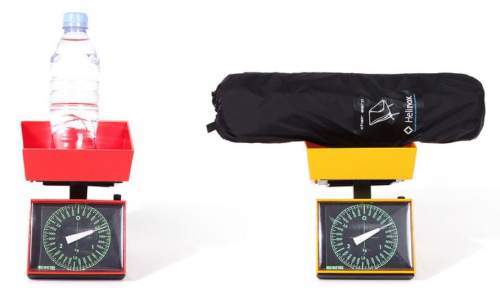 This is a true backpacking tool and you realize this from its weight as well as from the packed size which is only 13.8 x 3.9 inches (35 x 10 cm). So the chair is fully collapsible with all the tubes shock-corded so the setup cannot be easier and you will never lose any piece of it.
When you compared it to the Chair One form the same brand, you realize that it is lower and the seating angle is a little more upright.
---
Who is it for
From the features, it is obvious that this is a great tool for backpackers and hikers, but then it is also useful for a variety of other outdoor activities and for travel as well.
Capacity-wise, this tiny chair is strong enough to support the weight of up to 265 lb (120 kg).
---
Materials
The chock-corded poles are TH72M aluminum alloy by DAC, so this is a top brand for such materials, world-renown for its tents' poles. In fact, the Helinox is owned by DAC.
The feet are with some plastic caps, but they are really small and if you use it on a soft ground or on the sand, you might feel as sitting on a ground chair; i.e., it might sink. So this is a design better suited to a hard surface.
The fabric is a very lightweight but high-tenacity with a reinforcing grid of high-tech non-stretch threads, all designed to keep the weight to the minimum. But it is still strong enough to support 120 kg.
The most sensitive sections in such chairs are the holsters where you put the ends of the poles. They look very well done here, and I would take for granted what they say about the capacity, this chair looks strong enough for such a weight.
Accessories
They have a few things to use in order to deal with the soft ground:
Helinox Ground Sheet.
Helinox Accessory Ball Feet.
My rating, pros & cons
The Amazon price is high and you can see it in the link. So this chair is among the expensive items of this type. There are more affordable options for sure, but the question is if you can rely on them. Helinox is a well-established brand and the guarantee they give is 5 years.
See how I rate it:
My rating breakdown of the Helinox Chair Zero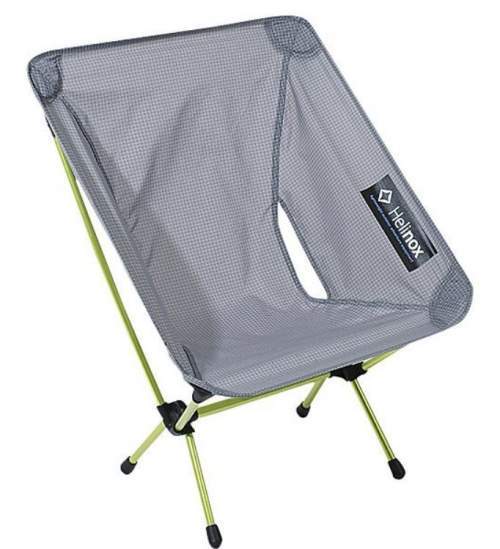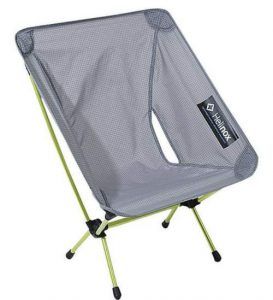 Product Name: Helinox Chair Zero
Product Description: This Helinox Chair Zero Review is about an award-winning ultra lightweight and very packable collapsing backpacking and hiking chair with a very easy setup.
Brand: Helinox
Weight -

9.9/10

Dimensions -

7/10

Packed size -

9.8/10

Capacity -

7.5/10

Comfort -

9.2/10

Craftsmanship -

9.4/10
Summary
My overall rating for this chair is Excellent:
Pros
Great weight & packed size.
Easy to use.
Great quality.
Comfortable.
---
Specifications
Best use: backpacking, hiking, fishing, travel, camping.
Packed weight: 18 oz (510 g).
Weight without stuff sack: 17.3 oz (490 g).
Capacity: 265 lb (120 kg).
Dimensions (W x D x H): 19.7 x 18.9 x 25.2 in (50 x 48 x 64 cm).
Seat height (the lowest point): 9 in (23 cm).
Packed size (L x D): 13.8 x 3.9 in (35 x 10 cm).
Warranty: 5 years.
---
Helinox Chair Zero vs Competitors
See how the Chair Zero compares with some other models on the market. The difference in weight is obvious. Please follow the links to see more.
Dimensions
(W x D x H), in (cm)

19.7 x 18.9 x 25.2
(50 x 48 x 64)

20.5 x 19.7 x 17.3
(52 x 50 x 44)

12.2 x 5.9 x 5.9
(31 x 15 x 15)

20.5 x 19.7 x 25.6
 (52 x 50 x 65)

13.8 x 3.9 x 4.7
(35 x 10 x 12)

---
Final thoughts
You know how uncomfortable it can be sitting on a rock or on the wet ground, so although such a chair adds weight, it is worth the efforts. In order to make the backpack as light as possible but still have a comfort of sitting off the ground, this Helinox Chair Zero should be the best choice. I doubt you will find anything lighter.
Its best features are the weight and the packed size, it is so small that you can store it in the side pocket on your backpack. Perhaps it is not as comfortable as the Helinox Chair One but see the differences in those basic parameters. Note also that it is low enough so that you can keep sitting on the chair when you are cooking. I have included it in my list of best ultralight backpacking chairs.
Thank you for reading. Please check in the Camp Stuff if you would like to see more items of this type. Note that they now also have the Helinox Chair Zero Highback. See also this Helinox Camp Chair which is lightweight and with a great back support.
In the case of questions or comments please use the comment box below. Have a nice day.