---
If you are in search for the best portable folding hammock, look no further, here you have 9 great models that are currently available on the market, all tested by users for a number of years already.
---
Best camping hammocks – all foldable models
Here is my list of camping hammocks ordered by weight:
All the hammocks belong to two major groups:
Hammocks with a canopy. Normally, the canopy is easily removable so this type is more versatile.
Hammocks without a canopy.
How to choose
I guess you might want to bear in mind the following criteria:
How heavy the hammock is. I have indicated the weight in the list above.
How easy it is to set it up and take it away. All models here are collapsible and foldable.
Any bonuses (cup holders, pillow, canopy, shelf, storage pockets).
The size of the bed deck. Not all models here are very long.
The weight capacity.
Fixed ends or not. You will see some with fixed ends, and those are almost like cots, perfect for back sleepers.
---
1. KingCamp Ultralight Folding Camping Cot Hammock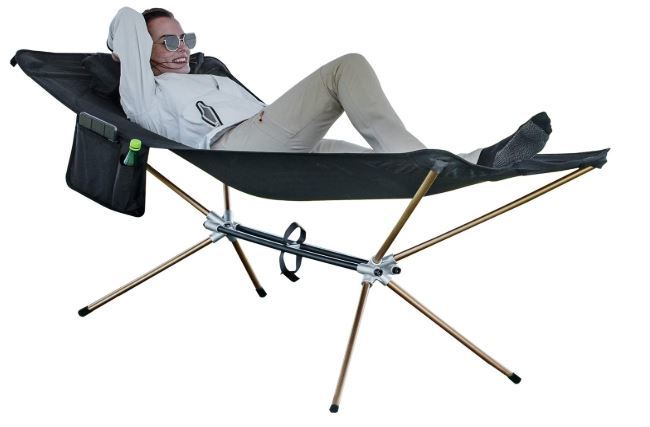 This folding hammock is a freestanding and fully collapsible structure with unique features. One thing that sets is apart from other hammocks is that it has no end bars, but at the same time it is not a swinging construction. On the other hand, it has no side bars, and this makes it different from any camping cot.
But it is higher than any cot and in that sense similar to the hammocks which you have in the list below. They describe it as ultralight and indeed its weight is 14.3 lb (6.5 kg). This is why it is in such a position here in the list. The capacity is 264 lb (120 kg).
The frame is a high-strength aviation-grade 7075 aluminum alloy which connects with steel crossbars and the 6-way hub elements. It comes with a side storage system, a pillowcase, and a carry bag as well.

---
2. Kijaro Coast Breeze Hammock
This is one of the two Kijaro hammocks presented here, so this is the simpler version without a canopy. Compared with others hammocks here in the list, it is considerably lighter than most of them. This is partly due to its aluminum frame and partly due to a simplistic design. The fabric is 600D ripstop nylon and breathable ballistic mesh.
It packs into a carry bag which you can carry over your shoulder. An interesting detail on the bag is a sand drain so that you don't take the sand home.
The legs and feet design is such that it is obviously very suitable for using it outdoor regardless of the terrain. In the case of using it in the tent, it is best to put it in the screen room without a floor. If you use it on a floored area, make sure that you protect the floor properly. I would cut tennis balls and attach to the feet.
The hammock comes with two bonus cup holders.
My only objection to this hammock is regarding the price; $150 on Amazon may be steep for many people.
Key features & specifications
Bonus cup holders.
Lightweight aluminum frame.
Weight: 15 lb (6.8 kg).
Capacity: 250 lb (113 kg).
Dimensions: 97.2 x 34.8 in (247 x 88 cm).
Height: 28.8 in (73 cm).

---
3. Bliss Hammocks Q-806FJr STOW-EZ
This is a quite comfortable tool in view of its width and the canopy, so you can put in anywhere and still be in the shade. The setup is easy, the frame is fully collapsible and the canopy poles are telescopic, you extend them from the frame tubes.
The carry bag is nicely designed and with wheels, so transporting it short distances should not be a problem.
One pair of the feet is with plastic caps, nicely designed to protect the floor regardless where you use this hammock. The other pair is with wheels so you can easily move it around even after you set it up.
You have storage pocket on the side, cup holders, and the mesh shelf underneath the hammock.
Without the canopy, it looks almost like a camping cot because of the fixed ends, i.e., you have the double attachment on each end which prevents the hammock bed from flipping over. So you can use it like a cot in a tent or at home.
Please see more in this video:
Key features & specifications
Bonus pillow, magazine shelf, cup holder, storage pocket.
Powder coated steel frame.
Weight: 24 lb (10.9 kg).
Dimensions: 84 x 38 in (213 x 97 cm).

---
4. Fold and Go Travel Hammock
Here you have a strong steel frame and a hammock which looks like a cot, with fixed ends, so you can indeed use it as a cot in a tent. Its feet are nicely designed for any floor so there can be no damages on the tent floor. You can use it on the beach, in a camp, or just at home.
You have a large mesh storage shelf beneath the hammock. The setup implies just unfolding the frame so this is done in seconds, like with a folding camp chair.
My objection is regarding its length, if you are a very big and heavy person, better check the other models here in the list.
Key features & specifications
Weight: 29.4 lb (13.3 kg).
Capacity: 225 lb (102 kg).
Dimensions: 72.5 x 36 in (184 x 91 cm).
Mesh shelf for books and newspapers.
High strength 16 x 25 mm steel frame.
Packed size: 54 x 12 x 6.9 in (137 x 30 x 18 cm).

---
5. Kijaro All in One Hammock
Here you have a backpack style portable carry bag so you can carry this tool to shorter distances comfortably. The frame is fully collapsible and the hammock comes with multiple bonuses which include the rotating canopy, the pillow, cup holders, a cooler box, shelf for newspapers.
The hammock can be used without the canopy and you can put it in a tent as well. But be very careful with its legs, the feet are not a floor-friendly design so put something thick underneath to protect the floor if you use it in a closed space.
If used outside the tent, in the camp or on a beach, you will relax in its canopy which can be rotated 180 degrees. The canopy itself sets up by feeding its poles through the canvas, and sticking the ends into a base at each end of the frame.
Note that you have several colors for the bed deck and the canopy available on Amazon.
See how it is set up by this happy user:
Key features & specifications
Bonus canopy.
Pillow.
Built-in storage elements for newspapers.
2 mesh cup holders.

Cooler included, can hold up to 6 beverages.

Weight: 29.7 lb (13.5 kg).
Capacity: 250 lb (113 kg).
Dimensions: 8.1 x 2.3 ft (247 x 70 cm).
Packed size: 42 x 10 x 10 in (107 x 25 x 25 cm).

---
6. Nikkycozie Portable Fold Up Hammock with Removable Canopy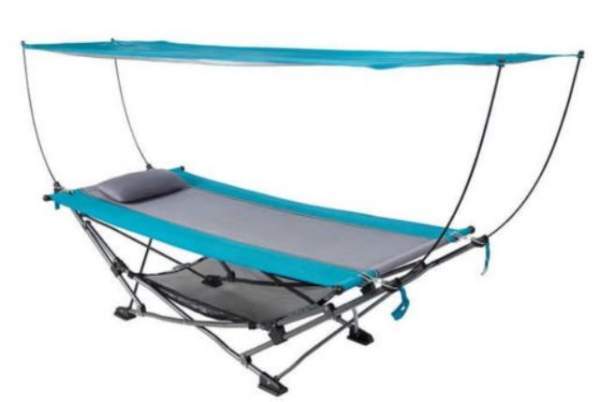 As you realize from the picture and the name, this Nikkycozie Portable Fold Up Hammock is one of those with the canopy. So this is a complete system to keep you off the ground and also to provide a pleasant shade, the canopy is a rather thick polyester.
The hammock comes with a bonus mesh shelf underneath the bed to keep all your belongings off the ground as well, and you also have a pillow included. It comes with a wheeled carry bag.
This is a large system so here are a few numbers which you might want to see.  The weight is 32.19 lb (14.6 kg) and the bed size without the canopy is 89.5 x 39.37 inches (227 x 100 cm). From the bed to canopy you have 30.3 inches (77 cm). Please follow the link for more.

---
7. Driftsun Portable Lawn, Patio, and Camping Hammock
This hammock can be conveniently folded up and taken apart and you can stuff it into its backpack carrying case. You have a removable canopy that can be adjusted to different angles to block the sun. Several bonuses are in the package, and one of them is an insulated cooler that can hold 9 beverage cans. You can see it in the picture above.
This design is almost the same as the Kijaro hammock which you have above. You have a backpack carrying case for an effortless transportation.
The same objections are here as for the Kijaro hammock; if you use it in a tent, take care about the floor.
Please see more in this video by a user:
Key features & specifications
Multiple bonuses: canopy, cup holders, cooler, pillow.
Weight: 32.6 lb (14.8 kg).
Capacity: 250 lb (113 kg).
Dimensions: 99.6 x 33.5 in (253 x 85 cm).

---
8. Kamp Rite Kwik Set Hammock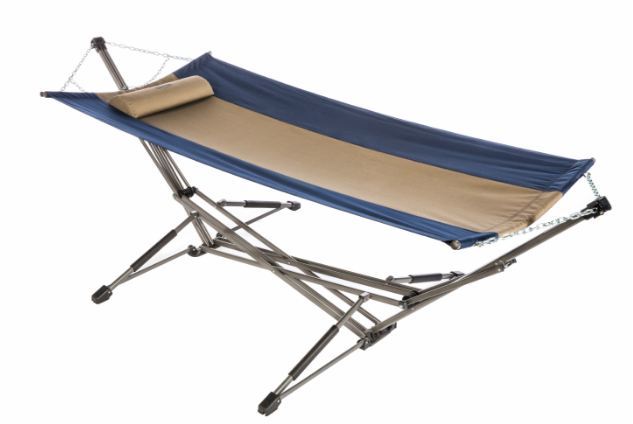 The picture above and the name of this hammock already tell you a lot. So this is indeed a quick setup tool which you make ready in seconds. The construction is steel, so very durable and stable. The carry bag is particularly nice with separate compartments for the frame and for the bed deck.
The legs are with plastic caps for the floor protection so this is a nice design to use in the tent as well. Of course, you would need a larger and taller tent for such a hammock, and if you are not sure what to choose please have a look here, you will find the best family camping tents described in detail.
Key features & specifications
Express setup in 25-30 seconds.
Very affordable.
Integrated headrest.
Great carry bag.
Weight: 33 lb (15 kg).
Capacity: 300 lb (136 kg).
Bed size (L x W): 76 x 35 in (193 x 89 cm).

---
9. Mac Sports Portable Folding Hammock With Removable Canopy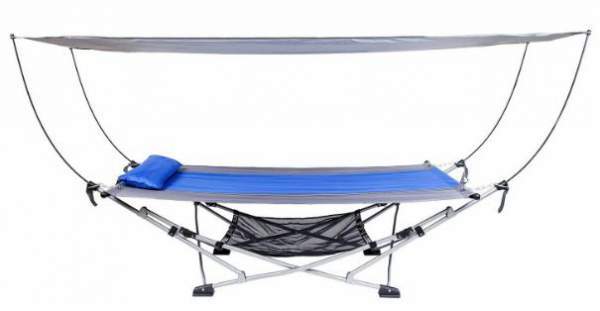 This is a really nicely designed collapsible hammock. It comes with some bonuses which you see in the picture. These include the removable canopy, the shelf underneath the hammock, and the pillow.
Here again, you have really floor-friendly features in the feet design. So you can use it in the tent without the canopy.
The canopy itself is a nice piece of ingenuity. The poles which you see in the picture are telescopic, so you pull them out from the frame itself. When not needed, just push them back.
When used outside a tent, you attach the canopy to the extended poles. The weight is the same as in the Kamp Rite hammock, so you will use it at places with a motorized access.
Key features & specifications
Collapsible structure.
Very easy setup.
Bonus pillow included.
Storage mesh shelf included.
Canopy included.
Weight: 33 lb (15 kg).
Dimensions (L x W x H): 92.5 x 26.3 x 39.76 in (235 x 67 x 101 cm) – this is without canopy.

---
Final thoughts
So these are my suggestions for the best portable folding hammock in this year. All these hammocks have been on the market for some time and all is known about them, so there can be no unpleasant surprises.
As you realize, they all are portable but the weight difference between the lightest and the heaviest is by about factor 2. Regarding the prices, they are in the range 58 – 200, so it makes sense of checking the features and choosing what suits you. I hope this text will help.
If you would rather have a camping cot, just look around, all top models available on the market are presented here in the site.
Thank you for reading. In the case of questions or comments please use the comment below.
---