---
Vivere Double Hammock with Space Saving Steel Stand is an easy to use and reliable freestanding steel structure with the fabric in a variety of materials and colors.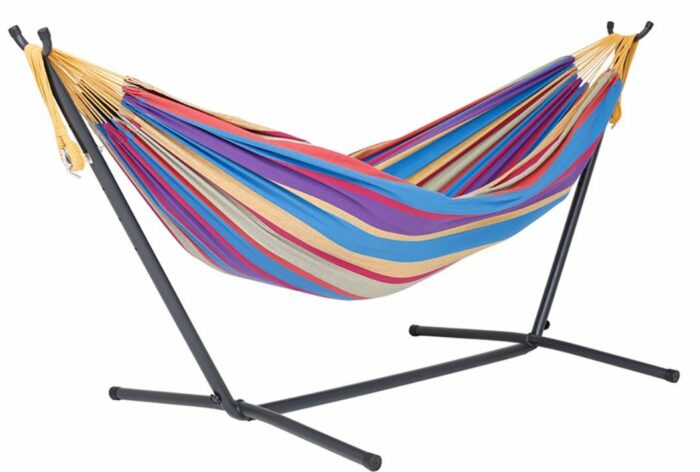 ---
Key features & benefits
Fully freestanding.
Collapsible & portable.
Easy to use.
Suitable for 2 people.
Carry bag included.
Several types of fabrics to choose from.
---
So what this Vivere Double Hammock is about
Here you have a true hammock but with its own stand. This means you do not need trees to use it, and you can set it up literary anywhere. It is fully freestanding and self-supportive.
This is a portable and collapsible system and nicely packable in its carry bag that measures 47 x 9 x 8 inches (120 x 23 x 20 cm). This means also that it needs a simple assembly, but you can make it ready in a couple of minutes without any tool.
Note also that the footprint is relatively small, around 55 x 45 inches (140 x 114 cm), so you can set it up in a small area even if you have other stuff around. The width of the legs/bars on the ground is 45 inches (114 cm) so the structure is stable and there is no need to anchor it in any way.

---
Materials
So this is where this system shines. You have several types of fabric to choose from, and these include:
Cotton. This is the most pleasant option with an enhanced thicker and tighter woven cotton.
Sunbrella. This is a solution-dyed acrylic yarn that resists UV, fading, staining, and mildew, great for outdoors all year round.
Mesh. This is a great option for a very warm climate.
Polyester. Such materials are very durable, easy to maintain, and weather resistant.
The numerous end ropes are strong polyester that will last long, see the picture.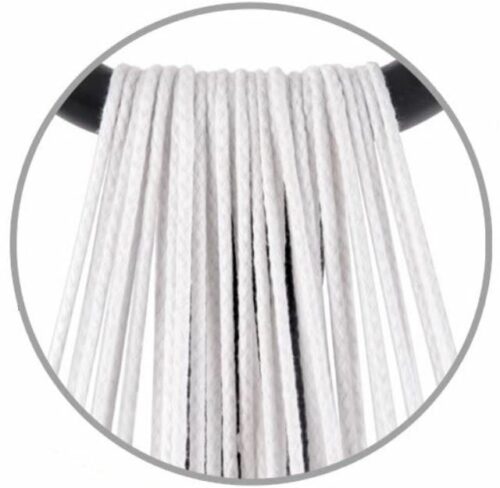 The frame is a zink-coated steel. It consists of 5 main elements: one crossbar, two legs bars, and two hammock frame bars. You also get 5 bolts with plastic heads. They are used to keep the mentioned bars fixed together.
You also have two J-shaped hooks that should be attached to the hammock frame bars and you hand the end ropes to them. See one of them in the picture: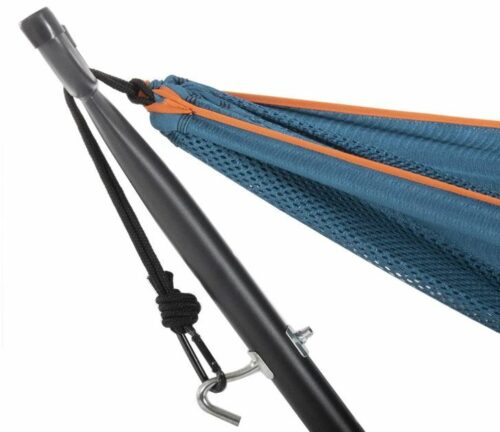 Note that the frame bars have a series of holes so you can put these J-hooks at different positions and this will keep the hammock at different heights.
---
Who is it for
Capacity-wise, this hammock with stand is officially built for two people. This is indicated with the word Double in its name. Now, the weight capacity is 450 lb (204 kg) so this is not for two heavy users, but for a male-female couple it should be fine. Clearly, in the case of solo use this is good enough even for the heaviest sumo wrestlers.
Size-wise, you have 9 ft (274 cm) from one stand end to the other, so this is quite good. But note that this stand length is not suitable for hammocks with spreader bars. For such a type you would need a longer span between the ends of the frame.
The hammock fabric itself is 94 x 63 inches (239 x 160 cm), so again this is a great size.
Weight-wise, there are several different numbers on various sites. So at Walmart this is 33 lb (15 kg), and on Amazon the lightest is 26.5 lb (12.2 kg) for the mesh fabric, but the versions with cotton and other materials are heavier. The weight depends on the fabric. So it is portable for short distances, but this is a heavy item.
Regarding the packed size, with its 47 x 9 x 8 inches (120 x 23 x 20 cm) it is a bit long, so this is for places with a car access, see the picture below. But indeed its other two dimensions are good and it will not take much space in the car.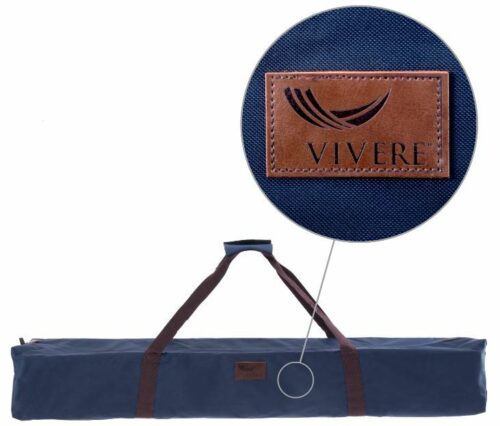 Regarding the construction, I would focus primarily on the legs. So on the hard surface you have 4 points on the ground, and the base is very wide and stable. Plastic caps are added to avoid any damage to the floor.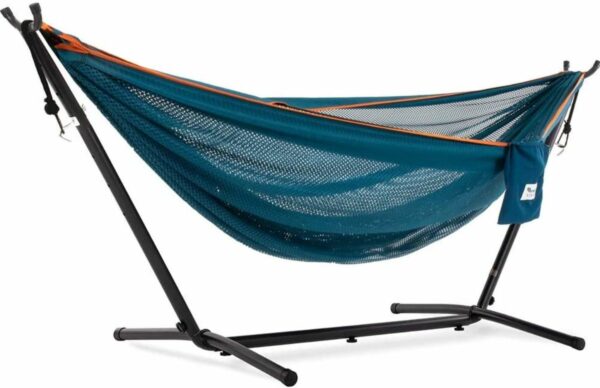 You can see below how it looks when used on the grass; this is the Sunbrella variant, Vivere C9SUNCA Hammock with Stand. As you realize, the central bar may play a big role on such a softer ground. Even if the feet sink a bit, you have this central bar that spreads the weight and this will stop further sinking.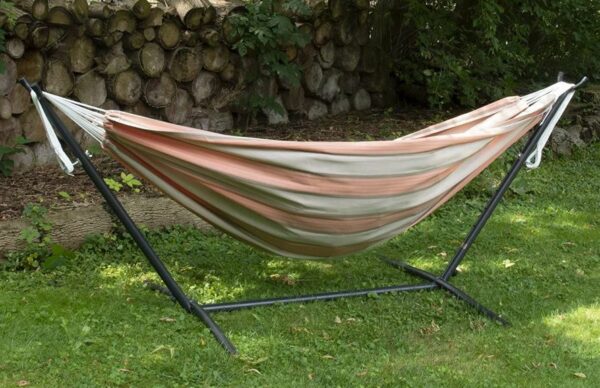 Please see a bit more about this freestanding Vivere Double Hammock series in this video:
Using Vivere Double Hammock in a tent
This structure is not very tall, the two ends are at 43 inches (109 cm) above the ground. So this will fit in any larger family camping tent. It is best to add some protection for the tent's floor.
---
Rating, pros & cons
My only true objection is to the weight, but such a weight implies a strong and stable frame so this is not necessarily a bad feature. It is simply not designed to be carried long distances. See how I rate this product:
Fully freestanding & easy to use structure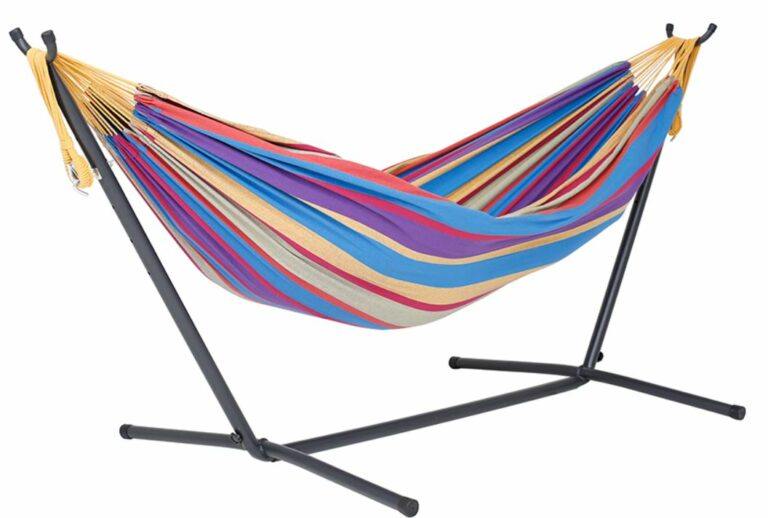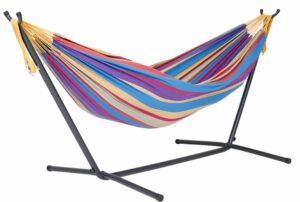 Product Name: Vivere Double Hammock with Space Saving Steel Stand
Product Description: Vivere Double Hammock with Space Saving Steel Stand is an easy to use and reliable freestanding steel structure with the bed in a variety of materials and colors. 
Brand: Vivere
SKU: B07YYKR6QD
MPN: UHSDO9-20
Weight -

5.8/10

Size -

8.5/10

Capacity -

7/10

Packed size -

7.8/10

Ease of use & features -

8.8/10
Summary
My overall rating is negatively affected by the weight but the average is Very Good:
Pros
Great carry bag.
Great craftsmanship.
Variety of fabric options.
Many colors to choose from.
Easy to use.
Fair price.
---
Specifications
Weight: 33 lb (15 kg).
Capacity: 450 lb (204 kg).
Length from end to end: 9 ft (274 cm).
Dimensions of the fabric alone: 94 x 63 in (239 x 160 cm).
Footprint size: 55 x 45 in (140 x 114 cm).
Height at the two ends: 43 in (109 cm).
Packed size: 47 x 9 x 8 in (120 x 23 x 20 cm).
Frame: steel.
Carry bag included.
---
Final thoughts
To summarize this Vivere Double Hammock with Space-Saving Steel Stand review by stressing again its variety of fabric and color options, and its impressive and stable frame.
This product has been on the market for many years and it has collected many thousands of reports by users. So everything is known about it and you know what you are buying. Fully recommended.
Please check under the category Folding Hammocks if you need more options. Check my list with best folding hammocks where this item is also included. Note that this hammock is very similar to this Best Choice Products Double Hammock with Space Saving Steel Stand that is a bit lighter.
Note that we add texts regularly so bookmark this site and visit occasionally. Thank you for reading and have a nice day.